Harvey B. Gantt Center Commemorates King Holiday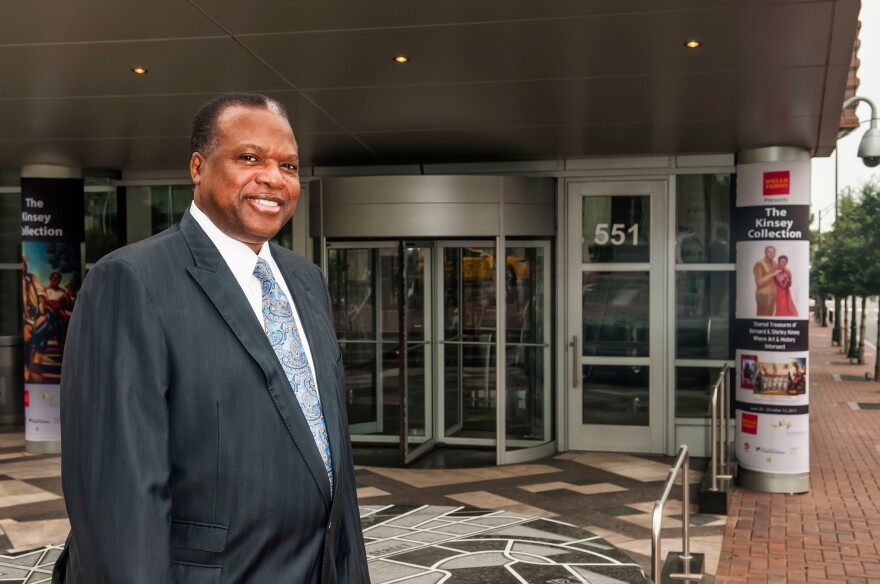 Events are planned around Charlotte this weekend to commemorate Martin Luther King Jr., the civil rights leader who would have turned 90 this week. Among them is a full day of programming at the Harvey B. Gantt Center in uptown featuring film screenings, art-making workshops, and community discussions.
David Taylor, the Gantt Center's president and CEO, and Angie Chandler, director of programming, joined WFAE's Nick de la Canal to talk about where Charlotte fits within Dr. King's dream for racial justice, and the work that Charlotte has yet to do.
TRANSCRIPT
ANGIE CHANDLER: Our theme this year is looking at economic equity. So following up on Dr. King's late, life work around the Poor People's Campaign. As you know, we recently rolled out our initiative for equity and innovation. So we wanted to find those themes that exist in Dr. King's birthday. He would have been 90 this year.
NICK DE LA CANAL: And I also want to mention you guys are also in a big year as well. The Gantt Center is now in its 10th year of operation. How has your programming changed or evolved in the last decade, either for King Day or just more generally?
DAVID TAYLOR: The reality is it's really our 45th year -
DE LA CANAL: Oh, it's just the building that's been there for ten years.
TAYLOR: It's the building that's ten years.
DE LA CANAL: Forgive me.
TAYLOR: So we're seeing - this past decade has really been amazing. I think we've seen an evolution of programming.
DE LA CANAL: And that was my mistake. You guys have been in the building in uptown for ten years, but the Gantt Center has actually been -
TAYLOR: Yeah, the Afro-American Cultural Center was founded in 1974 by Doctors Harper and Doctor Roddey, and we just did a name deviate to be Harvey B. Gantt Center. We still very much embody the Afro-American Cultural and Service Center of Charlotte Mecklenburg. But it's 74 years - since 1974 with this 45 year journey, is connected and it's really one institution.
DE LA CANAL: I wanted to mention - King actually made a stop in Charlotte. I think this was in 1966. He had visited Johnson C. Smith University. Do we know what he thought of Charlotte?
CHANDLER: We don't. Not that I know of.
TAYLOR: I do not. I do not. I would be interested to see what he thought of Charlotte today.
DE LA CANAL: Well just because King - I don't think he spent much time in Charlotte. That doesn't mean that Charlotte didn't have problems, or wasn't discriminatory. You know we certainly weren't on the forefront of civil rights. I think Greensboro was probably ahead of us there. And also let's not forget that when Dorothy Counts enrolled in Harding High she was the first black student to enroll in a white high school. She was surrounded by jeering whites. That was back in the late 50s.
CHANDLER: Absolutely, and Ms. Counts is featured in one of our current exhibitions "What we ask is simple." So as you enter that exhibit you see Ms. Counts on that day. That Harding High story about Charlotte did go big, and in a lot of ways we think it shaped how Charlotte responded to other issues going forward because that was pretty embarrassing. I was pretty highlighted, pretty noted. And so we think that it did have a lot to do with the way Charlotte express themselves throughout the movement going forward in the 60s and 70s.
DE LA CANAL: Even today Charlotte certainly still has racial tensions that are still present. Even two years ago we had intense demonstrations and riots after the police shooting of Keith Scott. Where do you think that that fits in with the arc of Charlotte's history?
TAYLOR: I think it's a low point if you will, but it's an important segment of our history in terms of - I think the things we've seen that's kind of reenergized Charlotte around doing what's right. Unfortunately it took that kind of tragedy to ignite that. And so I think we've seen some promises around that. Lots of work to be done, but at least the conversation and we're starting to see some action. Charlotte's always been a community about great conversation. Now can we become a great community about action? And we're really starting to see some of that happen, but we really have a long way to go.
DE LA CANAL: Well as you mentioned earlier, the theme for this year is economic equity. And I saw you guys had a couple of events planned around that - there's gonna be a town hall and a panel. Why center the events around that theme?
CHANDLER: So as we talk about the issues that happened in 2016 and even if we think a year or two before with the Chetty Study, right? There's all this churning going on around economic mobility. A lot of the work that came out post the response by protesters in the street, was looking at the economic issues that are igniting Charlotteans to be in the streets and to talk about issues. And so the town hall - we're going to be talking about economics, education and equity. We're giving the community a chance to speak. Lots of times with the panels - you know Charlotte and our talking - the community, they get 15 minutes at the end. This hour is an opportunity for the community to share concerns, questions, resources. The community is doing work, and they want to talk about it. So we're giving them the opportunity to share, and we've invited some folks who are the nonprofits and elected officials to be there and just listen.
DE LA CANAL: I want to end by asking, David, in the spirit of Martin Luther King. Where do you think Charlotte needs to see the most work done?
TAYLOR: Equity. I think at the end of the day it's really about fairness in a community environment. And I think that's - until we really address that, we will always have this imbalance, and we will have the haves telling the have nots what's best for them. It's not an equitable conversation that takes place or equitable action.
DE LA CANAL: That's David Taylor alongside Angie Chandler in our studio talking about programs happening this weekend at the Harvey B. Gantt Center for the Martin Luther King Jr. holiday. Both of you, thank you so much.
CHANDLER: Our pleasure. Thank you.