WFAE's coverage of the case of Charlotte-Mecklenburg Police Officer Randall Kerrick charged with voluntary manslaughter in the death of Jonathan Ferrell. The court case ended in a mistrial.
Jury Selection Continues Monday In Kerrick Trial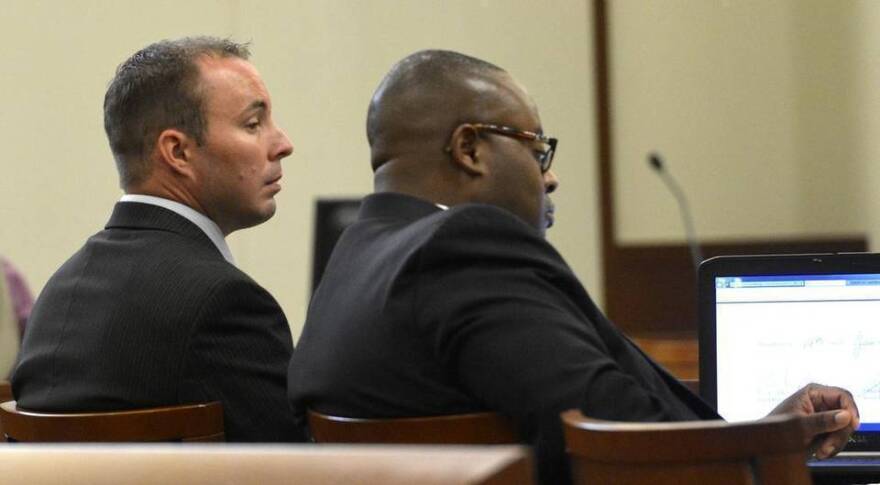 The number of jurors in the Randall Kerrick trial remains at nine. The former CMPD officer is on trial for the shooting death two years ago of 24-year-old Jonathan Ferell. Potential jurors were questioned again Friday, but none were seated before the day's pool was exhausted.
So far, of the nine jurors seated in the Randall Kerrick trial, two are men and seven are women. Four of the women are white, two are African-American and one is Hispanic. All of the men are white. As the jury selection continued Friday, two white men were excused from serving.
One was an IT engineer and gun owner, whose father was a military weapons expert. This prospective juror's in-laws had been robbed before and he also said people shouldn't use drugs because there's no happy ending if they do. The defense is expected to enter evidence involving marijuana use by Ferrell, the former Florida A&M student who died after Kerrick shot him 10 times.
Other jurors were excused for personal and financial reasons. A young white man was excused because he is getting married in early August, when the trial is expected to still be going on. Superior Court Judge Robert Ervin teased him, asking if he was sure he didn't want the court to intervene.
An African-American cafeteria worker was excused after she told the judge that her employer would not pay her while she serves on the case, which could last for more than a month. She said she only had four days of paid leave and that the jury payments would not be enough to pay her bills and support her children during the trial. Jurors are paid $12 to $20 a day for the first five days of service and $40 a day for anything longer. The judge suggested she look into seeking financial help from a local crisis assistance agency, but she said there was no guarantee they would provide assistance or that it would be enough to take care of her family.
Two other potential jurors questioned were not dismissed, a former teacher and homemaker and a golf equipment salesman. Defense attorney Michael Greene would not say if he will move on Monday to have them excused. He did say he is pleased with the makeup of those selected so far. Court is adjourned until Monday morning, when a new batch of jurors will be brought in for consideration.