Unaffiliated Voter Numbers Continue To Rise, But They're Not As Likely To Vote
Now that we're into the 2014 mid-term congressional year (officially), a new analysis by the think tank Third Way has documented an increasing trend: Most voters are not claiming a party affiliation.
The report finds that since 2008, "there has been an explosion of Independents," while the "number of registered voters of both parties has been stagnate (in some cases decreasing) in many states."
In North Carolina, for example, the number of registered Democrats dropped over 100,000, while registered Republicans dropped a little over 12,000; in comparison, registered unaffiliated voters grew by over 300,000 since 2008.
It would appear that the growing "unaffiliated" trend may bring North Carolina to mirror (in terms of voter registration as identification) what across the country: Astate where the registered voter pool is divided into thirds.
Since 2004, the percentage of registered voters who are Democratic has dropped from 47 percent of the pool to 43 percent, while registered Republicans went from 34 percent to 31 percent. The growth in unaffiliated registered voters isn't just from their raw numbers, but also in their percentage of the eligible voter pool: from 19 percent in 2004 to 26 percent in 2012.
If this trend continues and North Carolina becomes a state divided into thirds among Democrats, Republicans and unaffiliated voters, what can the two parties do?
At first glance, one would think that the parties would seek the "middle ground" when it comes to appealing to voters, especially since you can't win an election when you rely solely on your base of registered party voters.
But are these unaffiliated (some might read 'independent' voters) really all that independent? And more importantly, are they reliable voters in comparison to their partisan breathren?
To answer the first question, I looked at the respondents from the 2012 American National Election Study and sorted the respondents by their party identification (strong partisan to independent) and then looked at their voting support for both President Obama and Republican Mitt Romney.
Only 'pure independents' (those who don't lean to one party or the other when asked after they identified themselves as 'independnent') had a nearly even-division between supporting the Democratic or Republican presidential candidate.
Those 'independents' who leaned to one party ended up voting for that party's candidate 90 percent, almost as much as those who said they were strong Democrats or strong Republicans.
In answering the second question, I turned to a datafile from the NC State Board of Elections. By breaking the voters in past elections into the three major registration groups, we can compare how many voters were in the eligible pool of registered voters to the number of those who actually cast a ballot and determine each group's 'turnout.'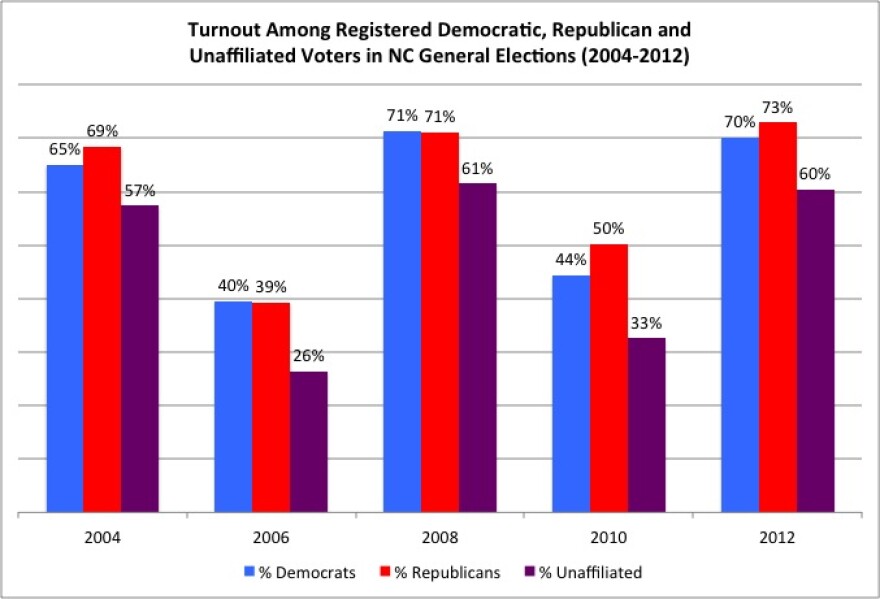 Since 2004, registered unaffiliated voters had the lowest turnout of the three major groups: in 2006, only 26 percent of registered unaffiliated voters showed up. In 2008, it was 61 percent. Still, that was 10 points below the turnout for both registered Democrats and Republicans in 2008.
While we may be seeing significant growth among voters not wanting to register either Republican or Democrat in North Carolina, both parties must decide if they want to seek those unaffiliated voters' support or work to build their own 'base' of voters who are more likely to show up at the polls.
This year's 2014 election may gives us a continuing sense as the state becomes another electoral battleground, with control of the U.S. Senate at stake.