Charlotte Talks Local News Roundup: Burr's Phone Seized; CMS Seniors Upset About Grad Plans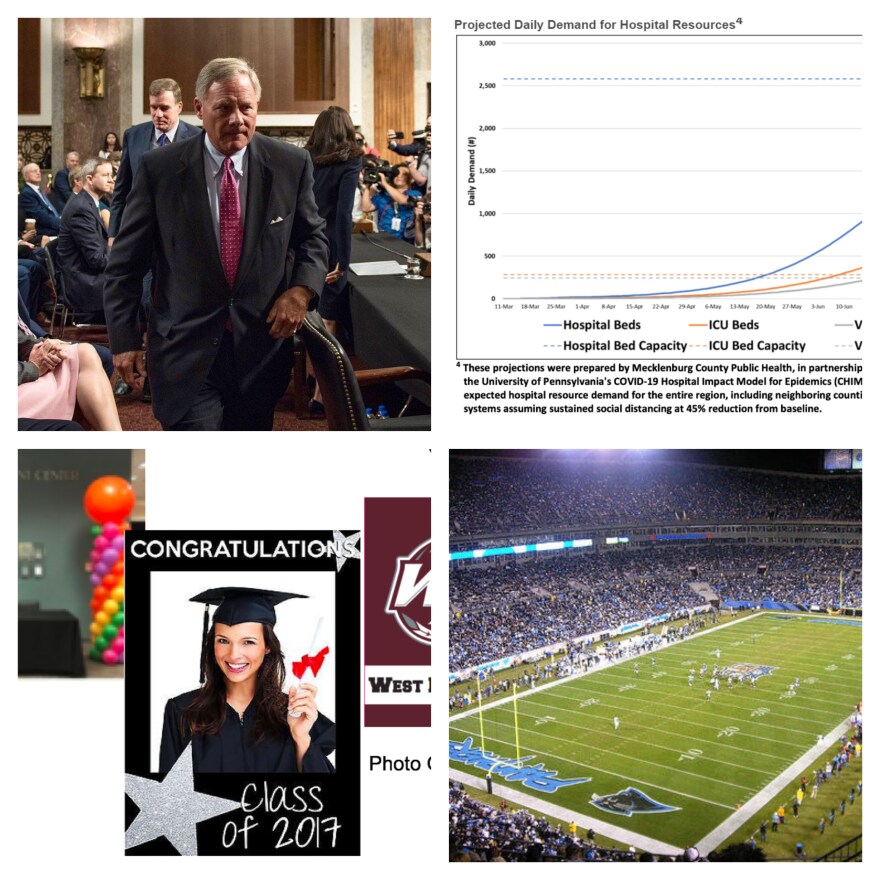 Friday, May 15, 2020
A week into the first phase of North Carolina's reopening, we get an update on the impact. Mecklenburg County officials stop issuing projections for the coronavirus after being told they weren't using the model correctly. The FBI takes North Carolina Sen. Richard Burr's cellphone. CMS decides to hold virtual, pre-recorded graduations. And Panthers owner David Tepper believes the NFL will be back this fall — with fans.
Richard Burr steps down as chair of the Senate Intelligence Committee after FBI agents seize his cellphone as part of an investigation related to insider trading just as the coronavirus began to make an impact on the stock market.
We'll take a look at the latest on the coronavirus outbreak and its impact in Mecklenburg County and beyond. It's been one week since the state began Phase 1 in reopening North Carolina. So, how are we doing?
Mecklenburg County has ended its projections for the COVID-19 curve after the model after health officials were told they weren't using the model correctly. We'll talk about the University of Pennsylvania CHIME model and how the county was using the model.
Charlotte-Mecklenburg Schools families are upset about the district's decision on how the class of 2020 will hold graduation proceedings this year, saying the district should have had a drive-in option.
Gov. Cooper is facing criticism about the state's restrictions on gathering for church and worship services in North Carolina. We discuss what people are saying and the governor's response.
And Carolina Panthers owner David Tepper thinks the NFL will be back this fall and may even be able to have fans in attendance. We'll talk about why he's optimistic.
Host Mike Collins will bring you those stories and much more with area journalists.
Guests:
Steve Harrison, WFAE political reporter and co-host of Inside Politics
Glenn Burkins, founder and publisher of QCityMetro.com 
Nick Ochsner, WBTV's chief investigative reporter
Katie Peralta, senior editor for Charlotte Agenda
David Boraks, reporter for WFAE