News about the LGBTQ+ community in the Charlotte area and beyond.
'When do we get to shine?' Black trans men discuss leadership, self-love and showing up for themselves
Originally published by The 19th
What do you want to know about LGBTQ+ issues? We want to hear from you, our readers, about what we should be reporting and how we can serve you. Get in touch here.
For most of the eight men spending a spring Saturday indoors, this was the first time that they had ever been in a group with only other Black transgender men.
They spent all day in a city health center outside Atlanta, asking each other about their lives: What resources do they need? What motivates them? How do they express their faith?
One of the men, Ja'Mel Ware, said at the end of the day that he felt alive again. Another, C.J. Moseley, said he was finally leaving a dark place. In other queer and trans spaces, Brayland Brown said he felt like he had to take a step back. He wants to be chivalrous and let trans women take up more space — but he also wants to create space for himself and his brothers.
"We take a step back and let her shine, but then when do we get to shine? When do we get to shout about what we need as well?" he said. "We're shifting into that with this space."
The 19th joined the cohort of Atlantans, plus one Florida resident, for a May workshop hosted by the Human Rights Campaign Foundation. The organization's Transgender Justice Initiative, led by Tori Cooper, brought eight Black trans men together for workshops on public speaking, negotiating pay and becoming better leaders.
This is the first year that the HRC has hosted a leadership cohort of only transmasculine people, Cooper said. The Transgender Justice Initiative has previously organized similar fellowships for BIPOC trans femmes and nonbinary activists.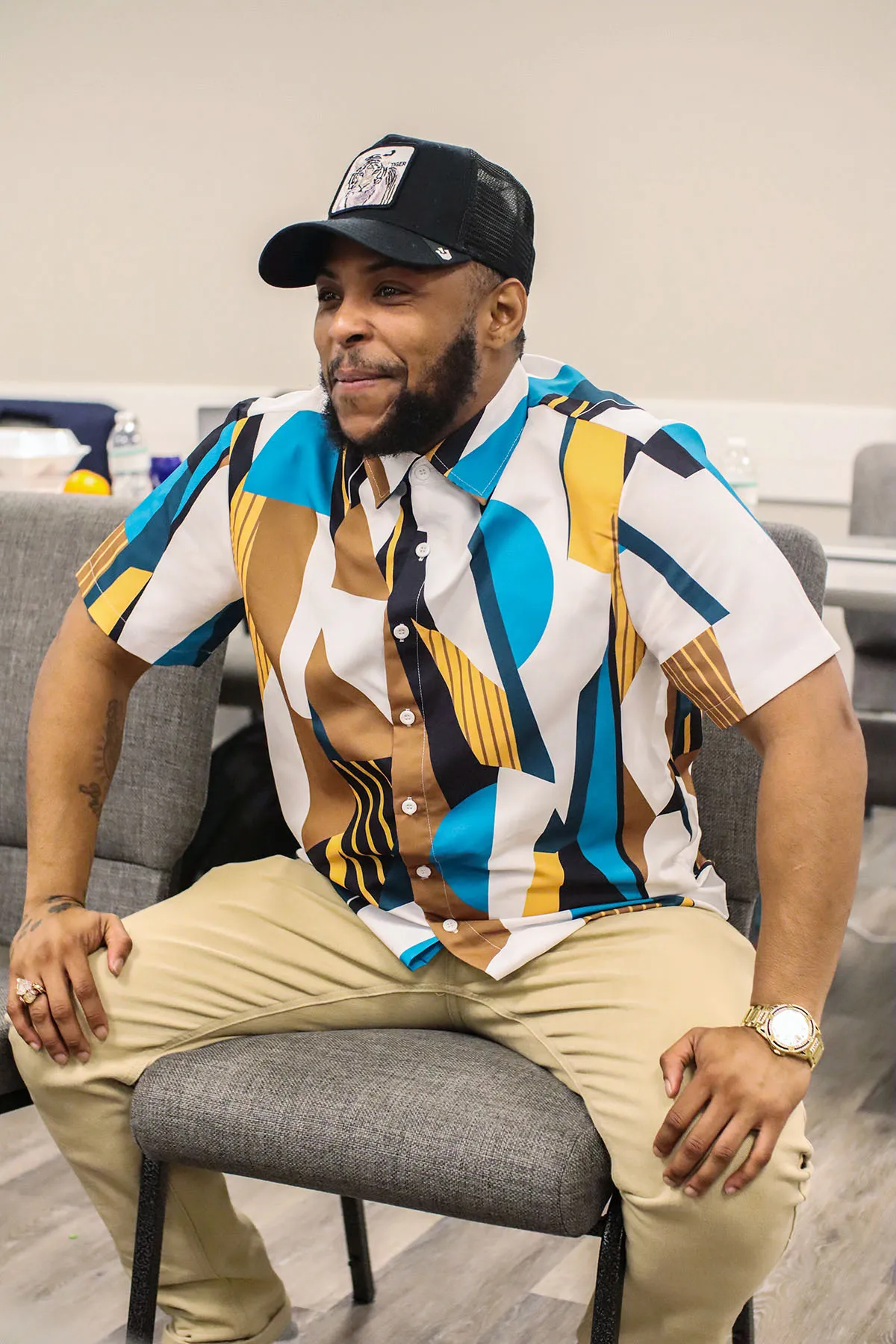 Bringing together a multigenerational group of Black trans men — the youngest participant is 21, the oldest is 56 — was important to Cooper, since it is rare for national LGBTQ+ organizations to make that kind of space. In politics, nonprofits and even community groups advocating for trans rights, there are not a lot of transmasculine people in leadership, she said.
When they gathered on May 13, at the Positive Impact Health Centers in Decatur, Georgia, the group wrote down different barriers for Black transmasculine leaders on a large sheet of paper stuck to the wall: feeling tokenized without actually being valued, feeling invisible and not wanting to take up space or ask for help.
For Jackson Starr, a 21-year-old freelance artist and graphic design student, taking up space often means powering through intense anxiety. While he was in junior ROTC, anxiety would stop him from going to events or accomplishing what he wanted to do, he told the group. That same anxiety spiked when he filled out the application to join the workshop.
"I almost had a panic attack when I got the application for this, but I applied anyway. Because I'm not letting my anxiety and my mental health stop me from living," he said — to which the other, older men applauded.
During show-and-tell, each man shared something personal that represents leadership. Starr brought an envelope with his ROTC insignia ring and name tag inside, plus the only ribbon that he earned while in the program.
"Anxiety would stop me. And it would always say, 'You can't do it. You're not going to amount to anything,'" he said. "And so, I didn't do anything. I continued to be mad at myself about it, until getting this assignment to pick something that means leadership to me. And I picked this because … finally I can say that my anxiety is … not stopping me."
There are barriers for trans people that aren't talked about enough within LGBTQ+ spaces, Elijah Nicholas said — like money and access. There's more pressure to fit into a certain kind of box when it comes to sexuality and expression, D'Jamel Young agreed — like being seen as "too masculine to be queer."
Moseley said it's hard for transgender people, especially trans men, to be accepted within the overall queer community. Gay cisgender men can be especially hostile, he said.
Alex Santiago said that he feels like he was naive to believe that the LGBTQ+ community would be there to protect him and stand up for him — and that it's often been the opposite. His straight, cisgender male friends have defended him more strongly by telling strangers not to misgender him in public.
"That's a weird space to be in, but it happens more often than not," he said. He'll feel more scrutinized within queer spaces, once it's known that he's a trans man. People won't call him "bro" anymore, or will become timid about describing him in masculine ways.
"It only happens within community," Santiago said.
Ware, who carried his child to term last summer, said that after having a baby, it's been harder to feel safe in LGBTQ+ spaces, especially with gay men. Being a queer, trans parent has been isolating, he said.
"I've been struggling over this past year and a half, almost two years now. It's like, where do I fit? Because a lot of trans men don't want to be open about their queerness," he said. "I also have a child that I carried. … Everytime I walk into a room, I feel alone."
Ware was trying to get his point across without crying, he said. Each man was speaking to the group as a whole — letting the walls that kept the outside world at bay break down a little more with each revelation.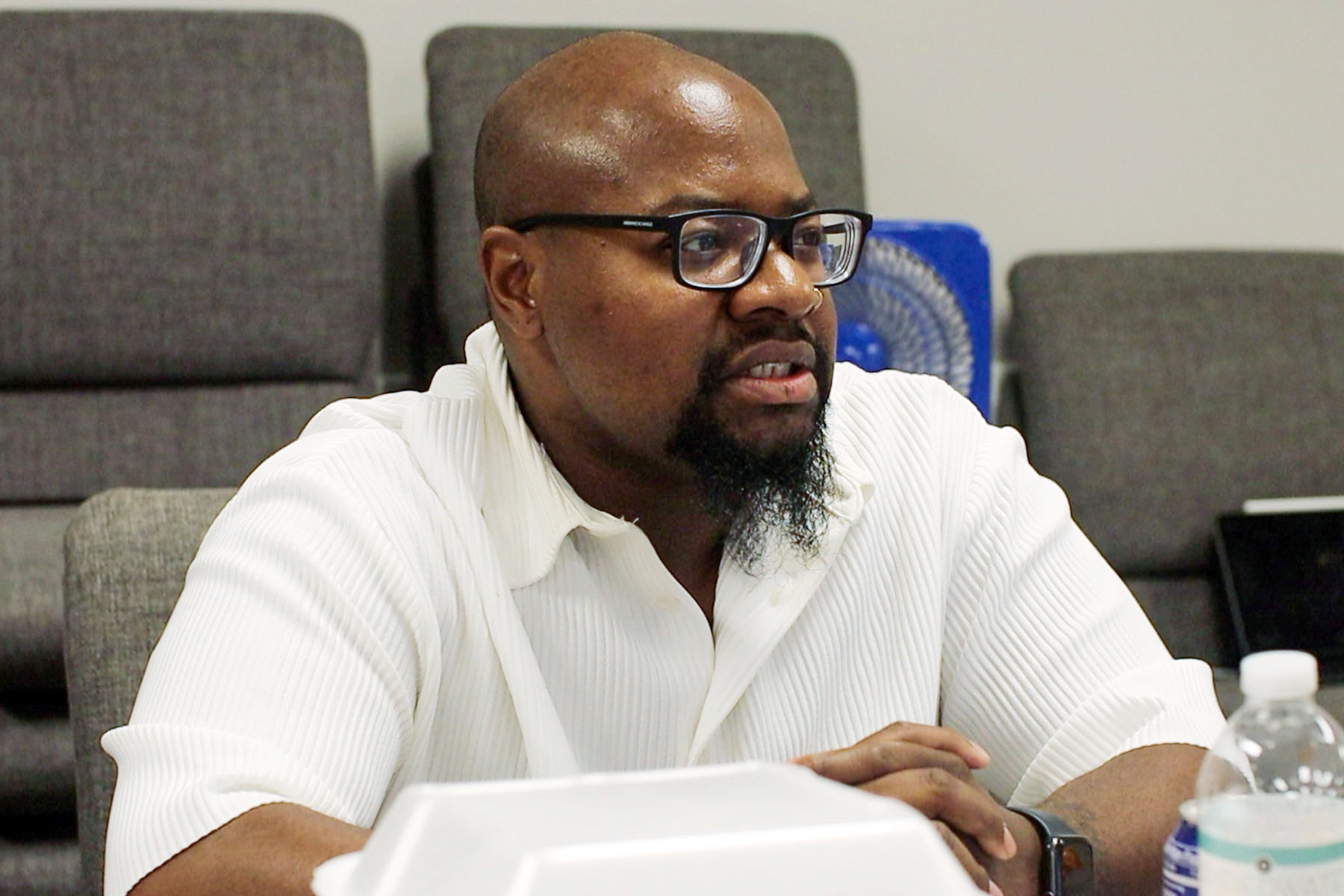 "If we listen to what everybody said — the barriers, it's on all sides. It comes from being Black. It comes from being queer. It comes from being trans," Brown said. "When we walk into a room with a chip on our shoulders, we don't have a choice sometimes. We're fighting just to find happiness, peace, love, just to exist. Acceptance. And it can be a struggle."
Trans guys can also get in their own way, and each other's way, while under pressure for resources that feel scarce, said Sybastian Smith, director of organizing at the National Center for Transgender Equality. He led a workshop on public speaking for the gathered group.
"There are resources out here for us. I think the barrier is how to access them. Because it's going to look different for a Black trans man, for a White man, for a Spanish-speaking trans man," he said.
On another poster listing what resources Black trans men need, the group wrote ideas for what would help: more spaces like this one, more mentorship, amplifying the voices of their elders, professional development, and access brought by representation and visibility.
However, these men have already been working to bring resources to their community for years — it's the rest of the country and other LGBTQ+ organizations that need to catch up.
Quinton Reynolds, 31, is the executive director of Game Changing Men — which offers support groups for Black transmasculine men on sexual and general health, mentorship for incarcerated men and an intimate partner abuse intervention program.
Nicholas, a 53-year-old veteran, founded the nonprofit 100 Black Trans Men, which provides mentorship programs and grants for Black trans men undergoing top surgery, plus a binder swap program.
Young, 36 and also a veteran, is the founder and executive director of TMSM Connect, which advocates for trans and gender non-conforming people of color who were assigned female at birth — particularly in areas of reproductive, sexual and mental health. Part of his drive to build the group came from the vacuum of support that Young felt after he was arrested by the NYPD in 2019, in what he described to Buzzfeed News as an extremely traumatizing experience.
In a lawsuit filed in 2020, which Young said is still pending, he describes being sexually assaulted by an NYPD officer under the guise of performing a search, and fearing for his own life and safety while jailed.
His experience is just part of the reality of being a Black man in America, Young said — and that reality is not acknowledged enough, or talked about enough, in the wider transgender community.
"When I walk into a bank or a store, they're not like, 'Oh he's trans, so he's cool.' They're like, 'Oh he's a Black man … he's a threatening man.'" Those implicit biases don't go away within the trans community, he said — and there need to be more conversations about it.
Part of what keeps Young going is being able to inspire younger Black trans men, he said, which comes with a certain amount of visibility. As an introvert, he has to push himself in order to be comfortable with that — but he ultimately sees visibility as part of a bigger picture.
When picturing what transmasculine leadership looks like, the group wrote a list on another poster sheet on the wall. One of those points carried through most other conversations of the day: working to show up as fully themselves, while making that space for others.
Being a leader — and being able to pour into others while still pouring into himself, and still representing other people, is hard work, Reynolds said. That's why taking time to heal, and inviting others to do the same, is an important part of his process. At a recent work retreat, he remembers taking a trip with other guys who, like him, had never been able to take their shirts off at the beach before. That was a healing space for him.
Brown found, after leaving the corporate world to work at a nonprofit, that he had never prioritized his own self-care — and he had to readjust, to put himself first.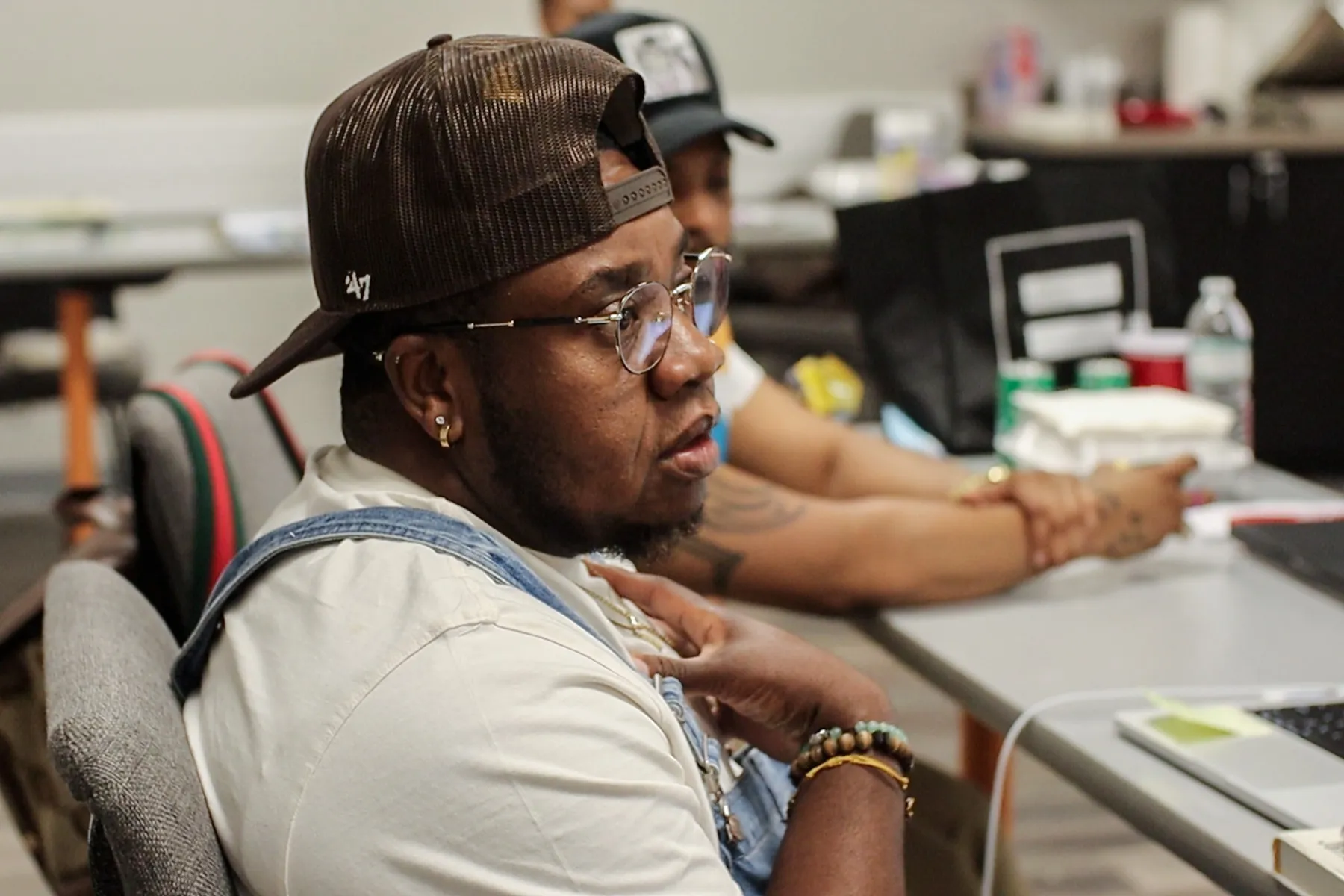 "I had to learn how to pour back into myself first and keep my cup full and overfull, so I can assist others. And that also looks like taking a step back and doing things that I love," he said.
For several trans men in the room, showing up as fully themselves also means finding new ways of expressing their faith after growing up in Christian families.
"I think that transitioning actually brought me closer to God," Ware said during a group discussion. During his transition, while trying to understand how he fits into the world — how God could create someone like him — he felt a new kind of faith.
"I believe transition is fully about bringing one's spirit on the outside of their body," he said. "I actually feel like I have honored God by allowing my spirit to exist fully."
To close out the workshop, each man was encouraged to brag about an accomplishment — some part of their work, or themselves. Then, everyone stood in a circle — a "giving circle," Cooper said — held hands, and affirmed the man standing next to him. They embraced each other.
A month later, Starr feels like the workshop changed his life. It was eye-opening to meet older Black trans men already accomplished in advocacy and social justice work, he said over text message. He hadn't been able to visualize how someone like him could overcome all the barriers facing Black trans people. He feels more confident, got a job at Reynolds' organization, and is applying to more fellowship programs.
Plus, he has a new group chat to ask for advice when he needs it — while working to build a greater future for other Black trans men.