Here are some of the other stories catching our attention.
BofA To Face Shareholders, Critics After Rocky 2011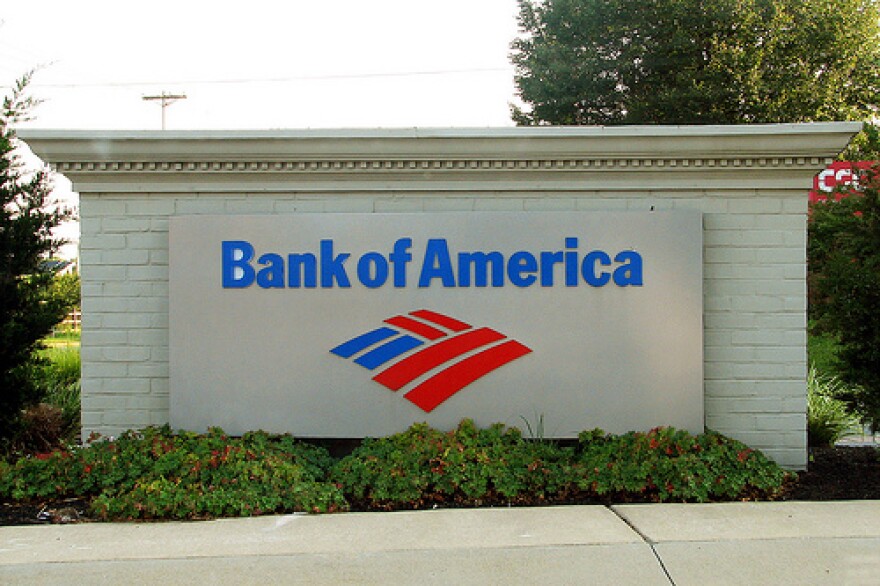 http://66.225.205.104/JR20120508.mp3
Hundreds of protesters have pledged to descend on Bank of America's annual meeting in Charlotte Wednesday. 2011 was a rocky one for Bank of America - falling from its perch as the nation's largest and weathering a series of public relations storms.
Imagine for a minute that you were a banking analyst about 10 years ago and you took an extended nap Rip-Van-Winkle-style, waking up just in time for Bank of America's latest earnings call. Last you remember, Bank of America was on a binge to become the nation's biggest. And now some Brian Moynihan fellow is making statements like this: "We continue to streamline our company. Our priority is to make our company work better for our customers, our teammates and our clients. In the process reduce costs."
Streamline? Reduce costs? Bank of America CEO Brian Moynihan's basically saying that shrinking the bank is his priority. This from a bank that was not-too-long-ago famous for swallowing competitors whole and boasting of its conquests.
"Oh, It's incredibly ironic, yeah because a couple of years ago they were bragging about the very opposite," says Motley Fool senior analyst James Early.
"It's not ironic, it's long overdue," says SNL Financial contributing editor and analyst Nancy Bush. "Brian (Moynihan) gets the brunt of the disapproval. It falls to him to fix what is a very broken franchise. Cutting costs is simply one of the ways that franchise has got to be fixed."
And so Bank of America CEO Brian Moynihan takes every opportunity - and probably will at the shareholders meeting today - to brag about the bank's weight loss. The goal is to cut more than $5 billion in expenses. In the last year, the bank says it cut 20,000 full-time positions and will trim thousands more. Moynihan's also in the process of closing 750 bank branches.
As a side-effect of the slim-down, Bank of America last year fell from the nation's top spot. It's now only the second biggest bank by assets. And yet, it remains arguably the most-hated bank in America. James Early of the Motley Fool says it's a perception thing. "Everybody knows Bank of America," says Early. "Some of these others banks like Morgan Stanley or a JP Morgan are not in the public psyche as much because they don't have as many branches. For right or for wrong, people tend to focus on what they see every day."
"At the end of the day there's more regular working class people who are pissed off with the state of America right now," says Boston resident Antonio Ennis. Ennis is part of a coalition of activist groups called the UNITY Alliance promising more than 1,000 protesters at the Bank of America shareholder meeting. Economic justice and foreclosure relief are main messages for the group, says Ennis. They credit Bank of America for being one of five banks that agreed to a $25 billion settlement with the states over wrongful foreclosures. But help for homeowners isn't coming fast enough, says Ennis.
"We just want to hold them accountable for what they've caused with the economic crisis and if we keep the pressure on them then hopefully they'll react a little bit more expeditiously," says Ennis.
Bank of America has spent much of its time and money the last three years working through a mound of bad mortgages it took on with the 2008 acquisition of Countrywide Financial. Moynihan recently told investors he expects the costs associated with modifying loans and processing foreclosures to start coming back down later this year. "We've passed a milestone - we've now modified more than one million mortgages," added Moynihan on that same call with analysts. Another milestone was passing the federal government's most recent "stress test."
Bank of America has built a capital cushion large enough to at least partially placate regulators who are worried about what might happen if the economy takes another big dive. The milestone Bank of America shareholders are most interested in is seeing their stock climb out of the under-$10 bargain bin and start paying a dividend.
Two years ago, Moynihan promised the dividend was coming and when it didn't, he looked the bad. Over at the Motley Fool, James Early's advice to Moynihan is, "Ease off on the promises and stick to the facts."
UNC Charlotte banking professor Tony Plath says public relations should be a priority for 2012, "The last two years the bank has been focused on internal operating issues. - cleaning up their mortgage portfolio, reorganizing their businesses into a more manageable and more understandable group of businesses," notes Plath. "This year they're gonna have to turn outward and start working on their brand and reputation and interactions with their customers."
No more high profile snafus like the proposal last fall to charge a $5/month fee for debit card usage, says Plath. Public outcry forced Bank of America to drop the plan. Be more "touchy-feely" suggests Early at the Motley Fool. Probably no coincidence that just last week Bank of America hired a new advertising agency to burnish its brand.