Warren-Green Opens Charlotte Symphony Season With Music That Has A Personal Connection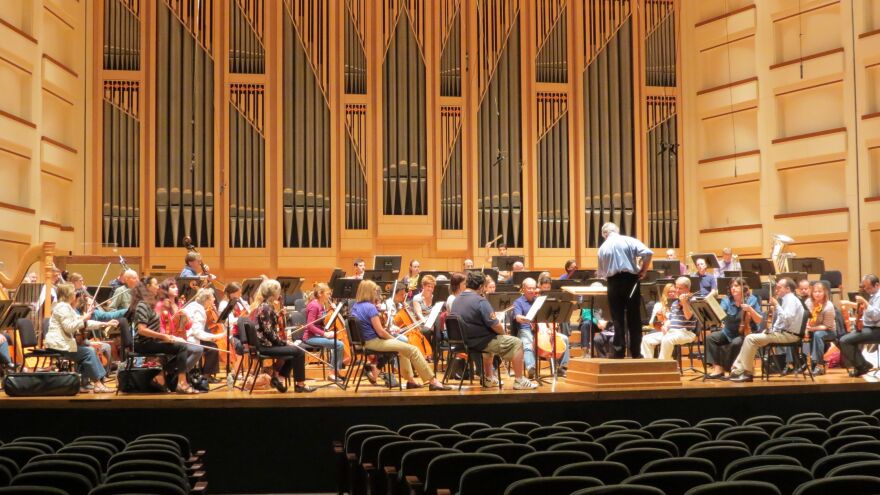 The musicians of the Charlotte Symphony Orchestra are practicing one more time this morning before they kick off another season of performances. Tonight and tomorrow night at the Belk Theater, they'll be playing several well-known pieces of classical music, including "The Young Person's Guide to the Orchestra" by 20th Century British composer Benjamin Britten. The orchestra's music director, Christopher Warren-Green, chose the piece in part because Britten would've turned 100 this fall. But, as WFAE's Duncan McFadyen reports, Warren-Green has a special connection to the composer.
Christopher Warren-Green credits his boyhood experience singing in a church choir with sparking his interest in music at an early age. And while he was in that church choir, he got to sing a few times under the direction of Benjamin Britten.
"I don't even want to tell you how long ago it was," he says.
What he can remember is Britten, the conductor. He describes him as incredibly flamboyant.
"[He was] unbelievably charismatic, you know, blazing eyes. And one of the things I remember more than anything is he had quite a temper, if things weren't exactly to his liking," he recalls. "And he was a very, very fine conductor. He wasn't just writing his music and leaving it to other people. And that really is, apart from his temper, all I can remember."
In more recent years, Warren-Green spent a night in Britten's childhood bedroom, in a seaside town in Suffolk, England. Well, at least he tried to spend the night there…
"They've made the house that he was born in and lived in as a child into a bed and breakfast," he says. "And I couldn't get a wink of sleep all night; I had to change rooms in the end, because the ghost of Britten was in this room with me the whole time."
This weekend, the Orchestra performs Britten's "Young Person's Guide to the Orchestra." Written in 1946, it's a set of variations on a theme by another British composer, Henry Purcell.
Britten's writing individually highlights each section of the orchestra---strings, woodwinds, brass, and percussion.
The piece is sometimes performed with a narrator. Warren-Green chose to conduct it without one.
"So you don't now need a narrator because it does it for you," he explains. "It's pretty obvious 'now it's the strings variation, percussion, the harp variation, French horns, solo trumpets, etc…'"
"He could write for almost any instrument and it would be so comfortable; it was as if he could play the instruments perfectly himself," Warren-Green says. "And it's an absolute work of sheer genius…very joyful, great fun."
After each instrument has had a chance to shine, Britten re-assembles the orchestra in a spectacular fugue. It's kind of like a round; there's a starting theme, then groups of instruments gradually come in, playing that same theme.
"It's like he's competing with Mozart to see how many themes he can get in there but all sounding as one," he says, "especially the statement of the final theme with the brass. He's written a phenomenally difficult piece of music---and a wonderful piece of music. So, it seemed a great way to open his one-hundredth birthday."
And, a pretty upbeat way to open the season for the Charlotte Symphony.