A periodic series in which we'll visit neighborhoods going through change, big and small.
Block by Block: Loray Mill's New Life Sparks Hope For Old Neighborhood
Gastonia's Loray Mill, built in the early 1900s, is now home to loft apartments
Gwendolyn Glenn/WFAE
Expansive hallways of former mill lead to one-, two- and three-bedroom loft apartments
Gwendolyn Glenn/WFAE
Loray Mill Loft Apartments
Gwendolyn Glenn/WFAE
Loft apartment at the redeveloped Loray Mill
Gwendolyn Glenn/WFAE
Resident lounge at redeveloped Loray Mill
Gwendolyn Glenn/WFAE
It took nearly 10 years for developer Billy Hughes and partners to renovate the Loray Mill
Gwendolyn Glenn/WFAE
Former doors, brick walls and high ceilings incorporated into redesign of the Loray Mill
Gwendolyn Glenn/WFAE
Mill village residents hope the renovations at the Loray Mill will spur face lifts for rundown properties next door to the mill
Gwendolyn Glenn/WFAE
Lucy Penegar gives tours of the mill and is glad to see it renovated
Gwendolyn Glenn/WFAE
Preservation North Carolina officials, who owned the mill before it was redeveloped, are buying rundown homes to renovate and sell, with hopes of preserving mill village homes
Gwendolyn Glenn
Original mill village homes, across the street from the Loray Mill
Gwendolyn Glenn
Section of Loray Mill that will be renovated in phase two of the $60 million project
GwendolynGlenn
The Loray Mill Loft Apartments building will house an interactive gallery, featuring the history of the Loray Mill and the mill village next door that the public can visit
Gwendolyn Glenn
Robert Martin's parents worked at the Loray Mill and he's lived in the mill village all his life. He owns four homes there and hopes the mill will spur a renovation of the village's run-down homes.
Gwendolyn Glenn
Mill village residents hope the redeveloped Loray Mill will attract businesses to empty buildings near their community
Gwendolyn Glenn
Lucy Penegar points to picture of herself in lobby slide show as she gave a tour of the Loray Mill before it was renovated
Gwendolyn Glenn
Gastonia officials built a playground near rundown homes in the mill village in an effort to revitalize the area
Gwendolyn Glenn
Game room in the Loray Mill Loft Apartments
Gwendolyn Glenn
As part of our "Block by Block," series, this report takes you to Gastonia. In the early 20th century, Gastonia was home to one of the largest textile mills in the South: The Loray Mill. It grew to employ 3,500 workers, and most lived in the surrounding mill village. The neighborhood's ties to the mill stayed strong well after the company stopped providing housing. In fact, it's still strong 22 years after the mill closed and accelerated the community's decline.
Today, the neighborhood and the mill are in transition. The mill has been turned into loft apartments with ground-level retail on the way. Developer Billy Hughes says this isn't another example of gentrification that pushes out long-time residents.
Fifteen years ago, Hughes was redeveloping a few historic sites in the south, when his partner in Atlanta talked him into traveling to Gastonia to check out a rundown, 600,000-square-foot property. It was the Loray Mill.
"I saw it from a mile away and just fell in love with it from day one," Hughes said. "The great brick structure, the towering stair tower that overlooks the entire valley that you can see for miles. We knew at that time we just had to figure out how to get it done."
That was in 2005. Hughes and his partners drew up plans to carve out 190, loft apartments in phase one of the project and 110 in phase two. Those plans stalled a couple of years later when the Great Recession hit and financial credit lines dried up.
Mill village residents like Irma Styers, who's lived in the house she was born in for 59 years felt the project was desperately needed to save her neighborhood.
We were thinking that we're at the end and there's nothing more for our neighborhood," Styers said. "We were going down because most of our neighbors had left or died."
Hughes says although he and his associates at Historic Preservation Partners dropped other development projects, they held onto Loray Mill.
"As we dug into it deeper, we understood the passion behind the building and the historic significance and as we met the people of Gastonia, we fell in love with the whole area. They just wouldn't let us walk away which is what it came down to," he said.
It took nine years, but when the recovery kicked in, the developers secured the $60 million they needed for the first phase renovations.
"So many people can't believe this is the same building," said Lucy Penegar, who
gave frequent tours of the 5-story mill where workers turned out bed sheets and later tire materials for Firestone. Penegar talks about the mill's negative past too. African Americans were only hired to do the low-paying, and most dangerous jobs, they couldn't live in the mill village, many young children worked there and in 1929, a violent strike at the mill attracted international media attention.
"We hid this history for a long time, pretended it didn't happen. It was a bad time for Gastonia," she said.
Penegar proudly shows off the 20-foot exposed ceilings and shiny concrete floors that replaced buckled, splintery wood flooring. The brick walls, thick, century-old beams and floor to ceiling factory windows are still intact throughout the complex.
"It took 20 years to get it going but it's been worth every minute. The space is fantastic," Penegar said.
Expansive, long hallways of the former production floors are lined with taller than normal doors that lead to one-, two- and three-bedroom apartments.
"These are loft apartments, so the bedroom doesn't have a door, it's open and the wall doesn't go to the ceiling to let the light bleed out into the space," she said.
Mill village residents say they are glad to see the mill renovated because the mill and mill village have always been connected and helped each other thrive. It's also about preserving a part of the residents' history.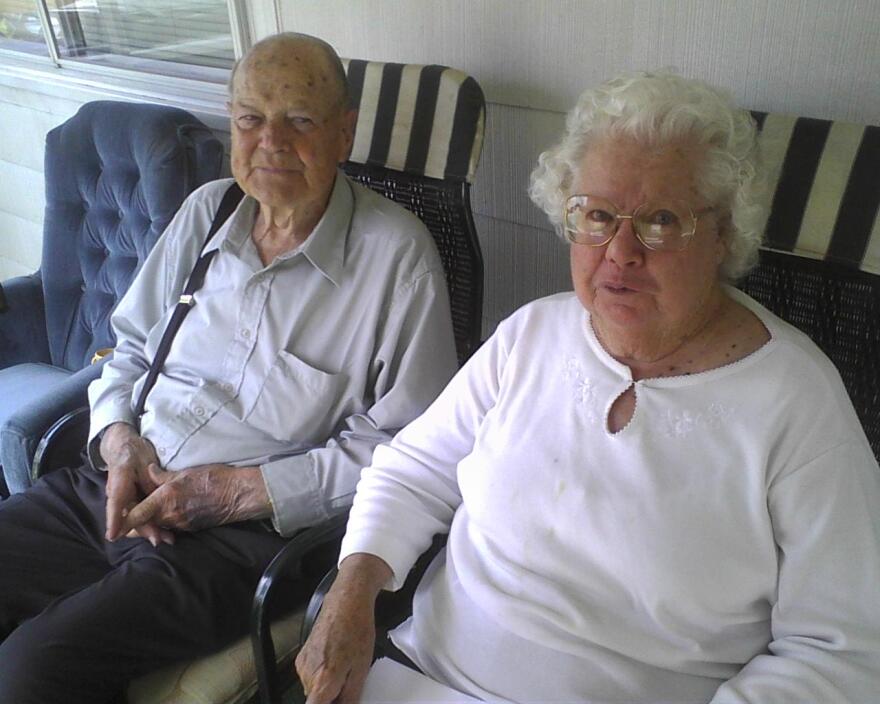 Sitting on their front porch across the street, Gladys and Carl Carpenter can look directly at the mill. Gladys' father worked there and the family lived in a four-room mill village house.
My daddy bought it from the company and we bought it from him," Gladys Carpenter said. "We owned it 43 years, so a lot of memories here."
Carpenter also worked at the mill, starting when she was 16 years old.
"I was a spare hand spool winder and so I made a pretty good living. I was blessed to have a job," she said.
After the mill closed, like others, the Carpenters says it became an eyesore. The grass often went uncut, vagrants sometimes broke into the building and over time, the mill village deteriorated as homeowners moved out, slum lords came in and crime in the area increased. The Carpenters are glad to see the mill redeveloped.
We're just thankful to see someone around knowing someone is looking this way because it was so empty for so long," Gladys Carpenter said.
"I think it's wonderful the way they got it fixed up. I hope it does well. I wish it had happened earlier," Carl Carpenter said.
So does Irma Styers, whose grandparents and father worked at the mill. Her family was thinking about moving if the mill had not been renovated
"The conditions were so bad, theft, people constantly taking stuff from our yard," Styers said. "If it was outside, it was gone. I had to chain the furniture to the porch but we don't have that now and it's so wonderful that it's turned around because we have no desire to go anywhere else."
That's what developer Hughes says he wants to hear because he wanted to create an environment that welcomes the surrounding community. He hopes the planned public gym, brewery and other retail will bring mill village residents and others into the mill's public spaces. There's also an interactive, digital gallery space under construction to document the mill's history. Hughes hopes all of this will make the mill the epicenter of the community that it was years ago.
"We look at this as establishing an icon within the city and county," Hughes said. "We look at this as providing an economic impact to bring jobs, provide quality housing. It is not our intention to displace people or replace the population here."
In steps Preservation North Carolina officials. Firestone donated the mill to them after it shut down and they sold it to Hughes. The organization's president Myrick Howard says they secured a half million dollar loan to buy and renovate mill village homes, with the exterior designs intact.
"We're trying to knock out the vacant house, the problem houses where drug dealers and prostitutes cluster around these vacant properties," Howard said. "We want to sell them with restrictions that they have to be owner occupied and with restrictions on their future size so they will stay small houses and we think they will have an anchoring effect on this community."
They plan to have a model home to show millennials and empty nesters, their target buyers. The renovated homes will go for about 100 thousand dollars.
Jack Kiser is Preservation North Carolina project manager. He was also Gastonia's planning director for 17 years. He hopes the redeveloped mill and their fully renovated homes will be incentives for others to buy rundown rental homes in the mill village and renovate them.
"The neighborhood is 75 percent rental and 25 percent homeownership. We want to see that flip," Kiser said. "The mill is a perfect fit in terms of the renovated project being 80 percent residential and 20 percent commercial space and works hand in hand with the community."
Hand in hand, side by side and depending on each other is how the mill and mill village two properties have always coexisted. Something the developers and preservationists hope they will continue so they will not just survive but thrive.