An in-depth look at our region's emerging economic, social, political and cultural identity.
Adjuncts At Duke Voting On Contract For Higher Pay And Job Stability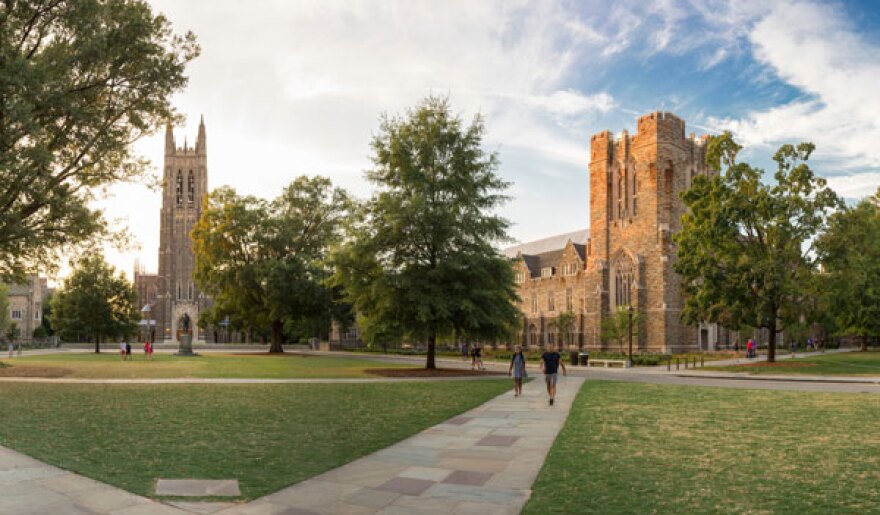 Duke University's year old union that represents adjunct faculty and non-tenured full time faculty may have a victory in the making. Votes are still being cast but union members are confident that their contract with the school will be ratified. The contract calls for raises and provisions for job security.
The contract was negotiated between the university and Duke faculty members, who organized last year under the Service Employees International Union. SEIU say it is the first contract negotiated between a union and a major private university in the South.
The contract would give nearly 300 part-time and non-tenured track full-time faculty at Duke raises from an average of 14 percent—some of them are as high as 46 percent.
"I will be getting a raise for the first time in four years," says Kelly Goyatte, a part-time adjunct professor at Duke. Goyatte teaches one to two writing courses each semester. If the contract is ratified at the end of the month as expected, she will go from being paid about $6,000 per course to $8,000.
Like most adjuncts, Goyatte works part-time waiting tables, applying for grants and any other work she can secure to pay her bills. In addition to increased pay, the contract calls for these faculty to get office space, compensation when classes are cancelled, professional development opportunities and longer contracts. Goyatte says the union contract would allow her to plan better.
"Basically I'm fired and hired at the end of every year and I don't ever know for sure if I'm going to be working at Duke the coming fall. I will now have a two-year contract instead of a one-year contract," Goyatte said.
Adjuncts account for more than 50 percent of college professors nationally, which saves schools a lot of money because the majority have no benefits and are paid an average of about $2500 per course. Kathy Shuman is a lecturer in Duke's English Department. She says they got a lot more than they expected in the contract, especially for those on the low-end of the pay scale.
"We went in with we'd be raising the bottom so those with the higher level of pay wouldn't get as much as those on the bottom who are getting 40 percent and higher raises," Shuman said. "Those in my level are getting 2-3 percent and 10 percent over three years."
Shuman makes about $55,000 as a full-time, non-tenured faculty member, teaching two courses each semester. She says her raise will come to about $3,000 under the contract.
Duke officials say they won't comment on the contract until it is officially ratified.
Altha Cravey, president of the North Carolina Conference of the American Association of University Professors, says the process at Duke is being closely watched by faculty around the state who hope for similar improved benefits.
"I'm excited because it's a huge victory for faculty at Duke and for the South to have such a prominent university come to the bargaining table, so it will give us a lot of momentum to improve things, the leverage to push for what we need and know we need on various campuses," Shuman said.
Faculty at private schools are allowed to form unions. However, North Carolina's laws prohibit public universities from engaging in collective bargaining but Craven says more adjuncts and non-tenured faculty members are joining the SEIU's Faculty Forward Network. It's not a union but it advocates for some of the same things the Duke contract may achieve.