00000174-9e19-ddc3-a1fc-bedbd75d0000Help WFAE investigate stories that matter to you.Do you have a question about the Charlotte area? Is there something you have seen or heard that you would like us to investigate? It could be a burning issue or something you have always wondered about the area or its people.Use the tool below to send us your questions. We could be in touch and your question could make the news. Thanks!
FAQ City: Your Questions About North Carolina's Reopening Answered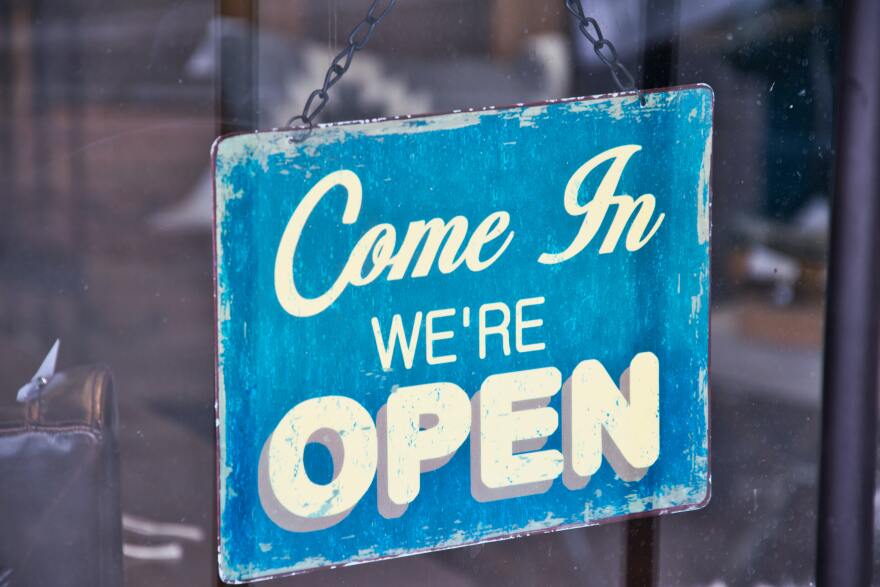 Gov. Roy Cooper has begun gradually reopening North Carolina in a series of three phases. If you're not sure what to expect under each of those three phases, don't worry! You're not alone. Lots of WFAE listeners have been writing in with questions, and we're here to help.
In this FAQ City episode, WFAE reporters Nick de la Canal and Claire Donnelly tackle questions sent in from you, our listeners, about North Carolina's reopening, and how you can keep protecting yourself as restrictions are lifted.
Listen to the audio segment above or read on for answers.
What happens under Phase 1?
North Carolina has been under Phase 1 of reopening since May 8. Under this phase, most retail stores are allowed to reopen, but they have to implement social distancing -- like keeping customers six feet apart -- and enhanced cleaning procedures. State parks are also allowed to reopen in this phase.
However, under Phase 1, the stay-at-home order remains in effect, which means people should still stay in their homes unless they have an essential reason to leave, like going to work, the grocery store, exercising outdoors or checking up on family members or friends.
Gatherings are also still limited to 10 people, and face masks are still highly encouraged when in public.
What happens under Phase 2?
Under Phase 2, restaurant dining rooms and bars will be allowed to reopen with limited capacity, and entertainment venues can similarly open back up at reduced capacity. Gyms, barbershops, hair salons and other personal care businesses also get to reopen under this phase. Depending on data trends, swimming pools could also open with limited capacity and spaced chairs.
Churches and houses of worship would have been allowed to welcome worshippers back to indoor, in-person services in this phase, but a court temporarily blocked the state from imposing restrictions on religious services through at least May 29, meaning churches and houses of worship are now free to meet however they like — at least until the court issues a formal ruling on the matter.
Also, the stay-at-home order would be lifted under this phase, and people would be allowed to gather in groups of more than 10, although there could still be a cap.
The earliest Phase 2 can go into effect is May 22 at 5 p.m., and it's up to the governor to decide if that will happen.
What happens under Phase 3?
Under Phase 3, there would be increased capacity allowed at bars, restaurants and entertainment venues, and the number of people allowed to gather at one time would again increase.
Phase 3 is set to start at least four to six weeks after Phase 2. State officials say that's so they can keep watching the key indicators for the coronavirus to see how reopening is affecting the virus' spread.
What happens if North Carolina doesn't meet the benchmarks needed to move into Phase 2 or Phase 3? What if there's a surge in new cases? (Submitted by Kimberly.)
Good question! Governor Cooper has laid out a number of benchmarks the state needs to meet before it moves into Phase 2. They include a leveling or a decrease in the percentage of positive coronavirus tests out of the total number of tests, a leveling off or a decrease in the number of people hospitalized for the coronavirus and an increase in the number of daily coronavirus tests.
Cooper has said that if we don't meet the necessary benchmarks, we won't necessarily move into the next phase of reopening. It's possible that we could be in Phase 1 or 2 for an extended period of time, depending on how officials think the numbers are looking.
If you do suspect a serious violation of the Phases, such as unsafe working conditions for employees or large groups of people gathering, you're asked to file a complaint by either calling 311 or filling out an online report. Please do not call 911 to file a complaint. Emergency responders need those phone lines kept clear for the people who really need them.
Under which phase will public libraries reopen? (Submitted by Ann and John.)
Charlotte-Mecklenburg Libraries are still closed, along with the library book-drop boxes. A library spokesperson says they're working with the county on a multi-phase reopening plan and hope to announce the plan in the coming weeks. So stay tuned.
Are dog parks open during Phase 1? (Submitted by Holly.)
Yes! Dog parks are open.
Can I visit a family member in the hospital? When will that be allowed? (Submitted by Toleto.)
A disclaimer here: We can't speak for all hospitals in North Carolina, and it's going to depend on your situation.
Right now, Atrium Health's website says it's restricting most patient visitors, but an Atrium spokesperson says the hospital system will be looking at easing restrictions in the coming weeks.
Novant Health also has limited restrictions, and it's not clear when those restrictions might be lifted.
When can I visit family? (Submitted by Brenda and Susan.)
There's no one right answer to this.
The modified stay-at-home order does allow people to gather outdoors in groups of 10 people or less if they're following social distancing guidelines.
But you could risk exposing your family member or friend to the coronavirus by seeing them in person, and you should think about whether your family member could be at higher risk for getting seriously sick with the virus or could potentially spread it to other people. So it's really a personal decision.
What about out-of-state family visitors? Can you have family members drive to visit you from out of state? (Submitted by Linda.)
This is another tricky one. It depends on whether that state has a stay-at-home order and what that state's order allows and doesn't allow. And again, you have to consider the risk to you, to others and to your community.
Is it safe to be in stores or malls without a mask right now? Are North Carolinians required to wear one? (Submitted by Josh.)
North Carolinians aren't required to wear masks, but it is highly recommended. Ideally, the mask will cover your nose and mouth, and you'll wear it when you leave your house and are within six feet of other people, for instance, at a grocery store or at the mall.
The idea is that it protects other people from possibly being exposed to droplets from your nose and mouth.
What are the best steps to take to protect yourself from the virus? (Submitted by Hugh.)
State officials have been using guidelines they're calling "The Three W's" — wear, wait and wash.
"Wear" is wearing a face covering when you'll be around other people. "Wait" is to wait six feet apart from others and avoid close contact. "Wash" is to wash your hands often or use hand sanitizer.
Where can I get tested for the coronavirus? (Submitted by Anita, Shirley and Evelyn.)
If you think you might have the coronavirus, you should call your health care provider and they will tell you your possible next steps.
You can also call 211 for the state of North Carolina, or if you're a Mecklenburg County resident, you can call the county's public health hotline at 980-314-9400.
The state health department also has a list of testing sites on its website, but you should note some of the places listed there require an appointment or a referral from a doctor.
Also, you can sign up for information and alerts from the state related to COVID-19 by texting COVIDNC to 898211.
How can I apply to be a contact tracer in North Carolina? (Submitted by Myra.)
If you don't know, a contact tracer is someone who talks with people who've tested positive for the coronavirus and tries to find out everyone they've come into close contact with and might have been infected by that person.
The idea is you'll ask those people to self-quarantine, since they may have been exposed to the virus. North Carolina health officials have said they want to double the number of contact tracers from 250 to at least 500.
Thing is, they've already received thousands of applications. But if you'd still like to throw your hat in the ring, go to communitycarenc.org to apply.
Will summer camps be allowed to reopen this year? (Submitted by Katharine.)
Day camps are currently allowed under Phase 1, but they have to follow Centers for Disease Control and Prevention guidelines.
Overnight camps will be allowed to reopen under Phase 2, but they will have to follow the state's guidance for operating during the coronavirus pandemic. That guidance is posted on the state health department's website.
State Health and Human Services Secretary Mandy Cohen has said some camps may decide not to open this summer if they don't think they can comply with the guidelines.
What will the next school year look like? Will kids go back to in-person learning in the fall? (Submitted by Tracy.)
Under the current plan, public school students are supposed to return to school on Aug. 17. That's about a week earlier than normal, and lawmakers hope it will give teachers time to catch students up after what will seem like a very long summer break.
But that could still change depending on how things look closer to that date. And we know Charlotte Mecklenburg Schools is still trying to figure things out because the district had planned to start school later -- Aug. 31 -- to avoid the Republican National Convention. So it's possible CMS students start the school year on Aug. 17 then switch over to remote learning a week later during the convention. We're still waiting for more details.
Will kids have to social distance at school? Will they have to wear masks? (Submitted by Dee.)
We know lawmakers want school districts to have remote learning plans in place just in case there's another wave, but other than that, we're still waiting on school districts and the state to put together more guidance. So we'll have to wait and see.
Do you have more questions about the coronavirus or anything else related to the Charlotte area? Share it with us in the box below. The WFAE newsroom is continuing to report on how the virus is impacting the Charlotte region, and your questions and story ideas keep us going.
Keep up with future FAQ City episodes by subscribing to the podcast on Apple Podcasts, NPR One, or Google Play.
_