Charlotte Artist Injects Magic, Chaos Into Getting Dressed
Joseph Herscher lifts his foot to put on his shoe right as a huge clock rolls under his leg as he performs The Dresser.
McColl Center for Visual Art
The audience applauds at the end of The Dresser, as Joseph Herscher casually walks out of the room.
McColl Center for Visual Art
Getting dressed can be pretty boring. But an artist in Charlotte turned it into a funny, machine-driven and excessively complicated task over the weekend. Joseph Herscher debuted his first live exhibition in the United States at the McColl Center for Visual Art.
Fun, organized chaos. That's what Joseph Herscher's art is all about.
He uses elaborate chain reactions to accomplish simple tasks, like turning a page or smashing an egg.
And as David Wandel and Brian Francois were waiting for his latest work to jolt to life, they noticed all the pieces were things you could find lying around your house.
"It's an ironing board," Wandel said. "It's a broom and a stool. It's books."
"Bookcase, flowers," Francois chimed in.
Wandel and Francois are middle school science teachers in Jacksonville, Florida, and they were in Charlotte for a conference. They love Herscher's art because it's like a science fair project on steroids. They've used YouTube videos of his old chain reactions to inspire their students.
And Saturday at the McColl Center, they caught his first live performance in the U.S.
"What you're about to see is a rare glimpse into my son's morning routine," a narrator said to start the show.
Herscher lies in a small bed in a large room. His alarm goes off, and he drops it in a cup of water, tilting a book and starting the chain reaction.
"That's really neat," Wandel said. He and others laughed as Herscher gets gently swatted in the face by his shirts – the bar holding them over his head starts dropping down, clanging from one peg to another.
"Back and forth," Francois noticed with each clang.
The bar eventually knocks down a fake squirrel that's tied to a bell, setting a battery rolling down into a clock the size of a bass drum.
"That's one way to start a clock," Francois said with a laugh.
The clock's huge second hand starts ticking, an accordion player off to the side starts playing, and a groggy-looking Herscher stumbles in his underwear toward two ironing boards.
The chain reaction speeds up from here, and the accordion player keeps pace. At one point, the clock hits a broom, which pulls a cord attached to a bookshelf. The books start flying off.
"Kind of like a domino effect - it just keeps pulling," Francois said.
Then the audience had one of its biggest laughs as a chandelier swung down just as Herscher ducked to tie his shoes. A pulley system lifts the chandelier back over his head. It has a hole in the middle of it, and there's a hat in that hole.
"Is it going to release the hat?" Francois asked.
"He's going to stand in the center, and the hat's going to fall," Wandel guessed.
The chandelier falls so that the hat lands right on Herscher's head. The audience goes nuts, and Joseph Herscher, fully dressed, walks nonchalantly out of the room.
If that's the most over-the-top morning routine you've heard of, that's what Herscher is aiming for.
"It's as inefficient as possible and as absurd as possible," Herscher said in an interview. "Why would I do that? Well, why not? I'm a human being. I like playful things. Not everything has to be robotic and not everything has to be efficient. And other human beings feel the same way, and that's why people enjoy watching these sorts of devices."
More than 500 people saw Herscher perform The Dresser on Saturday.
Herscher says the part with the chandelier hasn't always gone so smoothly. He has a small scab on the side of his forehead.
"That was from, I was standing in the wrong spot when the chandelior landed on my head," he said. "I wasn't standing in quite the right spot, so I've been practicing. I think I've got it down pat now."
He perfected it over the last few months as an artist in residence at the McColl Center. He's based in Brooklyn, and he used to be a computer programmer in New Zealand.
He says he's always tinkered with machines. About five years ago, he posted a YouTube video of one he made.
"It went viral – it got millions of hits," he said. "That's when I was like, hmm, maybe there's more to this. Maybe I can turn this into something."
Herscher's videos on YouTube now have more than 10 million views.
The president of the McColl Center, Suzanne Fetscher, says getting him in the artist-in-residence program was kind of like landing a celebrity.
At the first open house after he got here, "there was already a fan club around him, which was really interesting," she said with a laugh. "And it was made up of little kids - 7 years old and 10 years old - and adults. They were all waiting in line to meet him. He was like a rock star."
Fetscher says Herscher has also been part of a family art workshop, and he'll judge a contest for high school students making their own elaborate contraptions next weekend.
Herscher says he wants to help people inject a bit of playfulness into the things they do every day.
"There's so much potential for magic and beauty in the world around us," he said. "And we go most of our lives sort of blinded to that, you know? Going to work. Getting home from work. Etc."
But getting dressed? Brian Francois and David Wandel, the middle school science teachers from Florida, have a whole new concept of it.
"That's a pretty awesome way to get dressed in the morning without having to think about it!" Francois said.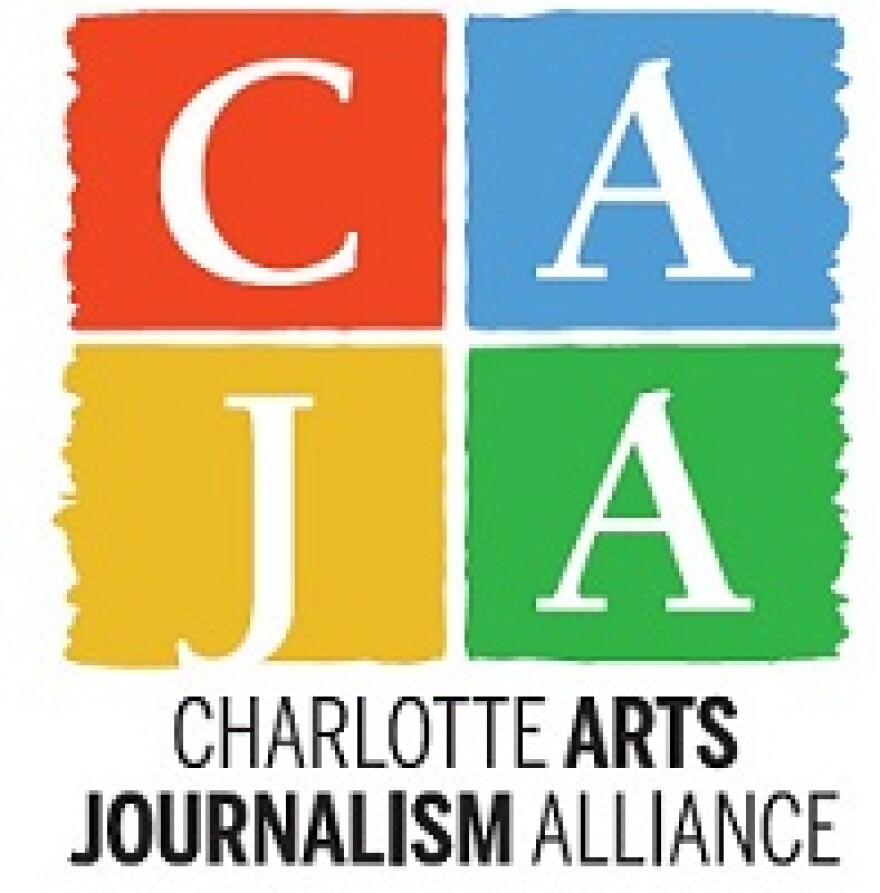 When asked how the performance was a cap to their trip to Charlotte, Francois replied, "The best!" And Wandel said: "It's the perfect ending. It is the perfect cherry on top. It was awesome."
Herscher isn't performing The Dresser again in Charlotte, but the high school contest he's judging next weekend at the McColl is open to the public.