Charlotte Duo's Electronic Music Gets Recognition
Software called "Reason" is a popular program for producing electronic dance music.
Alexia Gyorody
At a show in Raleigh, StylesNComplete's stage was a simple platform with a fold out table stacked on top of cinder blocks. They say crowds are hit or miss. Huge one weekend, dismal the next.
Alexia Gyorody
Alex Steins and Austin Hains work together on tracks in Alex's bedroom, their makeshift studio.
Alexia Gyorody
Technology is always evolving and spurring something new. Music is one example. Go to a trendy nightclub uptown, and it's there's a good chance you'll hear electronic dance music. WFAE's Alexia Gyorody gives us a glimpse into electronic dance music through this profile of two Charlotte artists known as StylesNComplete.
Just the fact that Alex Steins and Austin Hains produce music together makes them unusual in the world of electronic dance music. In this genre, DJs usually work on their own – and these are not your old-school radio station DJs. We're talking about DJs who mix and produce music.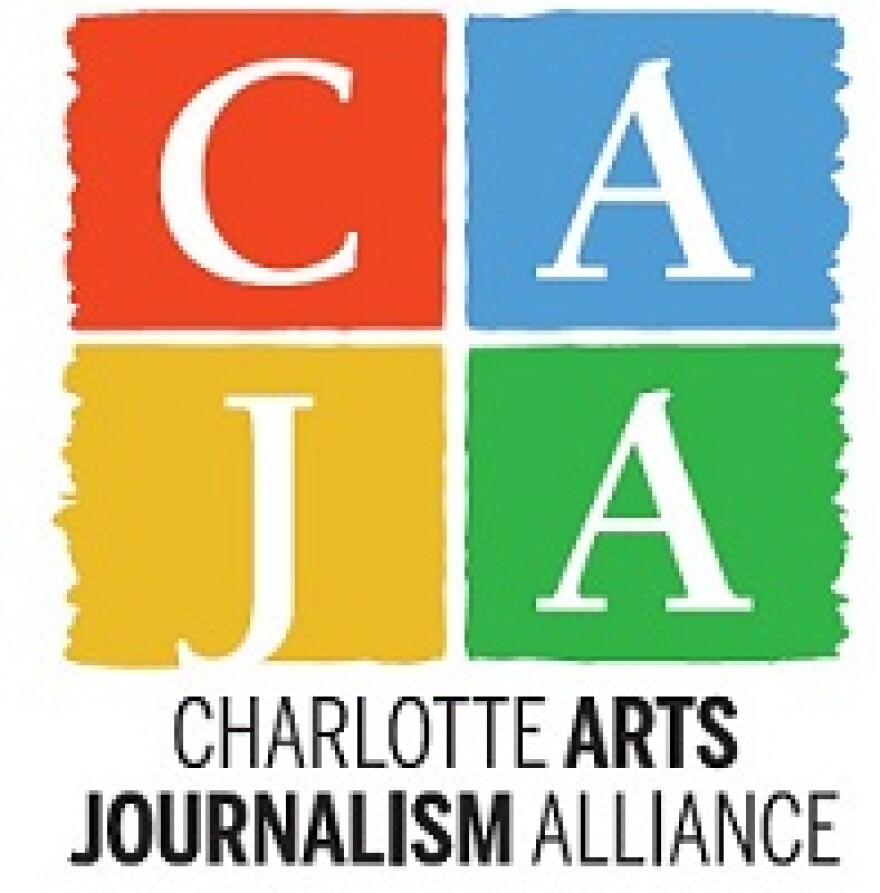 They work in the middle of the night. We had to meet at 2 a.m. in their makeshift studio – it's actually Alex's bedroom.
They arrange beats as dogs Snoopy and Charlie Brown sleep on the bed.
27-year-old Alex "A-Styles" Steins, has been making beats and playing around with music production since he was 12. Austin "DJ Complete" Hains, who is 28, started DJing at frat parties at UNC-Wilmington, where he earned a degree in marketing.
Alex and Austin met a few years ago through a mutual friend – and Alex says the chemistry was immediate.
"For us, before electronic music, we were listening to hip hop or maybe rock 'n roll, but mainly hip hop and now that we make EDM music, it's just second-nature for us to involve what we've grown up listening to. It's almost like we do it subconsciously."
When they're not producing together, they're performing.
Clayton Lineberger drove about an hour to see them. He became a fan in part because of a Charlotte Bobcats game. DJ Complete is the DJ at Bobcats home games. Lineberger liked his act, and started following him – and StylesNComplete – on Twitter.
He's even had the group perform at his family's farm.
They perform just about every weekend – they have shows throughout the Southeast in bars, nightclubs and the occasional music festival.
StylesnComplete developed a sound that mixes hip hop with an electronic bass.
To put EDM in context, think back to the glory days of disco. As disco evolved and bore other types of music like techno and house in the 90's, the genre of electronic dance music was coined.
Of course since the 80's computer programs have evolved and we sadly are not dancing under disco balls anymore – the music has matured and can include sounds from any type of music.
Someone could email you a song, you could strip the vocals from it, take out the guitar and piano and you're left with the drum beat. Then, take other components from other songs, align and stack them in your computer program and you're on the way to producing electronic music.
"It's grown a lot," says Creative Loafing music editor Jeff Hahne. "You see it a lot more in pop music as far as Britney Spears and Katy Perry and people like that bringing those EDM beats and producers into their songs."
Neither Alex nor Austin have formal musical training, but Alex says organizing the music is similar to being a conductor.
"Making EDM music is like making a symphony on your computer by sequencing every little individual note on a giant graph."
And even after a song is "done," the edits continue – it's just as easy for them to edit their music as it is for us to edit our work on word-processing programs.
StyleNComplete has gained its following through sites like MySpace and SoundCloud, where fans can play their music for free. SoundCloud has recorded 1.6 million plays for their mixes, and some of the biggest EDM artists – with names like Diplo and Tiesto – have given them credibility.
"You know, when we found out that some of the bigger artists in the game like Diplo and Tiesto were supporting our music and putting it in their mixes, it was just very dope and encouraging.
And that leads to more fans, which means more people coming out for their shows. That's how they're making money for now. One show at a time.
The goal is to eventually sell songs and not just tickets. One way to get there is by collaborating with other big-name artists.
And they think they'll have a better shot of that in LA, where they plan to move next year.
This story is produced through the Charlotte Arts Journalism Alliance, a consortium of local media dedicated to covering the arts.