City Council postpones key Eastland decision; wants to marry two competing plans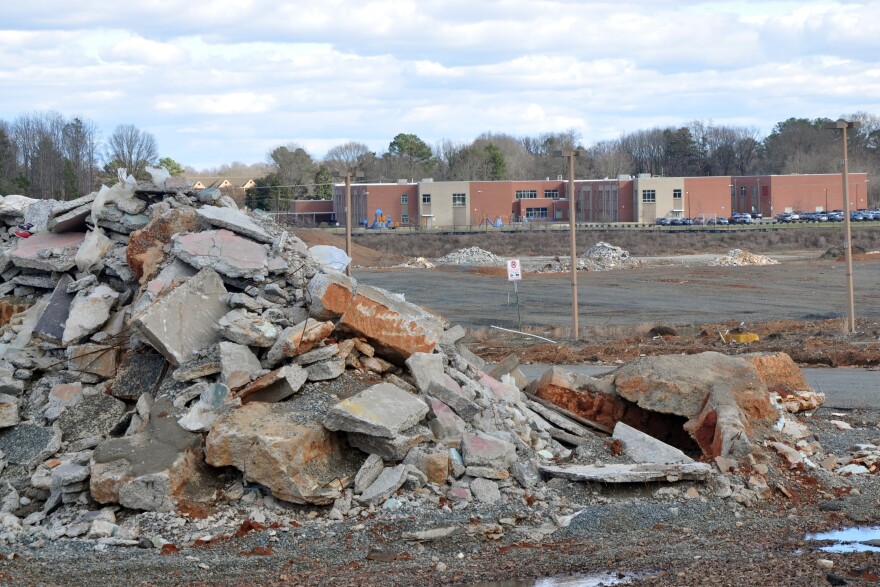 The Charlotte City Council on Monday voted unanimously to postpone a decision about what to build on 30 acres at the old Eastland Mall site.
Council members instead directed the two competing developers to come together and create a new plan.
One Eastland proposal is for an e-sports hub, soccer fields and a 5,000-seat amphitheater. The other is for an indoor amateur sports complex and hotel.
The Council's economic development committee had voted 3-1 earlier this summer to back the e-sports proposal. City staff had said it was the best plan, and Crosland Southeast — the master developer for the Eastland site — had also said it seemed like the most financially viable.
But a number of eastside residents are against the amphitheater, saying it would bring too much noise and traffic during major events. They had created a petition with more than 200 signatures urging council members to pick the indoor amateur sports proposal, and residents wearing matching shirts lobbied City Council on Monday night against the plan.
At Monday's meeting, council member Marjorie Molina, who represents the area, asked that the decision be delayed for 45 days while the two developers combined their proposals. She said the delay is "risky" but was confident a combined proposal could work.
The Charlotte City Council's economic development committee previously voted 3-1 to back a proposal by QC East to bring an e-sports hub, concert venue and soccer fields to a 30-acre site at Eastland Mall.
"I hope we can bring them together," she said. "(That can) make the most sense financially and to take into consideration what the community wants."
Council members unanimously backed her plan. The votes comes nearly two weeks before the Sept. 12 primary for mayoral and City Council elections.
Eastland Mall closed in 2010. Since then, a host of plans — including movie studios and an indoor ski slope — have come and gone for the site. Charlotte-Mecklenburg Schools built a school on part of the site, and the majority is now being redeveloped by Crosland Southeast with shops, offices, houses and apartments. The 30-acre site that still remains unspoken for would have been home to Charlotte FC's soccer academy and fields, before the team pulled out last year.
Jordan Lopez, who lives in the nearby Verndale neighborhood, was pleased council members are trying to marry the two remaining plans. He said he was upset at the committee's earlier vote to reject the amateur sports concept.
He said city leaders have talked for years about how an amateur sports complex is needed.
"So on one hand to say it's not a viable long-term plan for Eastland while on the other hand saying that in the long term our city needs one of these facilities is quite the contradiction," he said.
If a combined plan moves forward, it's possible the concert venue could be dropped. Council members did not talk about the amphitheater as a possibility in the new plan Monday.