What to see and do at the 2023 Charlotte International Arts Festival
After a particularly long, brutally hot summer in Charlotte, the seasons are once again beginning to change, coaxing residents out of their air-conditioned bunkers to enjoy cooler temperatures, and Charlotte's array of annual fall festivals.
One of the newest is the second annual Charlotte International Arts Festival, which follows a similar model to the Charlotte SHOUT! arts festival in the spring.
Instead of packing the festival into a single weekend or location, the event is spread out across time and space, with artsy offerings in multiple locations over 17 days from Sept. 15 - Oct. 1.
Think of it like an arts buffet, with regular dishes served daily, plus chef specials and extra add-ons that can vary by the day. Most of the festival's offerings are free, with some shows and events requiring tickets.
The festival's host, Blumenthal Performing Arts, says this year's festival has more than 200 events including art pieces, live performances and food in uptown Charlotte and Ballantyne that "bring together Charlotte's local and international communities with global artists in a cultural celebration."
Here are a few highlights that are worth checking out: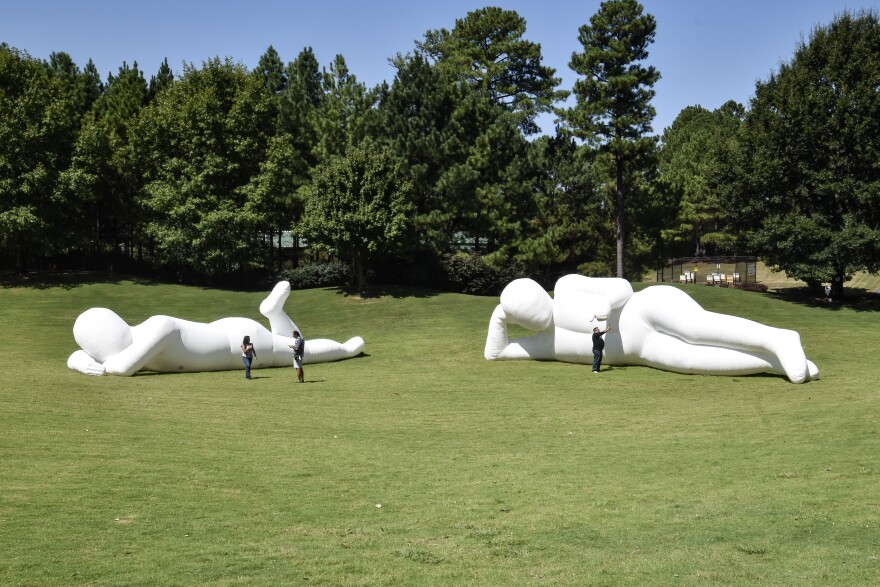 Ballantyne
The lush, rolling hills of Ballantyne's Backyard have been transformed into an artsy wonderland with larger-than-life, and tiny, squint-to-see art installations that visitors can check out over the next two weeks.
Visitors will get to see a giant sea squid, circus performers, big inflatable pillow people, giant airheads (not the candy), and interact with larger-than-life bird puppets, which proved a hit during the festival's launch in 2022.
Guests can also make crafts, climb a rock wall, skate in an outdoor roller rink, dance along a glowing, light-up path reminiscent of a board game like Candyland, and encounter 100 tiny, smile-provoking art pieces on a nature trail.
The Ballantyne location also has food trucks and picnic table on site. A DJ spins family-friendly tunes that float across the park, and savvy visitors might pack picnic blankets and enjoy their lunch or dinner on the grassy hills.
On select days, guests can also watch an over-the-top water balloon fight, and participate in yoga and fitness classes.
Uptown Charlotte
Visitors to uptown Charlotte will get to walk beneath a ceiling of iridescent bubbles on Levine Avenue, where they can also play chess with friends or strangers, and sip beer in an outdoor biergarten — open at 3 p.m. on weekdays and 11 a.m. on weekends.
Uptown Charlotte will also have two outdoor stages featuring an array of daily concerts and live performances. One stage is on Levine Avenue, and the other a few blocks away in Wells Fargo Plaza.
Another short walk to Founders Hall will reveal a giant, levitating model Earth that invites viewers to reflect on our planet the way an astronaut might from space.
On select days, visitors to uptown can also participate in a swing dance, a giant game of musical chairs outside the Mint Museum, a silent disco, and yoga and fitness classes.
Fans of the glowing model Earth in Founders Hall may also want to check out the immersive "Bella Gaia" show, at the Booth Playhouse Sept. 30 - Oct. 1. The show is inspired by astronauts who have seen Earth from space and features live music, dance and satellite imagery.
Emerging and established poets might also want to check out the festival's Poetry Slam and Showcase at the Wells Fargo Auditorium Sept. 22 - 23.
The festival's final weekend will feature an "International Bazaar" in Founders Hall with merchants and vendors representing cultural groups and nonprofit organizations Sept. 29 - 30.
Other special events
In addition to the regular daily offerings, the festival also has a few festivals-within-a-festival, including a Brunch Festival on Sept. 16 at The Amp Ballantyne, El Grito Festival on Sept. 17 at the Route 29 Pavilion in Concord, the Latin American Festival on Sept. 23 at The Amp Ballantyne, and the Festival of India on Sept. 23 at Belk Theater.
Two local stage productions in uptown will also feature the stories of local Charlotteans. They are "This Land Is My Land: Here From Afar," and "Sincerely, Charlotte: A Love Letter to Old Charlotte."
Families with kids or older kids-at-heart might also snag tickets to shows like the "Gazillion Bubble Show," and the "COCO Live-to-Film Concert," where attendees can see a showing of the film accompanied by a live orchestra.
In addition, the festival will offer a concert production of the Tony-award-winning "Fela!" on Sept. 16 at The Amp Ballantyne.
There's lots to do and lots to see. Happy fall!