Hopes High But Progress Slow At Kannapolis Biotech Campus
When billionaire David Murdock opened the North Carolina Research Campus five years ago, his goal was to create a global biotechnology center in Kannapolis and to replace the thousands of jobs lost when Cannon Mills—formerly the city's largest employer—closed. Murdock has poured upwards of $600 million into development of the NCRC, but today, there are only a handful of companies and few jobs compared to his sweeping vision. This week, Murdock donated another $50 million to the endeavor. Outside of Murdock's millions, there are few signs of growth, but many are still betting on it.
Pristine buildings, meticulously cut flowers, and sculpted lawns—these are in abundance across the campus—but people are a rare sight. Eventually the developers claim it will host 5,000 scientists and support 35,000 jobs both on-campus and off-campus. A map of the finished campus hangs in the office of Castle & Cooke North Carolina, the Murdock-owned company developing the NCRC. Buildings dot every inch of it, but in reality only four are built and populated with about 400 employees—a far cry from the "Biopolis" originally proposed.
"The economy sort of messed our timeline up," says Lynne Scott Safrit, president of Castle & Cooke North Carolina. "So originally we would have hoped that would have been done in five years, but realistically I think you're looking at a 10-year time frame to do that build out at this point."
The campus houses few, but prominent, organizations. North Carolina's largest universities have setup shop, including Duke and seven UNC schools. Their researchers are studying how to make food healthier—how a protein in blueberries can stave off blindness and ginger can fight cancer.
An NC A&T research assistant is separating clumps of drying wheat bran, one step in an experiment to turn it into a tasteless, nutritious powder.
"One day, hopefully somewhere in the near future, you'll be able to eat a piece of bread, or a couple slices of bread, and go out and run a marathon and then come back, get another couple pieces of bread and recuperate from your marathon much quicker than having to go through the normal regimen," says professor Leonard Williams about his lab's work.
Corporations work in the same buildings as the academics. General Mills has a lab to increase the fiber in oats. Monsanto, the agriculture titan, is trying to enhance the taste of its fruit.
This mixture of industry and academia is a good start for a budding biotechnology hub, but there are no guarantees of success. Harvard Business School professor and biotech author Gary Pisano says other regions have poured money toward the same goal, only to fail when they could not attract enough talent.
"Lots of places have wanted to create biotech hotspots and very few have been able to overcome these kind of forces," says Pisano.
The NCRC has not announced a new company moving in since Monsanto and General Mills in 2010. In 2008, the Charlotte Observer reported 16 businesses were on board. Today, there are 9. Pisano describes a vicious cycle when it comes to creating a biotechnology hub.
"You got to get the talent, but to get the talent you need the companies and the organizations, but to get the companies and the organizations you need to get the talent," he says.
For now, the NCRC is bleeding money. Last week, Murdock donated another $50 million to the David H. Murdock Research Institute—his non-profit at the heart of the campus. Employees describe the gift as "transformational," but lifeline might be a better word. The Institute lost more than $22 million—20 percent of its total assets—from 2009 to 2011. Murdock also subsidizes the NCRC.
The good news for the campus is that, despite modest progress, he shows no plan to stop.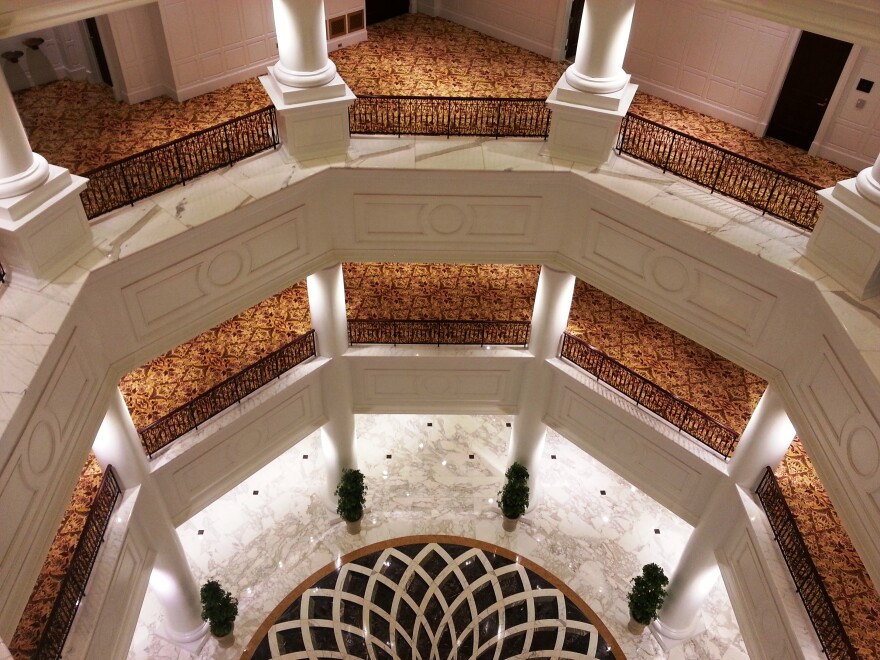 "I constantly hear we need money, we need money, we need money," Murdock said during the announcement of the $50 million gift to his institute. "I'm now going to give 50 million to what I've already been spending money on, and I'm sure there will have to be some money following that. And, it's very easy to spend money on scientific research, but I want to see the results."
The public has a stake in the project, too. The state contributes upward of $20 million each year, although that could be a target for future budget cuts. Kannapolis and Cabarrus county have also invested $35 million altogether.
Despite the setbacks, local leaders have continued to support the project. The Kannapolis city council listed it as the city's top economic asset in its latest economic develop plan, and plans to move City Hall onto the campus. And county manager Mike Downs remains optimistic.
"Kannapolis is going to reap the benefits of having the campus there, plus all of the spin-off activities, whether it's residential, commercial, retail type activities," says Downs.
Most of those spin-offs have yet to materialize, but the core campus continues to slowly build. Cabarrus Health Alliance, the county's largest employer, just moved to an affiliated building across the street. Later this year, a new medical office will open for Carolina Healthcare System. Safrit says there are other signs of life.
"We are starting to see lots of companies coming here, not necessarily to lease space at the current time, but to do projects with [Murdock's institute]."
Those are small gains in the grand scheme, but Pisano, the Harvard professor, says there are other reasons to take heart.
"Even with that size investment it can be challenging to get the ball rolling," says Pisano. "Now that said, these things are non-linear in the sense that you could be investing for a while and not get much, and then it takes a few companies in there who create a lot of momentum and then the thing can take off."
Pisano also points out that the NCRC is different from other ventures in one respect. Most biotechnology hubs, in San Francisco, in Boston, and in Raleigh, focus on developing biologic drugs. The North Carolina Research campus, he says, is the only hub he knows of focusing specifically on nutrition and food, rather than pharmaceuticals.