WFAE's coverage of the case of Charlotte-Mecklenburg Police Officer Randall Kerrick charged with voluntary manslaughter in the death of Jonathan Ferrell. The court case ended in a mistrial.
The Kerrick Trial Jury Selection Process; 9 Chosen So Far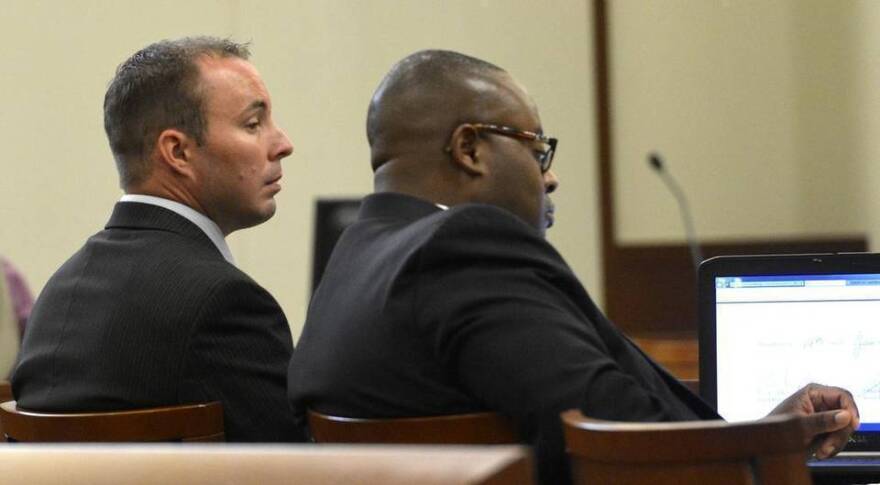 Nine jurors have been selected in the trial of former CMPD officer Randall Kerrick. He is on trial in the shooting death nearly two years ago of 24-year-old Jonathan Ferrell, an unarmed black man. This marks the fourth day of jury selection. On Wednesday, some potential jurors expressed fears and reservations about serving on the case. WFAE's Gwendolyn Glenn has been in the courtroom much of this week.
Mark Rumsey: Gwendolyn, what are the jurors concerns?
Gwendolyn Glenn: Mark, a lot of it stems from the questionnaires that the potential jurors filled out being available to the media. Usually only attorneys have access to them, but Superior Court Judge Robert Ervin allowed the questionnaires for those in the first batch brought for questioning to be released. Yesterday, one woman said her mother called her concerned about what she read in a Tweet. She knew it was her daughter being considered for the jury and was worried. She told the judge this also made her feel uncomfortable.
Another young man expressed the same concern and said because of the information being released about potential jurors through the media he fears someone may come to his workplace or home if they don't like the outcome. He told the judge that he has a permit to carry a gun, and that if he gets in a situation where he fears for his life, he will use it.
Mark: Were any of the potential jurors excused because of these concerns?
Gwendolyn: In the two cases I mentioned, they were not immediately dismissed. I don't know what has happened this afternoon. But a business owner was excused yesterday after being questioned for about 40 minutes. He said he feared he would lose police customers and others if Kerrick is found guilty and feared for his safety and that of his family's if there is a not guilty verdict. He told the judge that he could vote guilty but would have a problem with a not guilty vote, for fear riots would break out, and therefore could not be fair to the defense case.
Mark: As you mentioned, it was Judge Ervin who allowed the questionnaires to be released. How did he react to the concerns raised?
Gwendolyn: He was not pleased, especially after he showed the attorneys a photo Fox 46 used in its reporting that showed a questionnaire, with the potential juror's name visible. Ervin then banned tweeting in the courtroom and use of electronic devices. He said reporters could tweet from the hallway but would only be allowed to go out once during a session. Yesterday, Judge Ervin also said he didn't like how things were going and that the media should be prepared to cover the trial without audio or photos.
Mark: We can infer some trial strategy through the questioning of the potential jurors. What did you learn?
Gwendolyn: Well, the prosecution team asked all of them for their opinions on alcohol and marijuana, and if they would negatively judge the victim, Jonathan Ferrell, if evidence was entered that showed he used either on the night he was shot by Kerrick. One prospective juror said he strongly opposes the use of alcohol because he thinks it makes people act "belligerently." One woman said she dislikes marijuana because she thinks it fries your brain. Most said they would not be swayed if it is shown the victim used either.
The defense team is expected to bring up alcohol and marijuana use. Kerrick's attorneys issued a statement Tuesday that says Ferrell consumed alcohol the night of the shooting, although when he was tested it was below the legal impairment limit. The attorneys also said they will have evidence that Ferrell offered to drive a friend home to smoke weed.
I'd also like to mention that the prosecution also asked each in the group what they knew about other police shootings in the country involving white officers and unarmed African Americans, if their views on those incidents would affect them being able to be fair in this trial and if they'd been arrested or had negative experiences with police.
Mark: How did the popular television show CSI: Crime Scene Investigation fit into the questioning?
Gwendolyn: Every potential juror was asked if they watched the show and if they realized it was entertainment and not how real investigations are carried out. I admit, I don't watch the show, but the prosecution wanted to know if the jurors would not hold his team to a higher standard of proving their case than the defense, as I'm told happens on CSI.