WFAE's coverage of the case of Charlotte-Mecklenburg Police Officer Randall Kerrick charged with voluntary manslaughter in the death of Jonathan Ferrell. The court case ended in a mistrial.
Kerrick Jury Selection Underway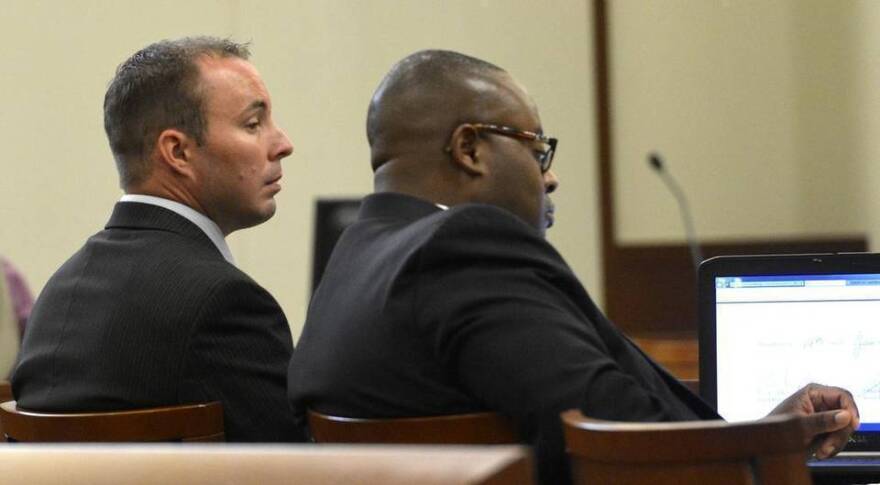 Jury selection got underway Monday for Randall "Wes" Kerrick, the former CMPD police officer accused of shooting and killing an unarmed black man nearly two years ago. Kerrick, who is white, shot and killed 24-year-old Jonathan Ferrell when he and two other officers responded to a 911 call. Superior Court Judge Robert Ervin ruled that video cameras, audio recordings, and photography will be allowed during this week's pre-trial motions. Judge Ervin has not determined if they will be allowed during the trial. No video, audio or pictures of jurors will be permitted.
WFAE's Gwendolyn Glenn was in the courtroom . She spoke to WFAE All Things Considered host Mark Rumsey about the day's events.
Here's a transcript of the segment:
Mark: Gwendolyn, what was the mood like at the courthouse today?
Gwendolyn: There was a seemingly larger than normal police presence inside and outside the courthouse. Some officers were on segues on nearby streets and before anyone could enter the courtroom, in addition to the normal security checkpoint downstairs, everyone had to go through an airport-like scanner, that was manned by three officers. This morning, there were about 100 people in line when the doors opened, of course many were media.
Mark: The judge ruled on a lot of motions today. Tell us about them.
Gwendolyn: They did, Mark...(Defense attorneys) argued against the judge giving the media access to the completed questionnaires of potential jurors. Usually only attorneys see completed questionnaires. Personal information will not be included.
Mark: What are some of the questions potential jurors are being asked? Are they pretty standard?
Gwendolyn: Some yes, ask the level of education, number of children, are you employed. But they go deeper, like these two questions. One asks if you've watched news reports of the shooting incidents in Ferguson, New York City, Charleston, SC; Baltimore and other cities that involved white officers and unarmed African-American victims, like this case. And another question asks that given what happened in those cities, "Do you have any strong feelings, positive or negative, toward police? Please explain."
Mark: So how long will the jury process go on?
Gwendolyn: Today they bought in 30 in this first batch of potential jurors. Most were white and female. If they don't agree on enough people for full jury and alternates, they will bring in 30 more Tuesday and will repeat the process throughout this week until they get what they need.
Correction
In the audio version of this story, as in a previous Web version, WFAE reported that Judge Robert Ervin ruled that video and audio recordings would be allowed during the trial. He has not made this ruling. Judge Ervin has only ruled that audio/video recordings and photography are allowed during pretrial motions. He has yet to rule whether audio/video recordings and photography will be allowed once the jury is seated.