WFAE's coverage of the case of Charlotte-Mecklenburg Police Officer Randall Kerrick charged with voluntary manslaughter in the death of Jonathan Ferrell. The court case ended in a mistrial.
Kerrick Defense Rests; Closing Arguments Today
The defense rested its case Monday afternoon in the Randall Kerrick voluntary manslaughter trial. Monday's testimony centered around CMPD's training policy and DNA evidence.
Kerrick faces up to 11 years in prison if found guilty of fatally shooting 24-year-Jonathan Ferrell in 2013. Ferrell was unarmed.
Kerrick Defense Rests; Closing Arguments Today
WFAE's Gwendolyn Glenn reports on the last day of testimony in the Randall Kerrick case during Monday's All Things Considered.
The following is a transcript from Monday's All Things Considered segment on the Randall Kerrick trial.
Mark: Gwendolyn, what did we learn today?
Gwendolyn: Today, the defense called as an expert witness Dave Cloutier, a retired trainer at the police academy, who developed courses on deadly force told the jury that Kerrick's decision to use his firearm the night he shot Ferrell 10 times was consistent with CMPD policy.
If you remember, Kerrick testified earlier that he was trained to draw his weapon whenever another officer draws a Taser. Another officer had his Taser pointed at Ferrell when he walked in the direction of the officers. In testimony, a prosecution training expert said Kerrick should not have used deadly force and should have holstered his guy to free both hands to deal with Ferrell.
Today, Cloutier said he trained the prosecution's expert witness and said officers are not trained to re-holster their guns in a timely fashion, once they are drawn them. He said they are trained to take them out quickly and are encouraged to draw them and reholster them to break in their holsters. He did concede that if an officer is in a fight, the best strategy is probably to re-holster the gun.
The prosecution has argued that Ferrell did not have a weapon and therefore deadly force was not justified, but Cloutier told the jury that a person's body can also be a weapon.
Mark: Let's get to the DNA. What was revealed there?
Gwendolyn: The defense called CMPD DNA analyst Eve Rossi, who said she took lots of blood samples from Kerrick's uniform, his gun and the screen door of the house of the homeowner who called police when Ferrell knocked on her door after being in a car accident.
Rossi says Ferrell's DNA was found on the muzzle of Kerrick's gun, Kerrick's boots and boot laces. That was not surprising since they were not far apart when Ferrell was shot and an officer on the scene that night said Ferrell was at Kerrick's feet and ankles after being initially shot. The blood samples from the gun's grip and trigger showed a mixture of DNA, but she never said any of it was Ferrell's. Rossi said none of Ferrell's DNA was found on the magazine of the gun. ON Kerrick's uniform, the results were not conclusive on some areas where, but Ferrell was not ruled out either. She said the only DNA found on the door of the homeowner's was Ferrell's.
Also, three marijuana roaches, taken from the garage of the friend Ferrell gave a ride home that night. Ferrell's DNA was not found on two of them but his DNA and that of his friends were not excluded on the third marijuana roach.
The prosecution brought up that DNA does not tell how or where something happened and that with Ferrell losing a lot of blood, his DNA could easily have been anywhere on KErrick.
Also, prosecutors said others were touching Ferrell when he was handcuffed, turned over in the ditch and could have transferred some of his DNA to Kerrick.
Mark: So now that the defense has rested its case, what's next?
Gwendolyn: The closing statements are up at 9:30 a.m. Tuesday. The defense say they will have a 90 minute closing statement, the prosecution 30 minutes. And then of course there are the two sides' rebuttals. The prosecution is up first.
Update, 11:45 a.m.
Defense expert witness Dave Cloutier says Randall Kerrick's use of force when he shot 24-year-old Jonathan Ferrell was consistent with CMPD policies. Kerrick is on trial for voluntary manslaughter in the 2013 death of Ferrell, who was unarmed at the time.
Cloutier, a retired NC justice Academy instructor and developer of use of force programs at the academy, told the court that Kerrick was responding to a potentially dangerous call and that drawing his weapon was in line with CMPD policy.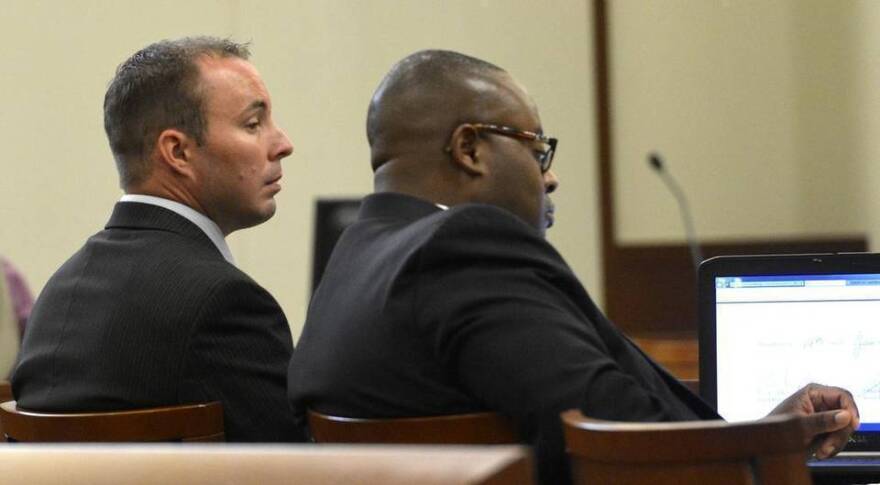 Kerrick testified earlier that he was trained to draw his weapon when another officer draws a Taser. Officer Adam Neal, who was on the scene when Ferrell was killed, had his Taser aimed at Ferrell when he approached them.
Prosecution witness and CMPD training expert Captain Mike Campagna testified last week that CMPD policy does not require officers to draw their guns whenever a Taser is drawn by another officer. He said using deadly force in this instance was not justified and went against CMPD policy.
"To draw a weapon is consistent with CMPD policy," Cloutier said. "Based on my education and experience, his [Kerrick's] firing of his weapon is consistent with CMPD policy and training."
The prosecution has argued that because the dash cam showed and the officers on the scene testified that Ferrell did not have a weapon, deadly force was not justified. But Cloutier said, "A person's body can be a weapon."