911 Caller: Wife Killed Husband After Catching Him With Another Woman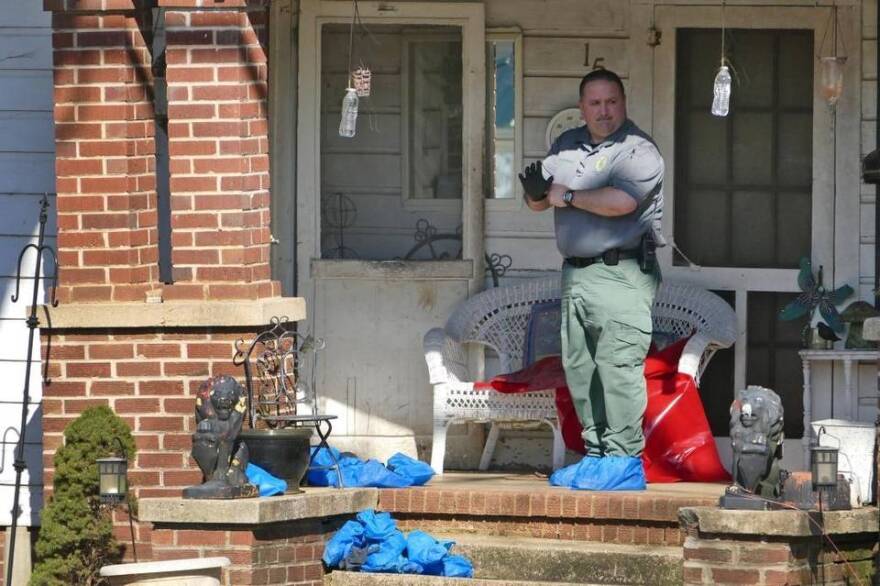 A relative of Crystal Gambino told a Gaston County 911 operator that Gambino told her family that she killed her husband Monday night after catching him with another woman.
The caller, who identified himself as Gambino's brother-in-law, said in his 911 call that Gambino put the body of the other woman in a wheelbarrow and rolled her out to a "burn pile" in the backyard of the home she shared with her husband, Giovanni "Gio" Gambino.
Crystal Gambino, 42, remained jailed Wednesday without bond in Gaston County, charged with three counts of first-degree murder in the shooting deaths of her husband, 40, along with Geoffrey Glenn Gilliland, 39, and Stephanie Lynn Sanchez, 33.
Multiple media outlets reported that the three victims were shot in the bedroom of the Gambinos' home on Alexis-Lucia Road and were naked when they were found.
Gilliland and Sanchez lived at the Greenleafe Inn, a $55-a-night motel on Monroe Road in Charlotte.
"These are people that met, had interaction and then came together," Gaston County Police Capt. Curtis Rosselle told the Gaston Gazette. "And then the third party did not like it and took action."
The 911 caller says Crystal Gambino told her family that she had cleaned up the scene "and took care of the bodies."
Gaston County Police said officers were called to the home about 8 p.m. Monday. Police found the victims after they entered the house. They arrested Crystal Gambino a short time later at a relative's home in nearby Stanley.
A portrait of the couple pulled together from interviews with neighbors and a collection of public records reveals an unwieldy business network and a sometimes stormy marriage.
In 2009, Crystal took out a temporary restraining order against her husband and filed for divorce, requesting custody and child support for the couple's daughter, now 9. The case was dismissed. That same year, Gio Gambino was charged with communicating threats against his wife. The charge was later dismissed.
Crystal Gambino is a singer-songwriter whose Crystal Gambino Band performs Americana and alternative rock music, according to her biography on reverbnation.com, a website that promotes musicians.
The couple lived in a three-bedroom home valued at $78,000. It was built by Crystal's great-grandfather, said her cousin, Bob Hager, who lives a mile away.
Hager said that he doesn't know Crystal that well but that Gio attended services with him from time to time at Mount Zion Baptist Church.
"Everybody liked Gio," Hager said Tuesday. "He was a good father, and he had great concern for his wife. He asked me to pray for her on one occasion."
He also described Gio Gambino as a "strong Christian."
According to a 2011 federal bankruptcy filing, Gio Gambino took part in a scheme that defrauded the Bank of Granite out of some $260,000 a decade ago.
Gambino and his partners forged documents, bank statements, tax forms and other records to make it appear that one of the partners, an unemployed car salesman, was wealthy enough to qualify for a loan to start Gambino New York Deli & Specialty Foods, the document says.
The car salesman, identified as Richard Alan Mays, did not realize that he, too, was being swindled, the document says. He signed the loan guarantee. Once the money changed hands, it was quickly siphoned off by Gambino and his other partners. None was spent on the deli, which the court says was never intended to be built.
According to the court record, checks and or money wires were to numerous parties, including Gio Gambino, Crystal Gambino and another family member.
Mays was held solely responsible for repaying the loan. In 2011, the bankruptcy court awarded the bank triple damages, leaving Mays liable for almost $800,000.
The bank later sued all the partners in Mecklenburg County court. The Gambinos filed bankruptcy in 2012.
Researcher Maria David and staff writer Joe Marusak contributed.