'This Can Happen To Anyone,' Homicide Victim's Family Says
There have been 49 murders in Charlotte this year, which is more than double the number compared to 2016.
Monday, we visited the North Tryon Division where 10 murders have occurred. We heard from residents who live there and the officers who patrol the area.
Now we hear from the family of one of the first victims of the year. His name was Jabari Stewart. WFAE's Sarah Delia spoke to Stewart's sister and brother-in-law who are trying to pick up the pieces of their lives after his murder.
When Patrice Warren decided she wanted to move away from New Jersey in 2009, she decided Charlotte would be her new home. And it was for a simple reason, it's where her baby brother lived.
"I've lived in Virginia, New Jersey, Pennsylvania, and California. Prior to January 4, Charlotte was hands down the best place I'd ever lived. Until this tragedy," she said.
On January 4, 38- year-old Jabari Stewart was murdered in his home around 7:00 p.m. Sofar there are no updates on his case.
Patrice describes him this way:
"If you were under the impression that he was your friend, he was your friend. He meant that. And he lived that. There are some other sides to us all, but when we talk about the very cloth of a person, the character, his moral standing, he was a good person. That has followed him from birth to now," she said. "There is six years between me and Jabari. That was my baby doll. So losing him is more than losing a sibling which is challenging in itself. It's like losing a child."
Anthony Warren, Patrice's husband, knew Jabari before he knew Patrice. Anthony recalls when he met Jabari, he would confide in him some personal things he was going through when he left the military. Jabari was always supportive.
"He didn't hold it against me that I had issues, he just told me I could do better. He was my main motivator and that's why I miss him so much," he said.
Anthony was on the phone with Jabari just a few minutes before the attack. They were discussing a Christmas gift exchange the family had organized. The two were joking around about Jabari needing to come by and pick up his gift. That was the last time the two spoke.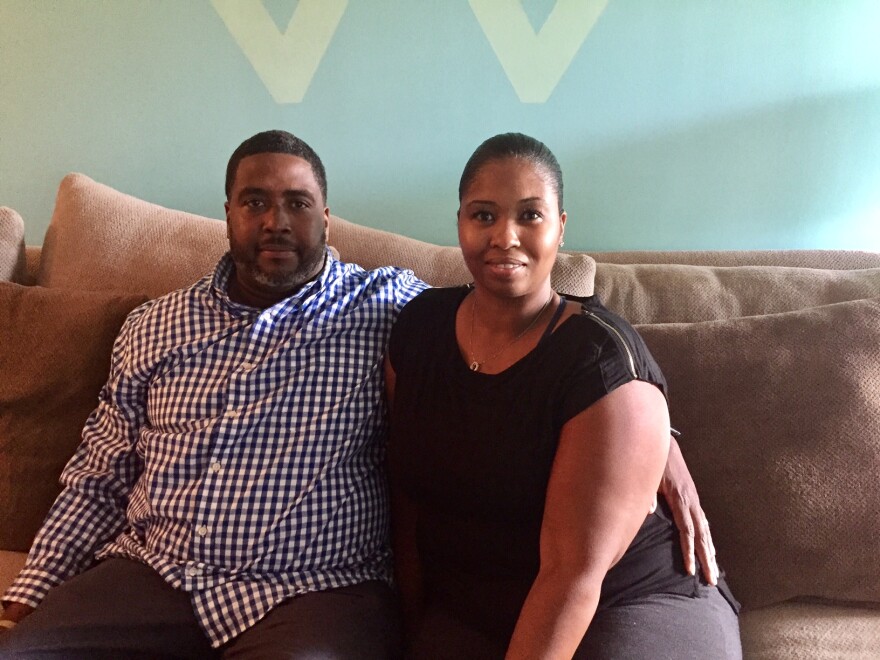 Here's what Patrice and Anthony say they do know. On January 4 around 7:00 p.m., there was a knock on Jabari's door. His uncle who lived with him answered. Three people pushed their way in after a struggle, shot Jabari multiple times. His uncle has since moved out of the state.
With little details, it leaves the couple in a difficult spot.
"We're here but we aren't here. I want to leave, my wife wants to leave but we also want to be here because we want to find out what happened," he said. "And I know from history, the family needs to be present once they find out what happens, once they start going to court because we want justice. We want to be there and let the district attorney know and all the people and judges to know that Jabari had family and he was a great man."
But it's hard to say when someone will be brought to justice which is the hardest part.
"But the not knowing all around, the not knowing what happened, the not knowing whether or not they're coming close to or whether they have tangible evidence. That also makes it challenging. I don't believe that the process of grieving can begin until there's closure as to what happened. And why it happened," said Patrice.
Patrice says Jabari loved music and dancing, he had an entertainment company called Small Giant. In his memory Patrice has formed the Small Giant Foundation, an organization she hopes will reach out to teens about violence.
"I've been guilty of not getting involved until it affected me. Hearing stories and you get so immune to hearing things going on in the news and being detached and feeling like this is what's happening to other people, is just not that way," she said. "This was a man who was going to work, who paid his bills, who someone felt that by him living in a home and driving a nice vehicle that he was doing something worth coming in his home to take. And that just...that can happen to any of us."
But before she can really throw herself into the organization she says, she needs some answers about her brother's death.
She hasn't deleted his phone number and points out a text exchange they had over Christmas. The message he sent said 'Merry Christmas. Love you.'
The message Patrice sent back was, 'Merry Christmas, I love you more than you'll ever know.'
"I don't know what made me say it that way but I'm glad I did. Little did I know, I would find out that it was more than I'll ever know. And that's the truth for both of us."