For two years, WFAE has reported on the Charlotte area's affordable housing crisis through our Finding Home series. According to the U.S. Census Bureau, since 1990, home values have increased 36%, while median household income has gone up only 4%. The appearance of prosperity with new development masks the fact that people are being priced out of their neighborhoods.
Finding Home: As Tax Values Double, Gentrification Fears Follow In Washington Heights
This is what gentrification often looks like: New $400,000 homes. Maybe a new coffee house. An influx of white people. But in Washington Heights, the early signs of gentrification have come in the mail.
Mecklenburg County's new property assessments arrived last month, and homeowners in this northwest Charlotte neighborhood off Beatties Ford Road saw some of the largest percentage increases in the county.
"It was sixty-something. Then they sent it back to 40. And then again they sent it up to about 54. And this time it's like 115 or so, in that area," said Christine Bowser, listing several years of appraisals for her home on DePaul Court.
The city and county haven't set their new tax rates yet, but Bowser and her husband could see their tax bill nearly double, paying an extra $600 or $700 a year. They are retired on fixed incomes – mostly social security. She said the higher tax bill will hurt.
Gracie Huntley, who was visiting a friend in Washington Heights, said her neighbors are worried – and surprised — about their higher values.
Related Content: Finding Home: A Big Data Tool May Help Charlotte Move People Out Of Poverty
"Everyone is crying about the taxes and how it jumped," she said. "It really did. We didn't do any remodeling to our house or anything. It don't make sense."
There are, of course, upsides to your house appreciating. Property owners have a larger net worth, and they can pass that money or property to their heirs.
But Mattie Marshall, the Washington Heights neighborhood association president, said she's worried that higher tax bills will – in the short term — put pressure on longtime owners to sell.
"We have to make sure you stay in your home," Marshall said. "Whether [the government] freezes your tax at whatever it is and then when, maybe, when someone sells it, that's tacked on at the other end. But there are creative ways so people can stay in their homes. I know in other states, they are doing some of those things. We need to learn some of those best practices."
In Florida, for example, the Save Our Homes law caps the amount that property taxes can rise each year on someone's primary residence.
Marshall's house on Booker Avenue jumped from $60,700 to $135,000. At the current tax rates, that would be an extra $900 a year.
Marshall said investors have been calling residents with offers to buy their homes.
"And I had a person call me like the day after I received this notice with the tax assessment and they wanted to know whether I wanted to sell my house," she said. "And I said, 'Maybe if we are talking $500,000.' He hurried up and got off the phone."
Mecklenburg County has a map that shows the neighborhoods where property values increased the most on a percentage basis. Some affluent neighborhoods like Piper Glen in south Charlotte are shaded dark green, meaning home values increased by less than 10 percent.
Washington Heights is dark red. Values increased on average by 120 percent or more.
Washington Heights was built in 1910 for middle-class black families, and it's named for the educator Booker T. Washington. It's home to the now-empty Excelsior club. In its heyday, it was perhaps Charlotte's most premier social club for African-Americans. Louis Armstrong played there.
In the neighborhood today, there are only a few new homes under construction. Many other houses are boarded up.
Related Content: Charlotte Could Use A Little Sacrifice To Help Solve Housing Challenges
Pam Wideman, Charlotte's housing director, said Washington Heights is jumping in value because "simply the dirt is increasing. The value of the dirt is increasing. The value of the land."
Washington Heights is separated from hot real-estate areas like Biddleville by the Brookshire Freeway. It acts as something of a barrier, keeping gentrification at bay — for now.
But Browser said Washington Heights is close enough to uptown – two miles – that developers covet it. If you stand in the Excelsior Club parking lot, there's a great view of the city's skyline.
"I think any place that you can see uptown is wanted," Bowser said. "They can build more homes and get taxes for the city. And Charlotte seems to be a place that don't care too much for the poor. So everything around the loop… around [Interstates] 77 and 85, will be taken."
The city of Charlotte recently started an Aging in Place program that will pay some of a senior's new property taxes. The city has so far allocated $500,000 for it.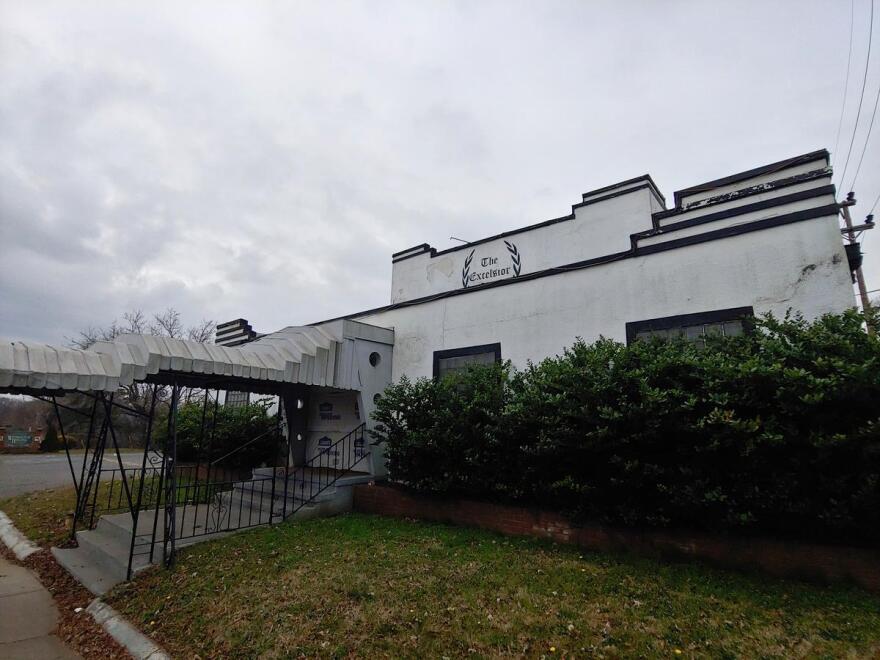 Mecklenburg County has a similar tax-relief program.
Aging in Place is for homeowners, but only 45 percent of Washington Heights residents own their own homes. That's below the city average of 57 percent, according to the city's quality of life database.
Kim Graham of the Greater Charlotte Apartment Association said commercial property owners have seen big increases in their assessments.
"There are some companies that own a large portfolio of apartment communities, and some saw increases of 50 percent," she said. "Some saw increases of 125 percent. Some saw increases of 200 percent."
She said commercial property owners have been planning on higher valuations, and have already been raising rents slowly. Graham said local governments might want to consider some tax relief for apartment owners serving low-income residents.
"It gets harder and harder to make the rents work – especially in times where property taxes go up," she said.
This summer, property owners will find out just how much more they have to pay. According to Graham, that's when the city and county set their tax rates for the upcoming year.
WFAE is taking a year-long look at Charlotte's affordable housing problem through our series, Finding Home. Every Monday in 2019, we'll have stories that examine the problem, seek solutions, and bring you stories from neighborhoods small and large, both in and outside Charlotte. Don't miss a segment. Sign up for the Best of WFAE weekly newsletter to get the latest Finding Home along with the other most important news of the week.