For two years, WFAE has reported on the Charlotte area's affordable housing crisis through our Finding Home series. According to the U.S. Census Bureau, since 1990, home values have increased 36%, while median household income has gone up only 4%. The appearance of prosperity with new development masks the fact that people are being priced out of their neighborhoods.
Finding Home: West Side Land Trust Launches Its First Project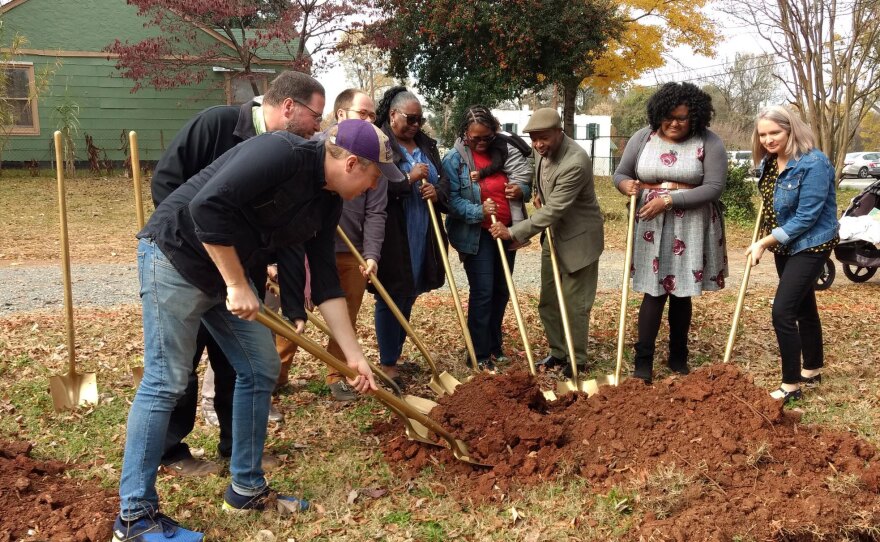 West Side Community Land Trust staff and board members tossed dirt to start the project.
David Boraks / WFAE
West Charlotte Community Land Trust executive director Charis Blackmon announced the milestone at a lot on Tuckaseegee Road in Enderly Park Friday.
David Boraks / WFAE
A crowd listened to executive director Charis Blackmon at Friday's groundbreaking.
David Boraks / WFAE
The West Side Community Land Trust has broken ground for its first home as part of a long-term plan to fight gentrification in west Charlotte. It's a small step toward a goal of establishing 50 long-term, affordable units in the area — on land the community owns.
A land trust is a nonprofit organization that acquires land through purchase or donation and renovates or develops houses on it. More than 200 have been started nationwide in the past 40 years. The West Side Community Land Trust is the first in Charlotte, founded in 2016 by residents concerned about rising housing prices and displacement of longtime residents. Rickey Hall is the trust's chair and co-founder.
"The lift to get us to this point has been monumental," Hall said before Friday's groundbreaking ceremony. "The board has put in work, we've built partnerships and now we've gotten to the point where we're actually moving from planning to implementation."
The trust celebrated the milestone at a vacant lot on Tuckaseegee Road in the Enderly Park neighborhood, where it plans to move a donated house. The three-bedroom, 1,500-square-foot house is currently on Hartford Avenue in the Sedgefield neighborhood, off South Boulevard.
Lower Costs And Prices
Donated houses keep both the land trust's costs and the eventual sale prices down, says trust executive director Charis Blackmon. It will cost about $100,000 to move and renovate this house. When the project is finished next year, Blackmon said the trust plans to put it on the market for $146,000 — more than $100,0000 below the median sales price of homes in Charlotte these days.
Still, the project is a financial stretch for the trust, Blackmon said.
"As an emerging, resident-led, startup nonprofit, introducing a new model to the Charlotte market, we weren't exactly rolling in the dough," she joked.
That's where donors come in. The trust got a $125,000 grant from the Knight Foundation and $10,000 each from two churches — Myers Park United Methodist and Covenant Presbyterian.
Resident-led Effort
Knight Foundation program director Charles Thomas said the foundation liked the project's community origins.
"It came from the residents, it's being led by the residents," he said. "That's one of the core components of what makes it attractive."
The house itself was donated by a couple — Hogan and Hillary Fulghum — who planned to tear it down and build a bigger house in its place. Board chair Hall says he hopes the project inspires others to donate houses, as well.
"It repurposes what would've been a demolished unit to an actual homeownership opportunity," Hall said. "But it serves more importantly as a catalyst for other property owners who may be considering similar situations. Don't tear it down. Let's repurpose it and put it to good use."
Long-term Affordability
Another key aspect of a land trust is that it maintains control of the land, which helps ensure long-term affordability. Only the housing units are sold to buyers. They get inexpensive long-term leases on the land. That takes the cost of land out of the expense of buying a home. And owners can pass houses on to their heirs.
The land trust gets the right to buy back houses, usually paying a small return on owners' investments — 2 to 3% per year. That's a lot less than the market growth in housing prices, but it keeps units affordable for future buyers. And the arrangement is permanent, unlike traditional affordable developments, which typically revert to market rate after 20 to 30 years.
Hall said there's already interest in expanding the land trust idea — not only on the west side, but across the city.
"We plant the seed here, but we know that the roots are already spreading across Charlotte in terms of the full implementation of the land trust model," Hall said.
Plans call for developing a total of five units over the next year. Hall says the city of Charlotte is donating two lots in the neighborhood.
Altogether, the West Side Community Land Trust plans to spend $2.5 million over the next five years to develop up to 50 units. Most of that money has yet to be raised.