Providing Distraction At Hospital, Thanks To A Couple Of Red Buttons
Medicines, needles, strange buttons, there are plenty of things in hospitals you can't touch – and are tempting for kids to touch. But a new art installation at the Levine Children's Hospital turns that on its head. Children are supposed to touch it.
Part work of art, part video game, the newest piece of art at the Levine Children's hospital is too tempting not to touch. A moving projection of childish, toothy-grinned figures float on a wall just outside the hospital atrium, and below, two big red buttons.

The projection is sort of a game, and the buttons are controllers. Spin one button, and a central figure spins, press the other button, and another figure flies, almost attacking the others. The piece is supposed to be fun, but it's also a metaphor. The figures encounter and overcome obstacles – like a patient in a hospital, or life in general.
The piece was created by husband and wife team, Brian Knep and Natalie Andrew, during their three month residency at the McColl Center for Visual Art earlier this year. The residency was sponsored by Carolina's HealthCare foundation, which funds a resident to create art for one of its facilities every year.
"Sometimes people come into the hospital who have very serious needs," says Carolina's HealthCare Foundation President Michael Rose, "and if you can offer them just a moment of distraction or just a moment of joy that's very important."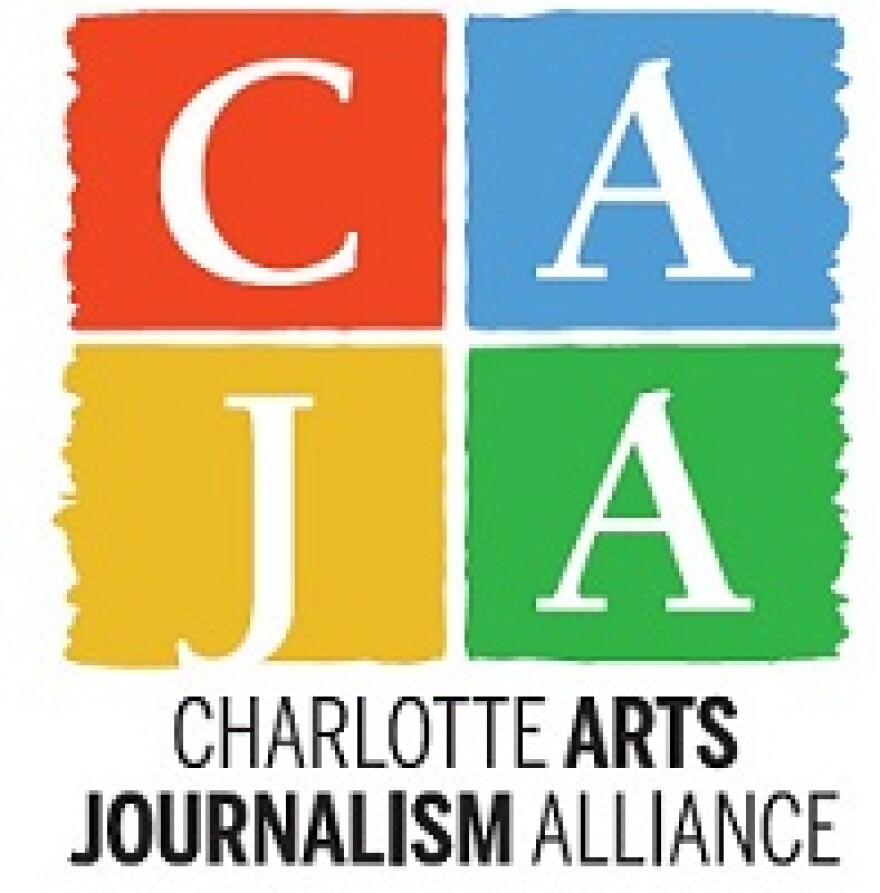 Physical Therapist Emily Deering is wildly pressing on of the buttons, "It's like a life size video game," she says.
Deering plans to bring her patients down to the artwork. "Kids love buttons," she says. "We ride the elevator sometimes just to be able to push buttons and be able to get out of the hospital and act like a normal kid. So to be able to come down here and play with something and get out of that sense of being locked up like a patient in a hospital bed is really, really cool."
Deering then turns back to the installation and continues pressing the button madly. "You have to play with it like a kid," creator Brian Knep instructs her, "You got to hit it a lot." Deering laughs, and ups her speed.
Maybe it's not just kids who love buttons.
This story is produced through the Charlotte Arts Journalism Alliance (CAJA), a consortium of local media dedicated to covering the arts.