Here are some of the other stories catching our attention.
WFAE Exclusive: Governor Cooper Talks Redistricting, I-77 Tolls, Budgets And Gun Bill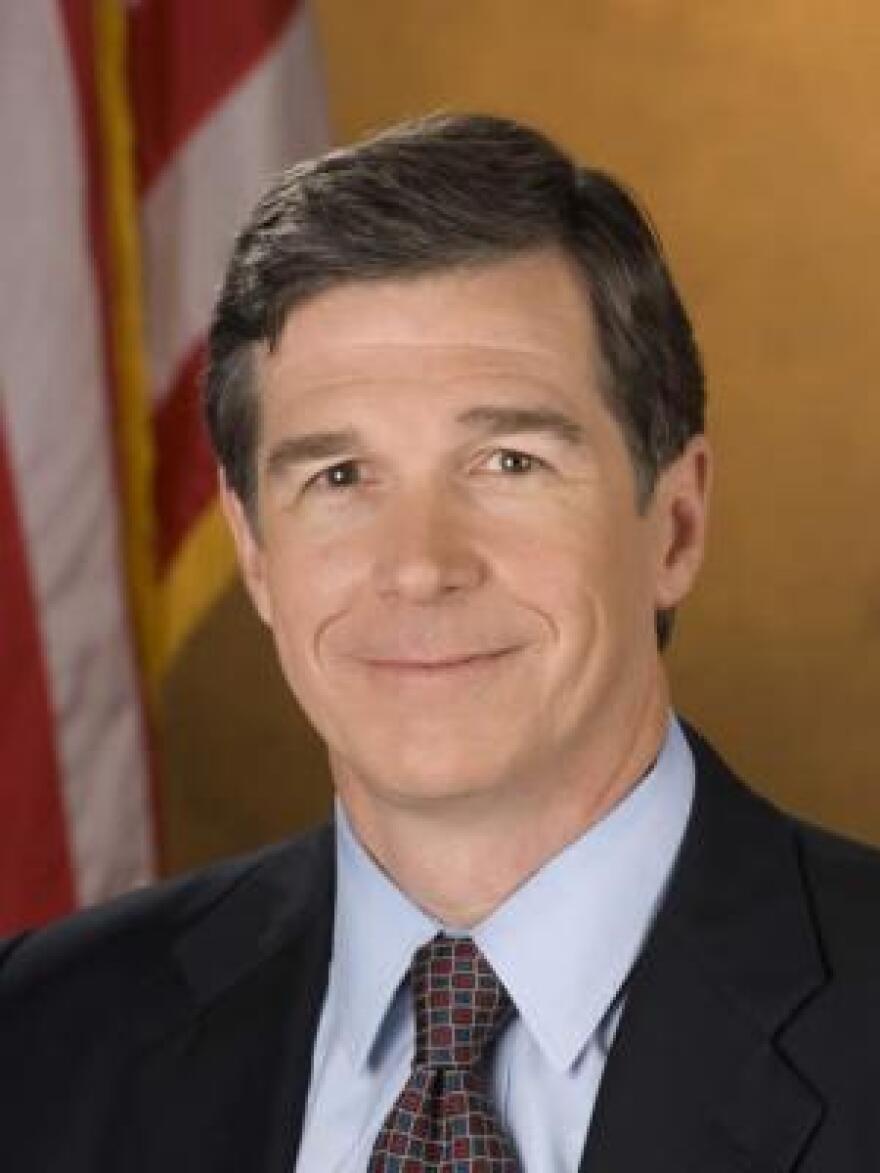 Democrat Roy Cooper was sworn in as governor on January 1. The one constant over that time has been a series of clashes with the Republican controlled General Assembly.
The latest was kicked off by the U.S. Supreme Court, which recently ruled 28 state legislative districts are illegal racial gerrymanders. Those boundaries must be redrawn.
But when is still an open question. The high court left it to a lower federal court to decide that issue.
On Wednesday, Governor Cooper gave an exclusive interview to WFAE. He spoke with our Political Reporter Tom Bullock.
Tom Bullock: Governor Roy Cooper, thanks for joining us.
Governor Roy Cooper: Thanks Tom, glad to be with you.
Bullock: Governor, I'd like to start with redistricting. Now, you are calling for the general assembly to redraw the maps as soon as possible and for a special election to be held before the next legislative session begins, which is I believe currently scheduled for April. Why does this need to happen now?
Cooper: It's pretty rare when the United States Supreme Court issues a 9-0 decision on such a controversial issue as redistricting. But it's clear that these racially gerrymandered districts are unconstitutional. I don't think we should have another budget pass or another legislative session without fixing this problem. And the Republican leadership is dragging its feet on drawing these maps. They say they want direction from the court. But there's no direction that the court is going to give them except a time limit on when they need to have the maps drawn and when the election is going to be.
Bullock: And that guidance the federal panel says will come quickly, so I do want to bring up the Republican leaders of the General Assembly points, sir. Why not wait to at least see what their timeline is? Why not let this process take a bit of time and make sure that it's done correctly?
Cooper: The reason they wanted to take time is because it's quite possible that the maps that they pass
"You have to have a visionary budget that can get us to be a top ten educated state by 2025, and you do that by paying teachers more and investing in early childhood, our community colleges and our universities." Governor Roy Cooper
again are not constitutional. So they want to drag this thing out so it's bumping up against the next election. What we're talking about is whether the legislature draws these maps or the court does. And if these maps aren't drawn quickly, I would hope that the court would do it.
Bullock: Sir, I'd like to move on to the budget. As we speak, negotiators from the House and Senate say they may have a deal on a new spending plan later this week and each chamber has a very different view on the size and scope of tax cuts for individuals and companies. But they both agree on passing another tax cut this year. Now sir, your budget left taxes as they are. So governor, my question is this: When the General Assembly's budget hits your desk, do you plan to veto it if it includes tax cuts?
Copper: Well first, we did have tax cuts in our budget proposal. I proposed the child care, independent care, tax credit for working families to help them with childcare. So as long as tax cuts are aimed at the middle class then they don't blow a hole in the budget. Then they can be positive for our state. But we're at a pivotal moment here. The Senate Republican plan looks out for millionaires, for billionaires, and giant corporations instead of the middle class. And the House Republican plan fails to adequately invest in education, and job training, and economic development. And these are the wrong priorities.
You have to have a visionary budget that can get us to be a top ten educated state by 2025, and you do that by paying teachers more and investing in early childhood, our community colleges and our universities. Both of these budgets short change our state and our future at a time when we don't have to. So I don't want to prejudge it but I have encouraged them to invest more in our future and have more vision for our budget.
Bullock: While budget negotiations were underway sir, the House did pass a controversial bill which would basically all but eliminate the need for concealed carry permits for guns in North Carolina. Obviously before being governor you were, of course, attorney general, the top law enforcement officer in North Carolina. What do you think about this bill?
Cooper: This legislation troubles me greatly. Many people in law enforcement are very concerned about it. That it may endanger people's safety. I'm hoping the Senate will not take it up and pass it. The House did not pass it with enough to override a veto, so I'm hoping that they won't even do it.
Bullock: Let's talk about that veto possibility here, because you're absolutely correct. If that legislation does pass the Senate, would you veto it?
Cooper: Well, it troubles me greatly and I think it's wrong for North Carolina, but we don't know what the final product is going to be and we're hoping that if the Senate does take it up that they fix the problem and they don't pass it this far. We'll have to see what happens with it.
Bullock: Governor Cooper, I'd like to end with a topic that's controversial here in Mecklenburg and Iredell Counties, and that is the toll lanes now being constructed along I-77. Where does that project stand now?
Cooper: Well, I've said many times that tolls are not my preferred option and if it had been up to me I would not have signed this contract with I-77 tolls. And when I took office I instructed the new secretary of transportation to bring in experts for an independent review of what all of the options we have going forward.
Bullock: And I understand the review process is underway, but that's a very different message than the one you delivered just about a year ago in the first gubernatorial debate with then Governor Pat McCrory. This is what you said then sir:
"Yes, the I-77 contract should be canceled. This is a questionable company that has since gone into bankruptcy. Governor McCrory's campaign staff was hired by this company. "
Bullock: Now governor that is a pretty definitive statement. I'm just wondering what changed in your mind?
Cooper: What has happened is that millions of dollars worth of construction has gone into the project thus far and before immediately cancelling the contract you have to know what the liability of the state is. I think when the contract was entered into and the problems that we saw before the construction started, that would've been the time, but now we are where we are and it's important to know what all of our options are so that we can do what is best. Not only for the people in Mecklenburg County but for all potential toll roads going forward.
Bullock: North Carolina Governor Roy Cooper. Thanks for taking the time.
Cooper: Thanks a lot!
tb_061417_longer_cooper.mp3
Listen to a longer version of Tom Bullock's interview with Governor Roy Cooper here