Police Body Cameras: Part 1 - On Patrol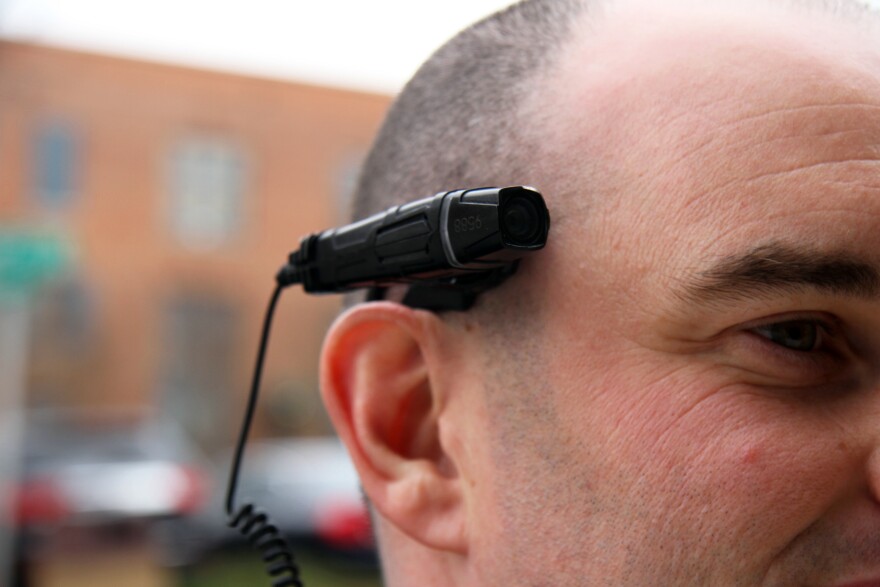 Next month, the Charlotte-Mecklenburg Police Department will begin equipping all its officers with body cameras. They're small, a little larger than a tube of mascara. And they'll record both the audio and video of police interactions with the public.
Body cameras are seen as a way to build trust with communities and a way to hold both civilians and officers accountable. But at their heart they are a tool and nothing more. How they're used will determine how effective they will be at building that trust.
In this two part series we're examining the use of police body cameras and questions about privacy, access and transparency. We begin our series not in Charlotte, but 90 miles away, in Greensboro, where police body cameras have been standard issue since 2013.
Officer Derek Tripp bobs his head from side to side using exaggerated, sometimes awkward motions, "Just getting used to something tugging on your head," he says. Tripp is wearing a Taser Axon-flex. The same body camera Charlotte police are in the process of buying. His exaggerated motions are a test, to make sure the headband mounted unit is secure and the cord which runs between the camera and the control pack doesn't catch on his collar. Then, Officer Tripp looks down at his cell phone, which beeps three times, "That lets you know its trying to pair with your phone." Tripp will now be able to view and label each video recorded that day.
The story of how body cameras are used by the Greensboro PD is kind of like an episode of the TV show Law and Order. It's a procedural, best told in two, distinct chapters.
CHAPTER 1 - On Patrol With Officer Derek Tripp
Derek Tripp says his patrol area along Greensboro's MLK corridor is high in vice crimes. There are also gangs. But he says it's the slow churn of drugs sold on street corners and parking lots that make up most of the crime.
Police often know just who the buyers and sellers are, by observing who's on which corner. But observations aren't as convincing as hard evidence in court. Body cameras make it easy for police to document what they see as suspicious behavior. Developing that overall, says Tripp, "on a continuous basis, day to day, week to week," helps. "I know he doesn't have a job. Last time I came in contact with him he had this, this, small amount of pills, stuff like that."
And there are times body cameras capture a crime in progress. Take drunk drivers. Officer Tripp says its hard for defense lawyers to fight the case when the evidence is on video. "No client of theirs wants the officer to show the tape of them driving, weaving on the road," or getting them out of their vehicle and what happens afterwards, "Drunk walking back to where you're at. Doing the sobriety tests and just saying whatever because impaired individuals tend to just blurt anything."
This patrol turns out to be a quiet one with just one traffic stop, a red mustang with expired tags. The body camera beeps when Officer Tripp starts recording just before walking up to ask for license and registration.
All goes smoothly. The driver gets a warning. But what if that driver filed a report complaining about Officer Tripp's conduct? Or what if the incident turned violent? What if the body camera wasn't used at all?
Chapter 2 - Policing The Police
Sergeant Stephanie Mardis is assigned to Greensboro's Internal Affairs Division. She's the administrator of the body camera program and in charge of making sure rules are followed. Take for example when an officer starts recording. "Anything from responding to in progress calls, any adversarial related calls. Traffic stops, self initiated activity calls," but that's not all says Mardis, "We have a list of maybe 10 to 15 mandatory categories where they have to activate their cameras." Right now, its up to each officer to start and stop recording. They decide when, what and for how long the camera is on. And at the end of each shift, each officer is required to download all their videos to a server run by Taser, the company that makes the body cameras. It's called evidence.com.
Sergeant Mardis types quickly as she logs in to show how it works. "I am accessing Officer Baton's test video and this was recorded on the 27th" The video starts with a beep, you see the shot of a desk, then some talking. Evidence.com is more than just a storage site, it also includes software that, Mardis says, prevents the videos from being edited or deleted. And it creates a digital paper trail. "It shows when the officer made the recording, it shows that he labeled it test. Then it shows it was uploaded to the system successfully. And it shows me, going in twice and reviewing the video."
Sergeant Mardis does random monthly audits to make sure officers are uploading their videos to the system. And as a member of Greensboro's Internal Affairs Division, the videos allow Mardis to "evaluate performance through the body worn camera footage that's downloaded. And we can also investigate officer involved complaints."
The number of citizens complaining about the conduct of officers has dropped 31% since Greensboro PD started using body cameras in 2013. Mardis says that isn't quantifiably linked to the presence of body cameras.
For those complaints that are filed, the footage helps expedite the process. The findings remain mixed. The cameras, says Mardis, have limitations. "I think the misconception is that since you have a video camera you capture the total view of what happened in an incident." That's not the case she says, "it's just a narrow view. Of what happened because you don't get the whole view."
Despite having recorded tens of thousands of videos, Greensboro police have released exactly one full length recording of an incident captured by a body camera.
An unnamed officer leaves his car, you see a house on a quiet street, a concerned father waiting in the driveway. A teenage girl is on the back patio. She's armed with a butcher knife. Instead she throws the knife at the officer. No one is hurt, the girl is put into handcuffs without a struggle.
Whether they capture dramatic scenes, or the mundane, police body cameras are just a tool. What matters is how they're used. The Charlotte Police department declined multiple interview requests for this series. So we weren't allowed to ask them that question, how will they be used?
And there are questions.
In part two of our series, questions about access, accountability and the use of body camera footage.