CMPD Talks Security With Churches After Charleston Shootings
Churches pride themselves on welcoming strangers, even ones that may look odd or distressed. But the killings in Charleston have pushed many congregations to wonder how they can continue to extend a welcoming hand without comprising their safety.
Charlotte Mecklenburg Police invited houses of worship to learn how to go about that at two recent workshops. They attracted a diverse group.
Corinne Thomas loves her church in west Charlotte. She'll proudly tell you people there are open and friendly.
"I belong to Mt. Zion Missionary Baptist Church, a little church by the side of the road where everybody is somebody and Christ is all," says Thomas.
But the Charleston shootings made her church start thinking maybe it's time for some protection to accompany their warm welcome.
"You never know, just because whether you're a small church or a mega church, we're all faced with the possibility," said Thomas
She and nearly 450 others showed up to CMPD's police training academy a couple weeks ago. Vicki Foster greeted them as both the department's deputy chief and a fellow church member.
"We'll never be able to change who we are because that would change our whole premise and we can't let one person do that," Foster told them. "But it's absolutely okay to be able to question things, to watch things, to be more alert. Those are the things that you'll hear about today."
African American churches in the South have a history of being the target of violent attacks and yet Anthony Evans with the National Black Church Initiative based in Washington D.C. says most of them don't do much in terms of security.
"Southern churches have never had a robust security response to anything, even though they've been the victim of this escalating in church violence," says Evans.
He says most of that violence is domestic disputes that spill into church or counseling sessions that go bad. But Charleston has renewed his group's call to its congregations to have a security plan in place.
"You need to have a plan to take action until we get there," CMPD Crime Prevention Specialist Chris Kopp tells the crowd at the training academy.
He shows them how to barricade themselves in a room.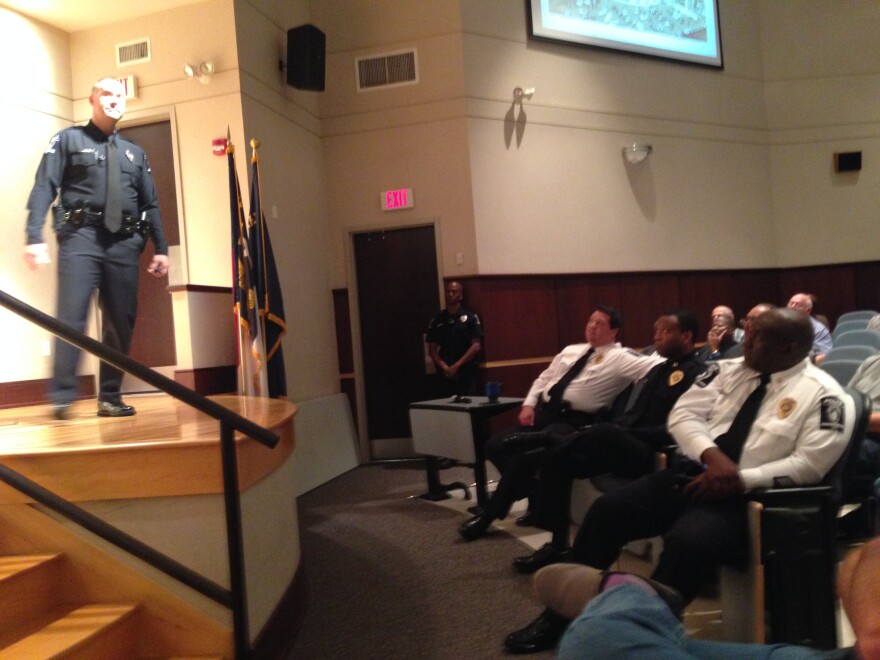 "If a gunmen walks up to a door and tries to open and it's not opening, guess what, they're going to move on. We've proven that time and time again with these active shooter events," says Kopp.
The crowd is diverse. It's about equally black and white.
Charleston is on their minds, but also recent shootings at houses of worship like the one at a Colorado Springs church in 2007 and a Sikh temple in Wisconsin in 2012.
Shootings like those prompted Resurrection Lutheran, a racially-mixed church in east Charlotte, to start working on a security plan several months ago. Member Patrick McHale came to make sure it aligns with CMPD's suggestions.
"We allow weapons. We don't necessarily encourage them," says McHale. "Our main encouragement is to be vigilant, aware and, then, to communicate, but weapons can certainly be a valuable part of that strategy."
The purpose of this workshop isn't to advocate for guns. Kopp says that decision is up to each congregation to make, but stressed carriers need training.
During Resurrection's services, some volunteers keep their eyes out for anyone who could be a threat. Kopp encourages that.
"Take the effort. Identify who they are, reach out to them," Kopp tells people. "Let them know that you're here for them and that we know you're here. And let everybody else know. Welcome them in."
Shooters are certainly a concern. But so are burglars, assaults, and all the other problems members, not just strangers, may bring to church. Kopp advises houses of worship to install outside lighting and cameras, keep money behind locked doors, and vary the time and the people who deposit offerings at the bank.
Friendship Missionary Baptist, a large, mostly African American church, has been doing many of these things for years. Early on, the concern was people not happy with their life and church says Eddie Robertson who heads up the security team there.
"Nowadays, the popular thing is people off their meds," he says.
Robertson says his church extends a welcoming hand, not just because his faith requires it, but security does too.
"We like to use aggressive friendliness," says Robertson. "It's still church and everyone is still welcomed, but that doesn't mean that we're not observing and looking at everything. If something's out of place, we will talk to that person, welcome them to the church, but we will check them out."
It doesn't hurt the church also has a few sheriff's deputies on hand.