Need a one-stop shop to catch up on the top sports stories big and small? Time Out For Sports airs Mondays on WFAE's "All Things Considered" and has what you need to know about everything from Charlotte-area high school football highlights to the latest updates on the Carolina Panthers.
Time Out For Sports: An MLS Name, NFL COVID Rules And High School Sports Still In Question
Charlotte's Major League Soccer team has a name. The NFL says no to preseason games. Private schools in North Carolina are moving ahead with sports while public school students are not sure if they will be able to play. With WFAE's "All Things Considered" host Gwendolyn Glenn to talk sports is Langston Wertz Jr., a longtime sportswriter for The Charlotte Observer.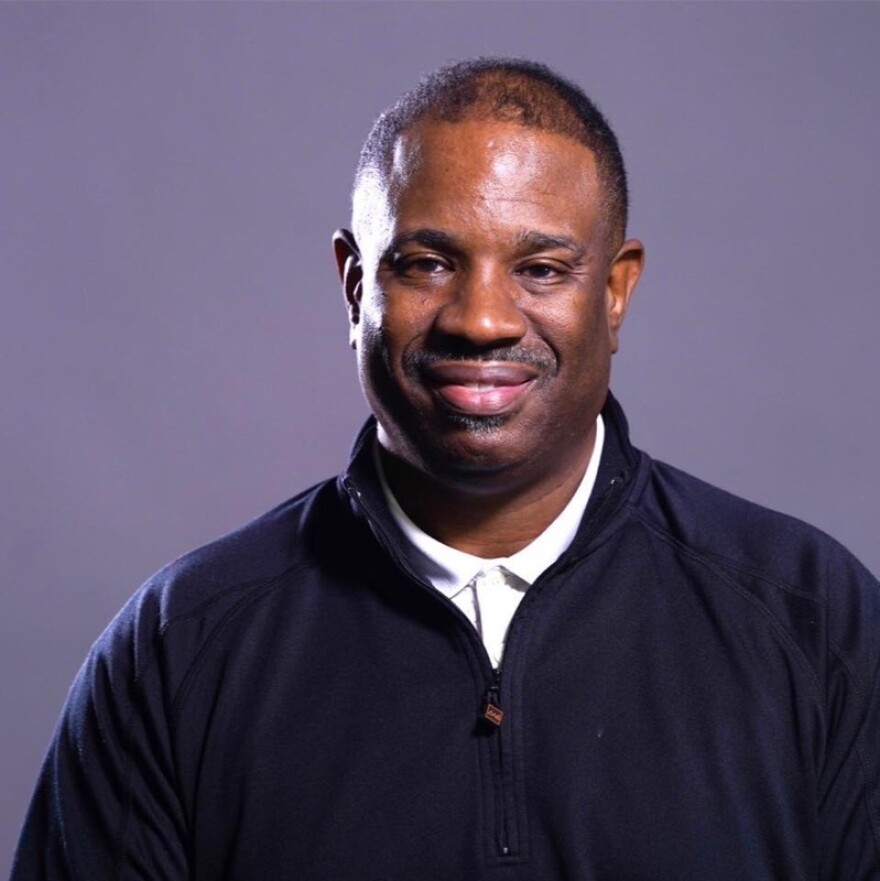 Gwendolyn Glenn: Hi, Langston.
Langston Wertz Jr. Hey, Gwen. How are you?
Glenn: I'm good. So, the Charlotte soccer team finally has a name. Tell us about it. What is it?
Wertz Jr. They're going to be called the Charlotte Football Club. So they don't have, like, a nickname like Tigers or Panthers or something like that. They do have the Panthers' colors. It looks like there's a mint blue kind of a color against a black background. But they've been considering Charlotte Football Club for some time. The other finalists were Charlotte Town Football Club, Charlotte Athletic Football Club, Charlotte Crown and Charlotte Gliders. But ultimately, they decided to go with the Charlotte nickname and not a Carolina nickname, even though they do say this is a team for all North and South Carolinians. But the clear preference from fans, according to President Tom Glick, was to have a team called Charlotte. That's what they went with.
Glenn: All right. Well, let's move to the NFL. The NFL is canceling preseason games because of the coronavirus pandemic. Now, the Panthers have a new coach, Matt Rhule, and a new starting quarterback, Teddy Bridgewater. I'm sure those four games are going to be missed.
Wertz Jr. Yeah, the NFL scrapped the preseason. They also reduced the training camp rosters, they dropped them from 90 to 80. The owners, Gwen, wanted to have two preseason games, which is down usually from the four. But the NFL Players Association thought the risk of travel and injury were too high.
It hurts Carolina probably more than any other team in the league, to be honest with you. They have a new coach, they have new coordinators, new quarterback. But they've got a whole lot of new players. That's the big deal. And you really like to have some dress rehearsal with those guys, particularly, you know, you drafted seven defensive players. You plan to play at least five of them? So you want to see how all those defensive players will look. But, you know, it is what it is. They've just got to deal with it.
Glenn: And they're the only NFL team with a new coach. And as you mentioned, all of those players and new coordinators, they have to jell. Without that, how do you think they're going to fare?
Wertz Jr. Gonna be tough. You know, their first game is going to be against Oakland on Sept. 13. It's just really tough to call how they do it in that game or the season. I think they may move the ball. They have kind of a dink-and-dunk quarterback in Teddy Bridgewater and the new offensive coordinator kind of specialized in that at LSU, although they did go over the top some. So I think Carolina will move the ball on offense. I think they'll struggle on defense, several of the defensive linemen are gone. It is going to be tough season for Carolina.
Glenn: So the teams are gearing up for playing and rookies are getting tested for COVID-19. Have agreements been worked out in terms of safety from the virus?
Wertz Jr. Yeah, they (players) reported Tuesday, but they have to pass to COVID tests separated by 72 hours. And both of those tests had to be negative before they can even enter the facility and take their physical to get started. The league and the players have agreed to daily tests for the first two weeks. And after two weeks, if all the team members are at or below 5% positive they'll test every other day.
There's also going to be screenings. They're going to be symptom monitoring. There's going to be social distancing. There's going to be masks. The teams also implementing an Apple Watch-like light tracker that will have an app on it that can determine whether a player coaches staff to come in contact with an infected person.
Glenn: Well, let's move to baseball. And there was a possibility that the Toronto Blue Jays were gonna play 30 games in Charlotte. People were excited about that. What happened?
Wertz Jr. That was a nice one- or two-day flirtation. But the Blue Jays ultimately decided to play in Pittsburgh. But they did talk to Charlotte about playing at Truist Field uptown. Toronto's having to play its games in the United States because the Canadian federal government denied a request to play at home in Toronto because they didn't want the team flying back and forth to United States where COVID cases are spiking.
Glenn: Well, Langston, on the high school front, on Wednesday, public school high school students are trying to make their voices heard in terms of wanting to play this season. What's going on?
Wertz Jr. A group of about 100 high school students and a couple coaches and parents that are down at the CMS headquarters holding signs and they're trying to get attention to their cause. They want to be able to play a fall season. If a fall season is played, that is definitely still very much up in the air.
Glenn: What have Charlotte-Mecklenburg School officials said so far?
Wertz Jr. Right now, they're not saying much of anything publicly about that.
Glenn: And when it comes to private schools and sports, they're taking a different tact.
Wertz Jr. They came out and announced their plan to return to fall sports. That's something that the state association has not done yet for public schools. The private schools announced they're going to start fall practice and everything else but football towards the end of the month. They're going to start playing games the week of Aug. 31. But they have not announced the start date for football practice. There's going to be a meeting next week to discuss that. All of that's dependant, though, Gwen, on the state moving to Phase 3 of its reopening plan. You can't have those sporting events in high school until you have that reopening plan.
Glenn: Well, Langston, let's go over a couple of things from last week when we were out. The CIAA in Charlotte, the SIAC in Atlanta and the Ivy League in Princeton, New Jersey, announced not-so good news.
Wertz Jr. They moved all their fall sports to the spring. There may not be any football in a couple of those leagues. They're gonna kind of look and see what the conditions merit, but there's not going to be any football this fall in those conferences.
Glenn: And what does this mean in economic terms?
Wertz Jr. Well, football's a $4 billion business. You know, the Power Five schools are going conference-only and that's going to take away some of the guarantee games that those smaller conferences get. For example, Auburn paid Tulane almost $2 million to play last year. Ball State, for example, has a $28 million athletic budget. And last year got $2 million in guarantee games. So you take those $2 million away and starts to affect an athletic budget. And the same can be true of all those schools that are moving sports; they have those guarantee game.
Glenn: And also Duke's women's basketball team has a new coach and she comes from the NBA.
Wertz Jr. Yeah. Kara Lawson. She's a 12-year WNBA vet, she was a WNBA champion with Sacramento, she won a gold medal in the Olympics, was a TV commentator with the NBA and college games. Been with Boston (Celtics) for about a year. She was the first female assistant in Celtics history. I mean, she's got cache. A former Duke player, Lexie Brown, who now plays for the Minnesota Lynx said, "I wish I was being recruited by Duke right now because I'd love to be coached by Kara."
Want to read all of WFAE's best news each day? Sign up for our daily newsletter, The Frequency, to have our top stories delivered straight to your inbox.