NC Police Agencies Block Body-Cam Footage From Public View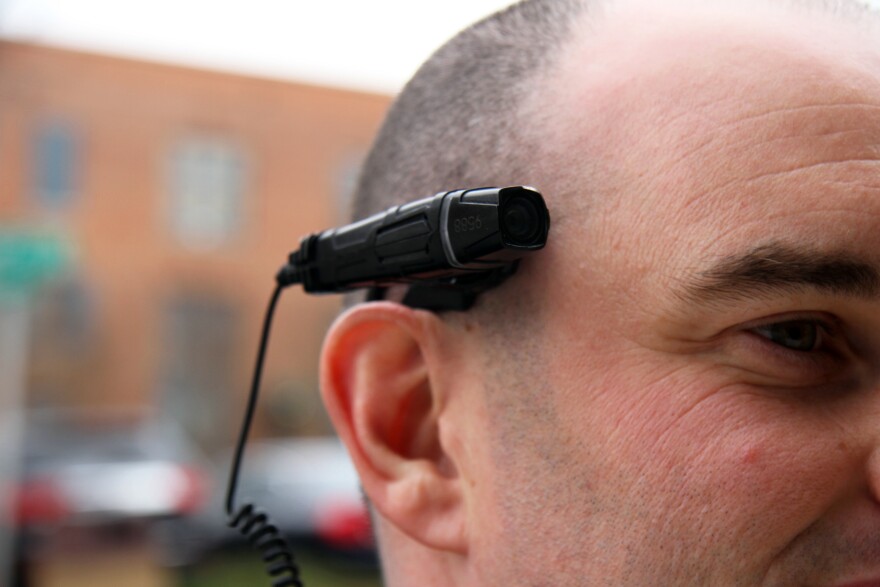 Seven Charlotte-Mecklenburg police officers surrounded a man lying on the ground – a suspect detained in a hit-and-run wreck. One officer raised his fist and repeatedly struck him in the back.
The arrest, captured earlier this month by a bystander with a cellphone, raised the question:
Did officers use excessive force?
The video lasted only 10 seconds, with the suspect obscured from view.
In such cases, body cameras worn by officers are considered key to resolving whether they acted appropriately.
When the devices were approved for all Charlotte-Mecklenburg Police Department officers last year, city officials said recordings would improve transparency and accountability.
But so far, it's footage the public will never see.
Police Chief Kerr Putney said that when he first viewed the citizen video in the hit-and-run arrest, he questioned whether officers acted appropriately. But footage from body cameras, he said, helped him conclude their actions were justified.
Putney announced in a news conference last week that the department's internal investigation into the arrest was nearly finished and that investigators had determined no laws were broken.
The department has refused to release body-camera footage in that arrest, citing North Carolina personnel laws.
Critics say applying personnel law to the cameras is not a correct application of the law. That interpretation, they say, goes against the idea of body cameras functioning as a public accountability measure.
"When departments are selling the implementation of body cameras to the public and the city council and their communities, they're saying (cameras) are a good tool for improving transparency and increasing trust and accountability," said Jonathan Jones, director of the N.C. Open Government Coalition. "So if this is a personnel record, then that completely undermines that initiative."
As police departments nationwide are equipping their officers with the small, lipstick-size cameras, many have noted how they will increase transparency, especially when officers use force.
CMPD in September announced all patrol officers were trained and equipped with body cameras, at a cost of about $5.5 million. The City Council approved buying 1,400 cameras last year to adapt to increasing demands to record interactions between officers and the public.
Most North Carolina police departments with the cameras say they can't release the footage because it contains a personnel record or a criminal investigative record – or sometimes both.
"The personnel laws haven't changed just because we spent several million dollars" on body cameras, Putney said. "The personnel laws are pretty clear. I release what I can based on the law, and it's a Class III misdemeanor that I'm not going to violate."
Putney said he also has to balance the Police Department's desire to be publicly transparent with his need to maintain the trust of officers.
"I'm not going to violate personnel laws, and I'm not going to violate trust internal to the organization, because I do need people to do this work," Putney said. "I've got to be transparent where I can, but I also have to support the officers who do this work to make sure the public has police officers to support in the first place."
Nationally and across the state, police departments are contending with who gets to see the body-camera footage.
▪ The Seattle Police Department has automatically posted some body-camera footage on YouTube. It has blurred out faces – mostly through a software algorithm – to overcome privacy concerns. The state of Washington considers body-camera footage a public record, according to the department.
▪ The city of Durham has indefinitely delayed its implementation of body cameras over City Council concerns. One question at issue: whether the city should create a citizen panel that decides when members of the public can see the videos.
▪ Law enforcement officials in Asheville and Buncombe County in December withheld body-camera footage related to the firing of two deputies. In a forum held in the wake of the controversy around the firings, Buncombe County Sheriff Van Duncan and Asheville Police Chief Tammy Hooper said the body-camera footage is a personnel record. They left open the option of a citizen panel approving access to body-camera recordings.
Jones of the N.C. Open Government Coalition said that in North Carolina, he can recall body-camera images being released to the public only once – to address criticism of a police department. Lincolnton police released a video of a German shepherd running toward a police officer and barking after the officer was criticized for shooting the dog.
R. Wootson Jr.: 704-358-5046, @CleveWootson
Sunshine Week
This is Sunshine Week, an annual celebration of open government to raise awareness about transparency in government and highlights how citizens can access public documents and information to make informed decisions about public policy on the local, state and federal level.
The Sunshine Center of the N.C. Open Government Coalition is hosting Sunshine Day 2016 in Hickory on Monday. The program includes a discussion about police body cameras and debate about whether they are public information.