Charlotte Mayor Asks Businesses, Visitors Not To Punish Charlotte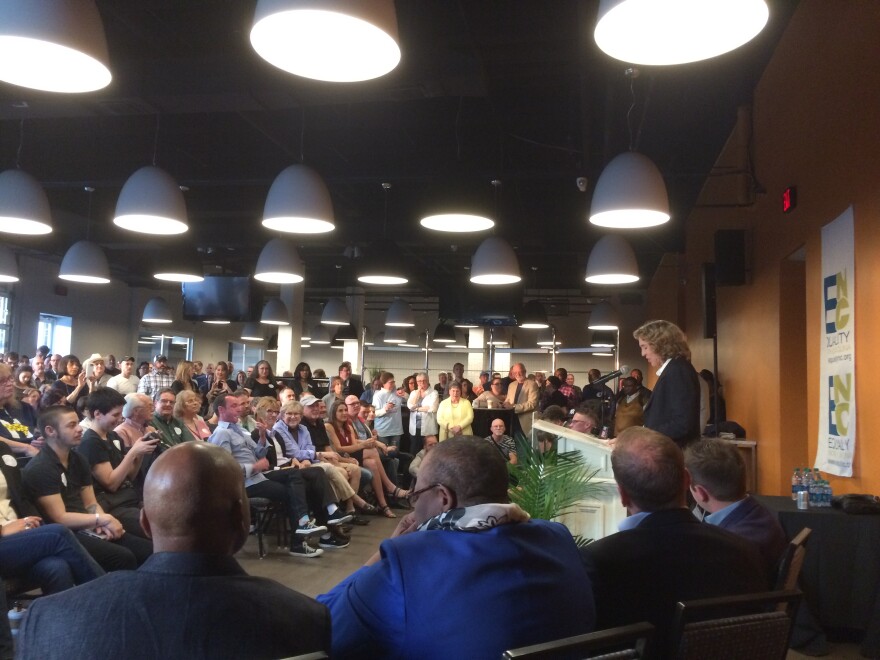 Mayor Jennifer Roberts is telling potential businesses and visitors they should come to Charlotte even if they object to North Carolina's controversial new law.
At a rally hosted by LGBT advocates in uptown Thursday night, Roberts pointed out this all started with Charlotte adding protections for LGBT people.
Republican state legislators responded by passing a law excluding those protections and requiring transgender people to use the bathroom that corresponds to their birth certificate.
Roberts told those in attendance to encourage businesses and visitors to keep supporting Charlotte.
"It is important to reinforce the message that Charlotte did the right thing in affirming our commitment to equality and nondiscrimination, and that Charlotte should not be punished for standing up for equality," she said.
Roberts did not address Governor Pat McCrory's executive action earlier this week. McCrory, a former Charlotte mayor, mostly affirmed what the law does, including the bathroom restrictions.
But his executive action did expand the equal employment policy for many state workers to include sexual identity and gender expression. He also called on the legislature to repeal the part of the law that eliminated state lawsuits over discrimination.
Charlotte city councilman Al Austin called that executive action a crack in the conservative universe in Raleigh.
"Here's what I believe: if we keep hope alive and not dim the light of the national spotlight that's on this state, we will rip that universe apart," he said to applause.
Austin and others at the rally say they'll fight to have the entire law repealed when the legislature reconvenes later this month. Republican state leaders have shown no interest in that so far.