Immigrant Advocates March In Charlotte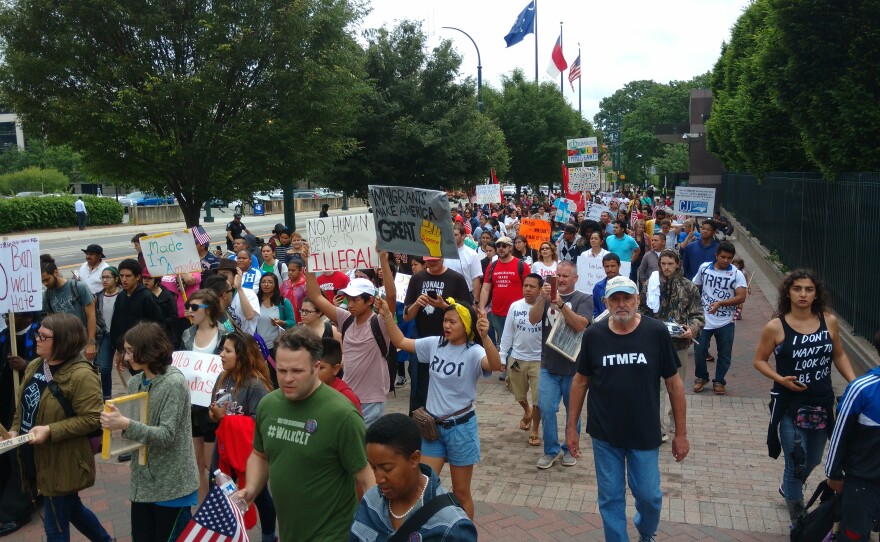 Immigrants and supporters on Trade Street near the Federal Reserve Monday afternoon during the "Day of Resistance."
David Boraks / WFAE
Police kept marchers on the sidewalk on Trade Street Monday afternoon during the "Day of Resistance."
David Boraks / WFAE
Flip Benham held a one-man counter-protest at the Government Center. He said activists are defiling the flag and our courntry.
David Boraks / WFAE
About 250 immigrant advocates were marching through uptown Charlotte Monday afternoon, along with other marches taking place around the country. The rally supporting unauthorized immigrants kicked off around noon in Marshall Park . WFAE's David Boraks reports from the scene for our 2:00 p.m. newscast.
Protesters gathered at Marshall Park, near the government center, with a very brief speech by organizers. Then marchers headed out onto the streets, with chants including "USA … USA ... Yes, We Can" and "No More ICE (Immigration & Customs Enforcement)."
It was part of what organizers called A Day of Resistance against HATE, in response to federal and state policies and proposed legislation targeting undocumented residents.
The march passed the Mecklenburg County Courthouse and jail complex, the police Department and other government buildings. Other chants included "immigrants are welcome here" and "this is what democracy looks like.
Some protesters also had a message for City Hall, saying they want local officials to do more to support local immigrants.
Organizers of the event included Comunidad Colectiva, the Southeast Asian Coalition, Alerta Migratoria and Action NC.