Here are some of the other stories catching our attention.
Plaintiffs Contend New NC Congressional Map Is Still Unconstitutional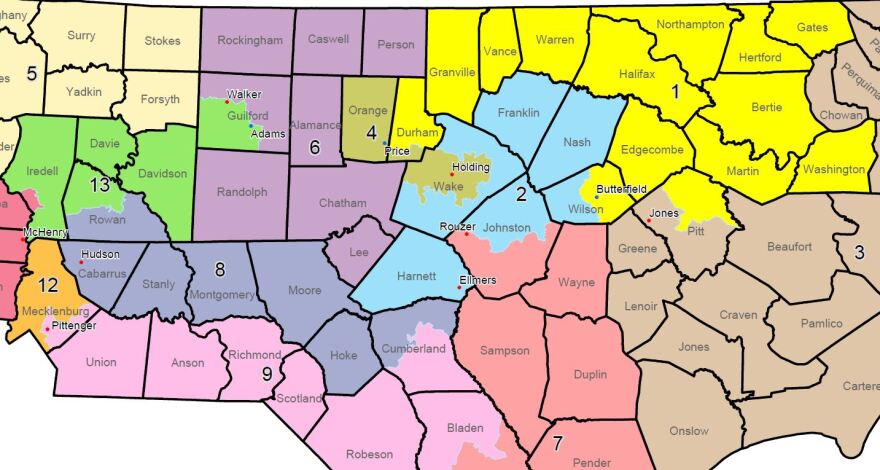 The plaintiffs who successfully sued over North Carolina's 2011 redistricting plan say the new congressional districts are no better than what the court struck down. Attorneys have filed their specific legal objections, and WFAE's Michael Tomsic joined Mark Rumsey to explain.
What's the argument?
That state lawmakers failed to understand and follow the court's decision last month. A federal three-judge panel ruled the state's Republican lawmakers put too much emphasis on racial quotas when they redrew congressional districts after the 2010 census. So when lawmakers revised the map two weeks ago, they say they didn't use race at all.
Those suing say that's a problem?
They say, "It is hardly an appropriate response to then blindly ignore race altogether, once again shrugging off any attempt at thoughtful consideration."
Here's where redistricting gets complicated. The U.S. Supreme Court has said some majority-minority districts can be a good thing. But it's also said the exact percentage of African-Americans in those districts doesn't matter, as long as they can elect a candidate of their choice.
Which is how we got the 1st and 12th congressional districts in North Carolina.
Right. They've consistently elected an African-American candidate since the early 90s. But in 2011, Republican lawmakers increased the percentage of African-American voters above 50 percent.
Now that a court struck it down, they dropped the percentage in the 1st district to 45 percent and in the 12th district, which includes Charlotte, to 36 percent. The plaintiffs argue that spreads minority voters too thin.
Well why did lawmakers say they decreased the number that much?
They insist there was no racial target whatsoever. They're quite explicit that the new map is all about maintaining Republican control - they drew it to keep sending 10 Republicans and three Democrats to Congress.
The plaintiffs argue that's too partisan of a gerrymander, but there's really no good precedent for that argument. While the U.S. Supreme Court has occasionally lamented partisan gerrymandering, it's never actually struck it down. It's racial gerrymandering that's unconstitutional.
When will the state respond to these objections?
Its deadline is Monday.
And just as a reminder, this legal fight does not affect all the other races on the primary ballot this month, including for president.