Need a one-stop shop to catch up on the top sports stories big and small? Time Out For Sports airs Mondays on WFAE's "All Things Considered" and has what you need to know about everything from Charlotte-area high school football highlights to the latest updates on the Carolina Panthers.
Time Out For Sports: NASCAR Bans Confederate Flag, Jerry Richardson Statue Down At BofA Stadium
A lot of sports news over the past week coincides with the demonstrations being held nationwide against police brutality and racism. NASCAR banned the Confederate flag at race events and the statue of former Carolina Panthers owner Jerry Richardson was taken down. Also in sports news, Gastonia native Harold Varner had a good showing at the Charles Schwab Challenge in Fort Worth this weekend.
With "All Things Considered" host Gwendolyn Glenn to talk about all of this is Langston Wertz Jr., a veteran sportswriter for the Charlotte Observer.
Glenn: Hi, Langston.
Wertz.: Hey, how are you?
Glenn: I'm good. Well, NASCAR banning the Confederate flag is major news. Bubba Wallace, the only current African American NASCAR driver, is given a lot of credit for that ban. Here's Wallace talking about why he called for the ban.
Wallace: Out of conversations that I've read of people attending races, NASCAR events, you know, they said they enjoyed their time. But one thing that made them feel uncomfortable was the Confederate flag being shown and flown proudly and that bothered people. And I'm just simply saying, like, let's just simply remove something from the NASCAR events and allow people to feel comfortable being there, comfortably in their own skin.
Wertz: The Confederate flag has been a big part of NASCAR going back years. It was even incorporated a little bit in some of its official events at certain southern tracks years ago. And if you look in the outside of the tracks and the parking lots, you see a lot of flags and people flying those flags. They have the T-shirts on and to take it down is going to be a big step for everybody involved.
Glenn: So have race officials given any more information on how they plan to enforce the ban?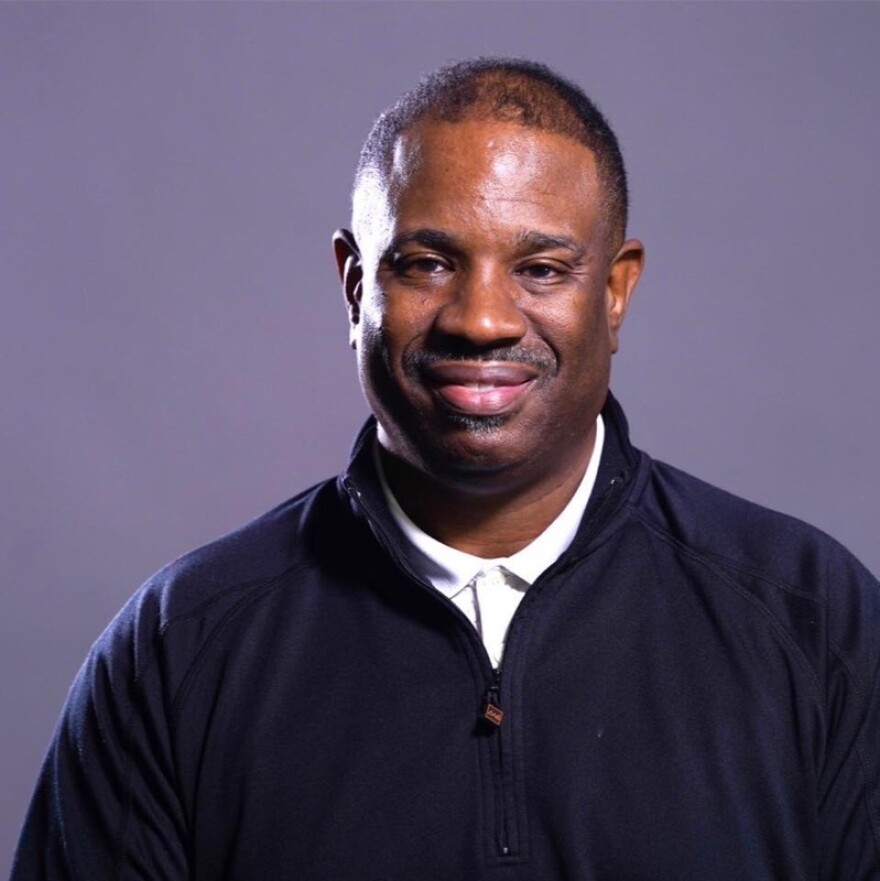 Wertz: Well, NASCAR says it's working with the racetracks and the drivers to develop protocols around enforcement, but they don't really have any specifics right now. But, you know, one thing you have to remember, Gwen, is when you buy a ticket to go somewhere, you're actually purchasing a license so they can put certain things on a license that they can enforce. They can say, you can't wear this, or fly this, or do this once you're inside the arena. The part that may be difficult is they don't necessarily own a parking license, stuff on the outside. So enforcing this is going to be interesting.
Glenn: Now, this Saturday in Talladega, I've been hearing that that's going to be a big test for the ban. Are fans going to be allowed there? And why are people saying that's going to be a big test?
Wertz: Yeah, fans are going to be allowed there. It is going to be a test because it's the first race since the ban has been announced. So obviously, you're going to ask people who are going to try to buck the system and fly the flags, you know, "what are you going to do to me?" NASCAR is going to have to try to enforce it because they come out of this big rule. There's going to be a lot of attention on them to see how they handle this.
Glenn: Well, Langston, another major event connected to the demonstrations that started after the fatal police shooting of George Floyd in Minneapolis is the dismantling of that huge statue of former Panthers owner Jerry Richardson that was in front of Bank of America Stadium. How did that come to be?
Wertz: If you want to take the official word was that they were concerned that people might damage the statue and maybe cause it to tumble and fall and injure somebody. It gave the Panthers a way to move the statue I'm sure that they didn't want. Part of the original contract, when Mr. Tepper bought the Panthers was that he couldn't move that statue. And I think they found a loophole of how to get out from under that. Mr. Richardson had been involved in some racial things and sexual harassment lawsuits down towards the end of his career.
Glenn: And he was fined $2.75 million by the NFL after they did their investigation of those allegations. Right?
Wertz: Yeah.
Glenn: OK, well, staying with football, some big name, former Clemson University, former stars and current NFL players, Deshaun Watson, quarterback for the Houston Texans, and Arizona Cardinals wide receiver DeAndre Hopkins, formerly with the Texans, supported the removal of John C. Calhoun's name from the school's honors school. He was a former vice president and slave owner. Tell us about that.
Wertz: They joined a petition to remove his name from the honors college. It's interesting because Clemson's Honors College was founded in 1962, I believe. But Calhoun's name was not added unitl 1981. So they can use that to say this would not be erasing history to do this. It was more just kind of the right thing to do. So they successfully got it removed pretty quickly. I think it's gonna be called the Clemson University Honors College.
Glenn: Now, Langston, last week we talked about NFL Commissioner Roger Goodell coming out in support of players demonstrating against police brutality and racism. One of his first moves after that statement was a call for NFL offices to be closed on Juneteenth, which is when enslaved Africans in Texas found out long after the Emancipation Proclamation that they were free. How do you view that?
Wertz: I think the bigger step for the NFL would be to offer Colin Kaepernick a job, but it definitely is a nice step in for those owners to approve such things. And, you know, I don't think Goodell does anything without the approval of his owners because that's who he works for. It's an important step for the NFL to recognize the culture and the history of the black people.
Glenn: Well, let's shift to golf. That is back. And this past weekend, Gastonia native Harold Varner, who wears the Michael Jordan brand, early on looked like he was going to be the first African American golfer to win the Charles Schwab Challenge, formally called the Colonial National Invitation Tournament. Here's Varna talking about it this weekend.
Varner: This is good to be back out there. I've been playing a lot of golf lately. I just want to play well, you know, obviously it worked today.
Glenn: Langston, give us some background on Varner and how did he do?
Wertz: He's a kid from Gastonia, grew up playing, you know, kind of in our backyard. You know, he's not the prototypical 6'3" super lean golfer. He's kinda a shorter guy, stockier. He is out there competing and doing really well.
Glenn: And how did he do in the tournament?
Wertz: Well, he led after day one. Kind of fell apart a little bit on Sunday, finished in the top of 19th. We love to see guys from the Carolinas do well professionaly.
Glenn: And finally, we've talked about the Ace Speedway in Alamance County that defied COVID-19 restrictions and held races for three weekends. What's happening there?
Wertz: Well, they were shut down this past weekend. Department of Health and Human Services took them to court and a judge in Alamance County ruled against the speedway so they cannot have races for the time being because they view it as a health hazard. I know the people at the speedway felt like, just like in the protest, they could be out with a protest, have a constitutional right for people to peacefully protest. The judge ruled that did not apply in this case with the speedway.