An in-depth look at our region's emerging economic, social, political and cultural identity.
NC Education Officials Point Fingers Over Controversial COVID-19 Aid Formula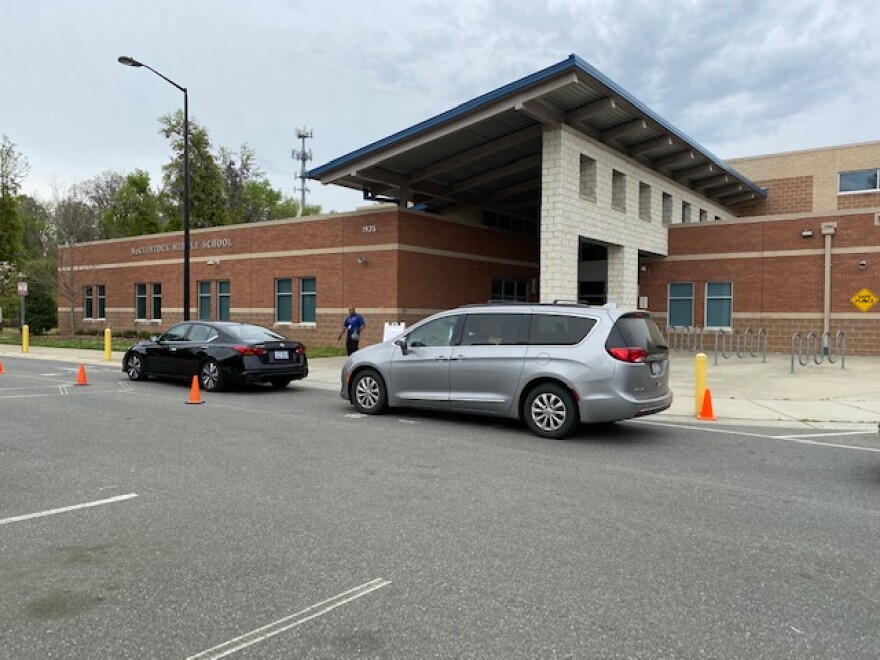 North Carolina education officials are pointing fingers over a controversial method of distributing COVID-19 relief money that excluded Mecklenburg County.
The state Board of Education's March 27 vote on how to divvy up $50 million in aid got little attention at the time. The money can be used for emergency meals and child care, remote learning and cleaning schools.
But members of Mecklenburg's legislative delegation raised objections when they learned that the formula made 99 of 100 counties eligible for "low-wealth" funding – that is, every county except Mecklenburg.
State Superintendent Mark Johnson says the plan came from state Board Chair Eric Davis of Charlotte and board member J.B. Buxton of Raleigh. Johnson emailed Mecklenburg legislators and Charlotte-Mecklenburg school board members to say that after WFAE ran a story last week saying it wasn't clear who created that formula – or why .
The board voted to distribute $25 million based on enrollment. That meant Mecklenburg County got $2.4 million, second only to Wake's $2.6 million.
But the other half was distributed using a novel application of the state's long-standing low-wealth formula. Normally that formula would ensure that smaller counties with lower tax bases would get extra, leaving larger and wealthier counties to tap local resources.
But this formula provided low-wealth aid to everyone except the wealthiest county, Mecklenburg. So Wake and Guilford, for instance, each got an additional $1.2 million in low-wealth aid. In the Charlotte region, Iredell, Catawba, Cabarrus, Union and Lincoln counties all got low-wealth aid despite falling above the state average on wealth.
Bottom line: When the two pools of money are combined – the $25 million based on enrollment and the $25 million based on low wealth -- CMS and Mecklenburg charter schools got just over $16 per student. That's less than half the state average and the lowest per-pupil funding in the state.
Johnson's email says the Department of Public Instruction started with a formula that "relied more heavily" on enrollment. He says Buxton and Davis asked staff to come up with other options, "including a request to take into account low wealth."
When asked if Davis and Buxton specifically requested the formula that excluded only Mecklenburg from low-wealth aid, Johnson replied that the DPI staffer involved said "she spoke with Eric Davis about it and that (board members) understood what they were voting on."
Davis, a former CMS board chair, replied to the group by saying that Gov. Roy Cooper asked the Board of Education to use a formula that accounts for low wealth or poverty. He emphasized that Mecklenburg's total allotment of $2.4 million was second only to Wake, which has more students and got $3.8 million.
What Davis didn't mention was that according to the DPI spreadsheet, Wake has not quite 9% more students than Mecklenburg but got 58% more money.
Davis wrote that the formula chosen by the state board "recognized the broad range of county abilities to provide funds to their districts and charter schools, especially in this environment."
Davis has not responded to WFAE's questions about the origin of the unusal "everyone but Mecklenburg" application of the low-wealth formula.
CMS board member Rhonda Cheek says she's not satisfied with Davis' explanation. She said Davis and board member James Ford, who's also from Charlotte, need to explain whether they're satisfied that each county got its fair share, and if not, how they'll fix it.
Both Davis and Ford have told WFAE that a different formula that uses student poverty levels will be used to distribute federal aid to schools. That's expected to total about $350 million for local districts.