8 Arrested In Another Protest Over Toppled 'Silent Sam' Statue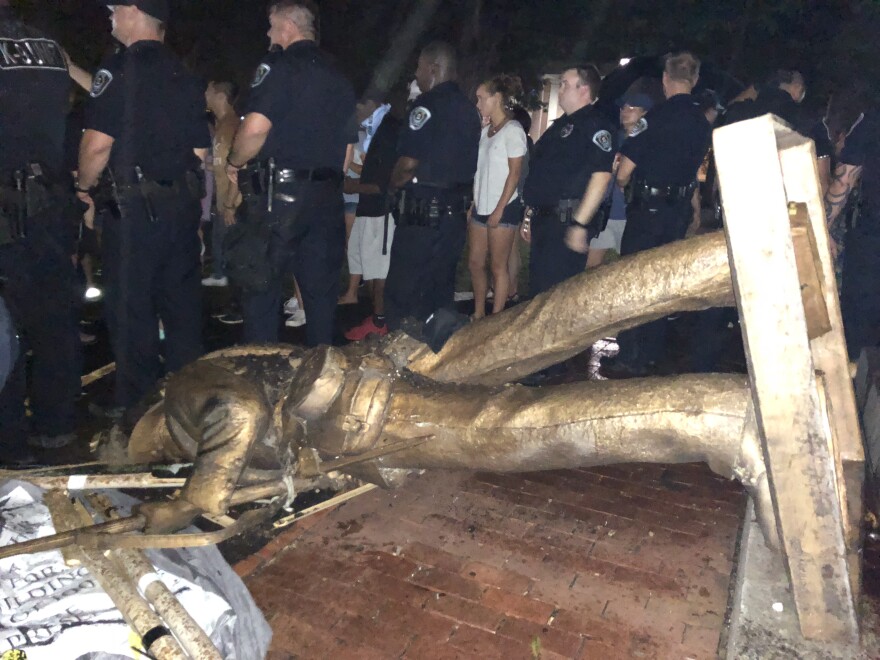 Eight people were arrested Saturday following another protest over the toppling of a Confederate monument at the University of North Carolina.
The university confirmed the evening arrests in a statement. Officials did not immediately say who was arrested or what charges were being filed.
The memorial known as "Silent Sam" was toppled Aug. 20 by protesters who called it a symbol of racist heritage.
About 100 anti-Silent Sam protesters gathered Saturday on the school's Chapel Hill campus for a "Nazis Suck Potluck and Food Drive," the News & Observer reported. Nearby, about a dozen people holding Confederate flags held a vigil in a sectioned-off area near where the statue had stood.
After both groups began yelling at each other, the Silent Sam supporters were escorted away and someone threw what appeared to be a smoke bomb at them.
In a statement, the university said officers ordered the crowd to disperse "due to disorderly conduct." The officers also used smoke to "maintain safety and order," officials said.
Afterward, some counterprotesters began yelling at the police. Some officers used the handlebars of their bicycles to push the Silent Sam protesters back.
This is at least the third time that supporters and opponents of the statue have faced off on campus since the monument's toppling. Multiple arrests occurred during the prior two incidents as well.
In a campus-wide statement Aug. 31, University Chancellor Carol Folt strongly indicated that the school won't return Silent Sam to the main quad where it used to stand, but she has stopped short of confirming its former spot has been ruled out.
Folt is working with trustees to develop a plan for the statue by a Nov. 15 deadline, when it will be submitted for approval to the Board of Governors that oversees the statewide university system.