These Were The Most Powerful Voices In Charlotte In 2019
As 2019 draws to a close, we take a look back at some of the most powerful voices we heard in our community this year, and how we've felt their impact in both real and intangible ways.
The truth is, we never heard Riley Howell speak. At least not before his death. But Howell's actions reverberated through Charlotte – and the country – louder than any speech. Howell was credited with tackling a gunman who opened fire in a UNC Charlotte classroom on the last day of spring semester classes in April. Howell gave his life in preventing more people from losing theirs. He spoke volumes without saying a word.
Ariel (Danquirs Franklin's Girlfriend)
The former girlfriend of Danquirs Franklin didn't speak to media after he was shot by a CMPD officer in March. She didn't speak after Mecklenburg County District Attorney Spencer Merriweather said he would not prosecute officer Wende Kerl in the shooting death. And she initially didn't speak when Franklin's family spoke about the life of the 27-year-old man that was cut short in a Burger King parking lot.
But Ariel – who asked that just her first name be used – spoke to Sarah Delia in August about the father of her two children, and what her life has been like since she lost him.
"Danquirs was a good person," she said. "The person that day that everybody seen, it was not him. He was upset and hurt like any normal person would be during a break up. And that's not the person that he was."
In March, Mary Ellis Stevens – a 14-year-old freshman at Myers Park High School — became a strong young voice for climate change action after staging a weekly protest outside Charlotte-Mecklenburg Government Center. She took her cue from Greta Thunberg, the 16-year Swedish activist who protested outside Sweden's parliament and later spoke at the United Nations.
Stevens told WFAE's David Boraks that young people need to speak up about the climate crisis: "It is crucial that we are the ones out here demanding action and that we really do take our future into our own hands." Some Fridays, Stevens was alone. But she attracted other youth to join her. In November, Thunberg herself joined the Charlotte protest, drawing over 1,000 people.
Robert Dawkins And Greg Jackson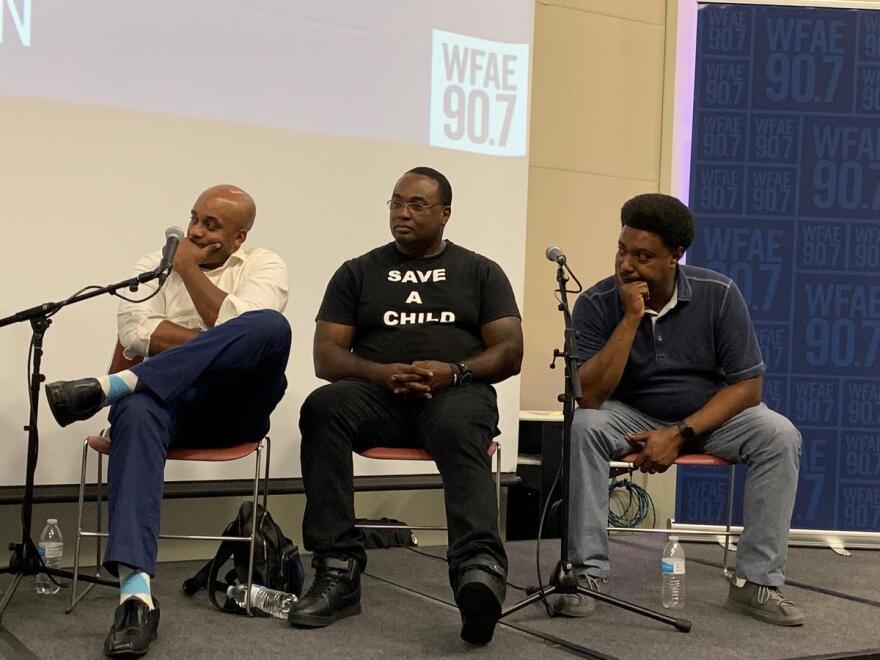 Two men who are working to stem the rash of gun violence in Charlotte. Dawkins is a community organizer and founder of SAFE Coalition NC, a group that deals with gun violence. Jackson is the founder of Heal Charlotte, a community engagement group that provides after-school and day camp for at-risk students.
Both spoke at a WFAE public conversation about searching for solutions for the city's violence.
"This might shock y'all, but all the people doing the killing in Charlotte ain't black," Dawkins said. "I know they like to tell you that, but everybody getting killed in Charlotte ain't black. If you look at where the murders are happening, they're happening all over the place."
Said Jackson: "I can easily put it on things in the city and say it's gentrification and social injustice. I'm talking about the character of these kids and the low empathy that walks around these streets every day. When you start to value your life, you start to value other people's lives. When people are instilling in you moral values of how to live and be a productive citizen, it's contagious."
The Mecklenburg County sheriff quickly went to work after he was sworn in December 2018 and followed through on his promise to end cooperation with Immigration and Customs Enforcement to screen for illegal immigrants who have entered the jail system. Almost immediately, he came under fire for that decision, quickly finding himself in the middle of a national debate on immigration in which he claims he's being used as a "political pawn."
Anthony and Robby Price from 'The List'
Two survivors of abuse told their detailed stories to Sarah Delia for her four-part series "The List." Their bravery in sharing their stories was rivaled only by their candor.
"One of the main things that we struggle with is feeling like this was an isolated incident, and we want to know that we're validated, and we want to know that we're heard," Price said. "And, so, having a list that says, 'OK, yes that man did something that he shouldn't have done to me,' it validates the survivors of sexual abuse to make them feel like they're not the only one."
One of the founding members of the group Mothers of Murdered Offspring, Williams' voice was more powerful than ever in a year when the homicide rate was the highest it has been since 129 killings in 1993. Williams' fight became even more urgent as she is fighting lung cancer, herself, and facing her own mortality.
Williams' goddaughter, Shawna Hawk, was one of those killed in 1993, and it led to the formation of Mothers of Murdered Offspring, which offers support to grieving families dealing with a loss from homicide.
"We were like everyone else during that year, we were watching the numbers go up and weren't doing anything, and then it knocked on our door," Williams said. "It's time to answer it and you either answer it and do something about it or you answer it and continue to sit on the couch and watch TV, which is what we were all doing because it hadn't affected us. And most people are that way — they don't get involved until it knocks on their door."