Reactions To Chiquita's Departure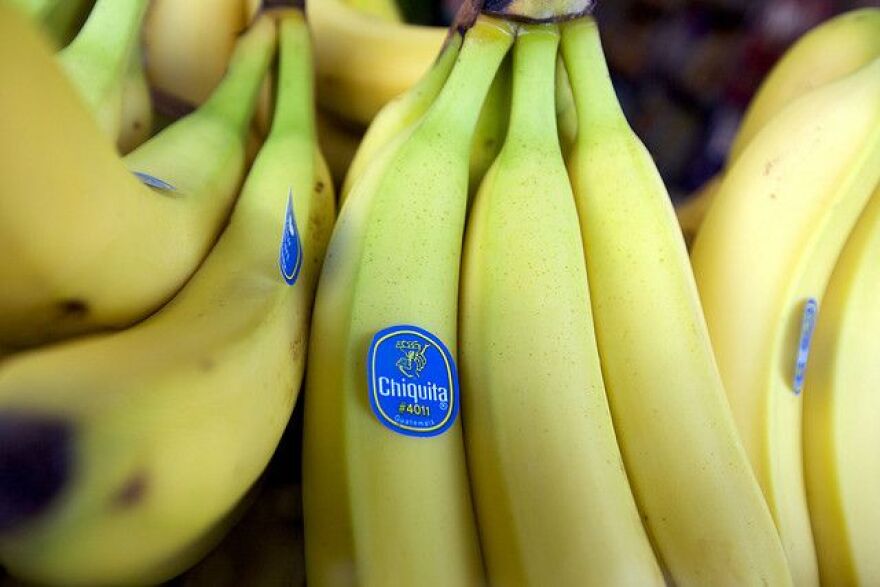 WFAE's Duncan McFadyen reports on the mixed reactions to Wednesday's news that Chiquita plans to close its corporate headquarters in Charlotte.
Chiquita is only 3 years into the 11-year deal it struck in late 2011 to move to Charlotte, but some officials are trying to put a positive spin on the banana company's early departure. Charlotte Mayor Dan Clodfelter and Mecklenburg County Manager Dina Diorio released statements thanking Chiquita for its contributions to the community.
Charlotte Chamber CEO Bob Morgan says for the relatively short time Chiquita was here, it was a great corporate citizen.
"They help us tell the story. They helped us sell Charlotte…to Met Life and to Sealed Air and to other companies that are going to bring jobs to the community," he says.
Former Chiquita CEO Fernando Aguirre was in charge of the company when it moved to Charlotte. Aguirre says he's disappointed and surprised, but…
"It's a business decision that in the end is something that the new owners had to do, and in a way it's not surprising that the new owners would come in and make some changes," he says.
He's referring to the two Brazilian companies that finished acquiring Chiquita earlier this month: the Cutrale Group, a juice company, and the Safra Group, a banking conglomerate.
Less measured about the news is Mecklenburg County Commissioner Bill James, who was critical of the $22 million incentives package when it was passed:
"What kind of loyalty do you get?" he asks. "I don't want to sound crass, but, no one falls in love with a hooker. And in essence Mecklenburg County and the City of Charlotte, they've been hooking themselves out to these companies."
The chair of North Carolina's Economic Development Board, John Lassiter, says the announcement will prompt the state to look at future deals more closely.
"...maybe one more set of questions, one more set of analytics, to make sure that companies who are considering coming here are viable and longstanding, and to ensure that those investments are protected going forward," he says.
The City of Charlotte and Mecklenburg County have paid Chiquita about $1 million in incentives, according to county manager Dena Diorio. She says the company will refund that money. In addition, the state of North Carolina has given Chiquita just over $1.5 million, according to the Commerce Department. That's also coming back.
Chiquita says the Charlotte headquarters, in the NASCAR Plaza building uptown, will close in the next 12 to 18 months. The company has about 320 employees there.