'Silent Sam' Base Removed Overnight
UNC-Chapel Hill Chancellor Carol Folt announced Monday she will step down following graduation at the end of the academic year and authorize the removal of the base of "Silent Sam."
The pedestal of the Confederate monument was removed just hours later.
The monument once stood on the main quad of UNC's campus. The base, with a commemorative plaque of the memorial, was all that remained standing after a group of protesters toppled the over century-old statue of the anonymous Confederate soldier back in August.
Reports say that the last of the base was removed by 2:40 a.m.
According to Folt, removing the last trace of the memorial was a matter of safety.
"As chancellor, the safety of the UNC-Chapel Hill community is my clear, unequivocal and non-negotiable responsibility," Folt said. "The presence of the remaining parts of the monument on campus poses a continuing threat both to the personal safety and well-being of our community and to our ability to provide a stable, productive educational environment."
"No one learns at their best when they feel unsafe," Folt continued.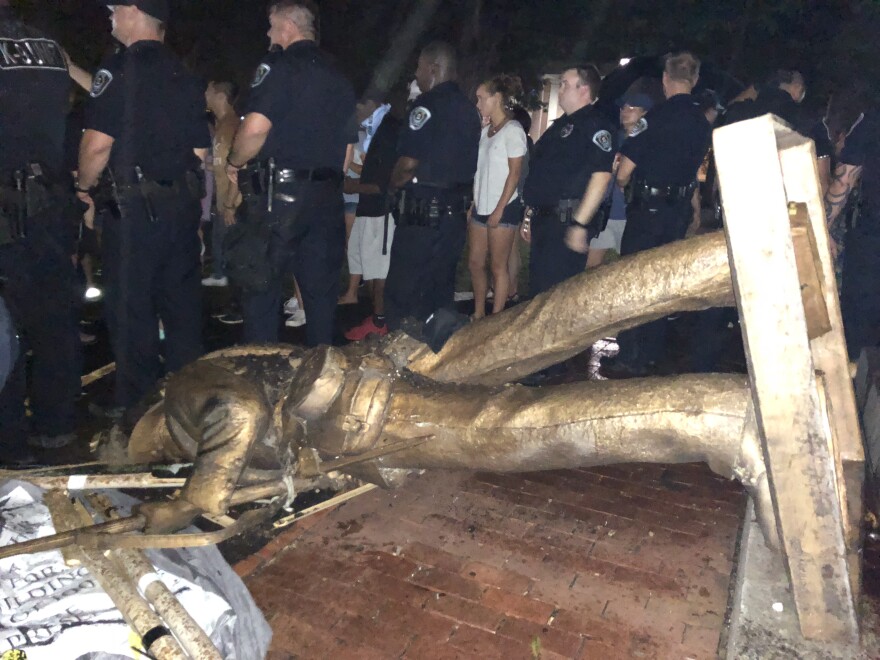 Folt said the university had convened a panel of safety experts in November to figure out the best solution for the toppled statue. She said the panel made a "strong and compelling case for the risk [the statue poses] to public safety."
The base will be preserved until further action is taken on the memorial, Folt said.
The surprise order has angered Harry Smith, chairman of the Board of Governors that oversees the state's public universities. He said that the board had until mid-March to come up with a plan for the statue.
"We are incredibly disappointed at this intentional action," he said in a statement before the removal work began. "It lacks transparency and it undermines and insults the Board's goal to operate with class and dignity."
As for her reason for resigning, Folt was vague. She said she's "deeply proud" of what she's accomplished in her role as chancellor, but that it's the "right time for me to pass the leadership of our outstanding university… to the next chancellor."