SCE&G Offers To Cut Rates, Absorb Costs Of Failed Nuclear Plant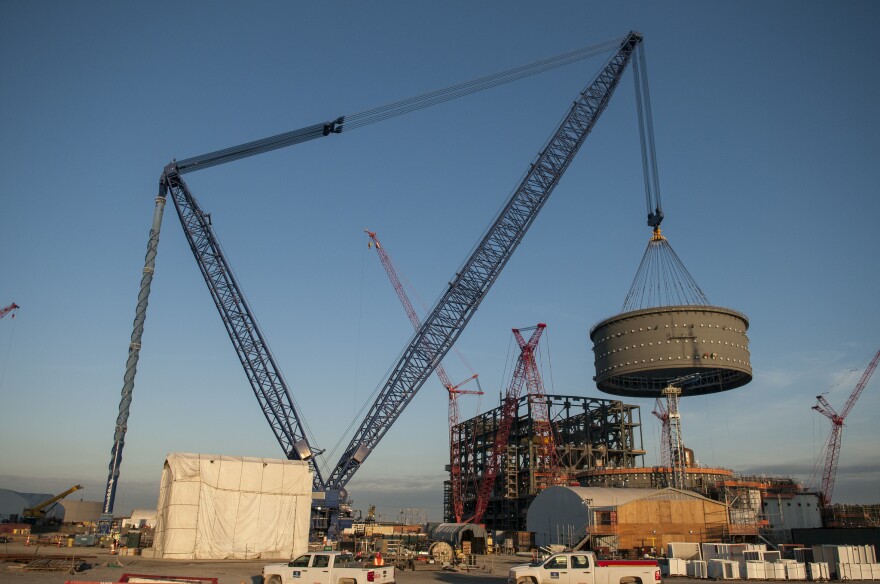 Updated 1:50 p.m.
South Carolina Electric & Gas is offering to cut customer rates by 3.5 percent immediately, and more in the future, as part of a proposed settlement related to the cancellation of a failed nuclear project.
In July, SCE&G and its partner, Santee-Cooper, canceled construction of two new units at the V.C. Summer nuclear north of Columbia. That followed the bankruptcy of the plant's lead contractor, Westinghouse, and came amid delays and big cost overruns. Together, the two partners had spent about $9 billion, and charged customers for about $2 billion.
As part of the proposal, the company's parent, SCANA, also says shareholders would absorb about $2.9 billion in costs related to the plant's construction.
"The shareholders of SCANA Corporation are going to bear the net construction cost going forward by taking less of an earnings ratio for the next 50 years," Keller Kissam, SCE&G's retail president, said in a press conference recorded by WIS-TV. Kissam is scheduled to become president and chief operating officer on Jan. 1.
The rate decrease would amount to about $5 a month for a customer using 1,000 kilowatt hours of electricity, Kissam said. That would put rates about where they were in March 2015, he said.
SCE&G also is proposing to cut rates further in the coming years. Previous rate increases have allowed the company to recover hundreds of millions of dollars in construction costs. Kissam said the rate cut is the result of feedback from customers.
"Customers tell me we want a rate decrease. And as a result of that we offer up an immediate, immediate, 3.5 percent decrease to our customers," Kissam said.
It may not be that immediate. The rate reductions still must be approved by regulators.
From a practical standpoint, the net change in rates may be less than that. Executives said the company plans to continue seeking rate increases for new transmission lines and other routine expenses.
Tom Clements of the environmental group Friends of the Earth said Thursday the proposal "is not so good for SCE&G ratepayers."
"The legislature hasn't agreed with this proposal - which looks more like a "first offer" - and it runs contrary to legislation moving through the South Carolina House," Clements said in a statement. "I don't think politicians will accept the proposal and the legislation seeking rate reduction and cost recovery will proceed."
On Thursday morning, the company also announced plans to increase power generation, by acquiring a new natural gas-fired plant and adding new solar farms.
SCE&G has agreed to pay Columbia Energy LLC $180 million for an existing 540-megawatt natural gas plant in Gaston, S.C., in Calhoun County. The Columbia Energy Center was built in 2004, and has in the past supplied SCE&G with power. The companies still have to finalize the deal, which will need federal regulatory approval.
SCE&G said it hopes the proposals will find favor with customers, legislators and regulators. The company's CEO and COO have already announced plans to step down.
SCANA shares were down just under 1 percent in midday trading Thursday.
RELATED LINKS
Nov. 16, 2017, SCE&G announcement of proposed settlement and rate cuts
Nov. 16, 2017, SCE&G announcement of the deal for the Columbia Energy Center plant