WFAE reporter David Boraks explores how the way we live influences climate change and its impact across the Carolinas. You also can read additional national and international climate news.
Doubts Surface About Nuclear Energy After S.C. Project Is Halted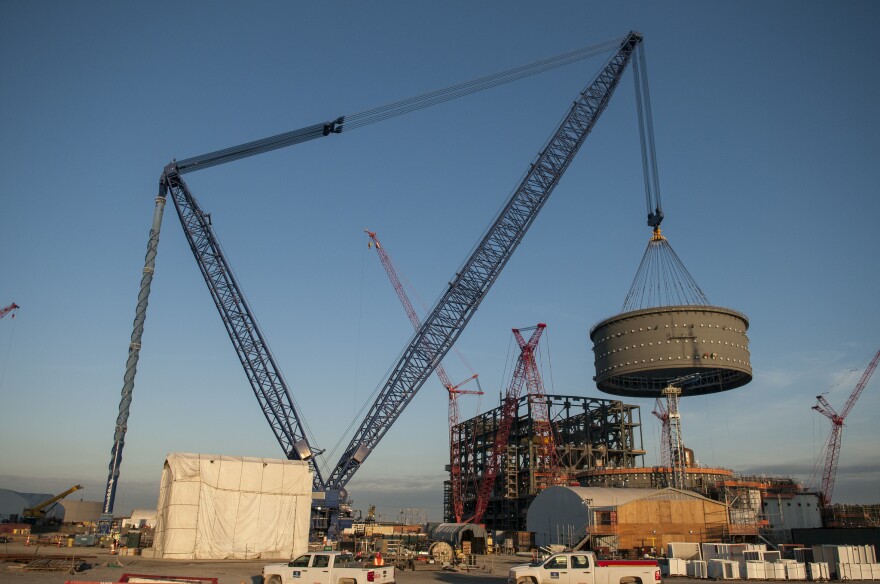 A decade ago, nuclear power's future looked bright. It offered a carbon-free energy alternative amid worries about greenhouse gases and climate change. But a lot has happened since then, like the 2011 meltdown at Fukushima and skyrocketing nuclear construction costs. Last month, two South Carolina utilities scrapped a multi-billion dollar nuclear project. Now, the future of nuclear is even cloudier.
On July 31, Santee Cooper and South Carolina Electric & Gas announced they were abandoning construction of two new reactors at the V.C. Summer plant north of Columbia. The immediate reasons were simple: The project was four years behind schedule and at least $5 billion over budget.
CEO Kevin Marsh of SCANA, the parent company of South Carolina Electric & Gas, said it no longer made financial sense, especially after Santee Cooper pulled out.
"What really led us to this decision on the abandonment was looking at the costs going forward. And, of course in our case, without a partner, it made that cost just too much for our customers to bear," Marsh told analysts earlier this month.
But there were other factors. One was this spring's bankruptcy of the lead contractor and reactor designer, Westinghouse Electric. Fallout from its troubles is now hitting other projects, including one in Georgia.
Also, demand for electricity isn't growing as fast as it once was – in part, because of energy efficiency. And then there's the boom in other forms of energy that weren't in the picture two decades ago when planning for these plants began, according to Kit Konolige, senior utilities industry analyst with Bloomberg Intelligence.
"The alternate forms of power, principally natural gas but also some of the new renewable production, are combining to make certainly new nuclear, but even some existing nuclear, priced too high to be competitive in today's world of electricity demand," Konolige said.
Nuclear power is on the decline in most places, with the exception of China and India. California's lone remaining nuclear plant will close in 2025. And Germany is phasing out nuclear by 2022, after shutting nearly half its reactors after Fukushima.
Troubles at projects like those in South Carolina, and a reliance on existing nuclear plants, make nuclear's future a critical question for Duke Energy. Someone asked CEO Lynn Good about it at a business lunch in Asheville earlier this month, recorded by the Asheville Citizen-Times.
"It's really a foundational element to our power system that may be difficult for private investment to finance. And so I think new nuclear... is a weighty topic right now as we see companies struggling with that decision," Good said.
Duke's six nuclear plants produce about half the electricity used by customers in the Carolinas. They're reliable, efficient, carbon-free and relatively cheap, running non-stop to provide what's called "base generation." When more energy is needed, Duke turns on gas and coal-fired plants.
Last year, the company won federal licenses for two new nuclear plants in South Carolina and Florida, using the same Westinghouse reactor designs as the now halted South Carolina project. They could cost more than $11 billion each and take a decade to build. The question is whether it makes business sense, says Duke spokesman Rick Rhodes.
"We have what's called a combined construction and operating license for those two projects. However, we've not made a decision to build either of those plants. As I said, we are watching closely what's going on in the industry," Rhodes said.
The decision will depend on what happens to Westinghouse, how much the plants will cost and how fast electricity demand grows, he said.
Bloomberg's Konolige doesn't see nuclear power regaining any momentum.
"Personally, I think it will be very difficult to justify building new nuclear plants. From a shareholder's viewpoint, they just represent a tremendous amount of uncertainty over a long period of time. And obviously a great expenditure of capital," he said.
Capital that companies like Duke may decide is better spent elsewhere.